Aaron D. Spears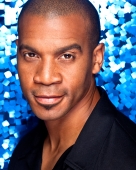 ­­­Aaron D. Spears stars as "Justin Barber", the executive vice president of Spencer Publications, long-time friend and right-hand-man to the company's President, "Bill Spencer, Jr." (played by Don Diamont) on THE BOLD AND THE BEAUTIFUL. "Justin" appeared on the canvas in 2009 when he moved to Los Angeles from Spencer Publication's New York office to help "Bill" in his hostile takeover of Forrester Creations.

Spears has appeared in guest starring roles on numerous television shows such as Boston Legal, Lincoln Heights, Bones, and Criminal Minds. His film credits include the blockbuster hits Babel and I Love You, Man, in addition to the independent film, The Mannsfield 12, in which he starred, composed the music and lyrics, as well as executive produced. Most recently, Spears has made guest starring appearances in the primetime dramas Castle and NCIS.

In 2011, Spears was nominated in the category of Outstanding Actor in a Daytime Drama Series for the NAACP Image Awards for his role on THE BOLD AND THE BEAUTIFUL.

A successful producer and writer, Spears established his own company, HENNA, LLC, which brings a new facet of spoken-word poetry and thought-provoking films to Hollywood.

An avid sports enthusiast, Spears is a native of Washington DC, and celebrates his birthday on July 10th.

In 2011, THE BOLD AND THE BEAUTIFUL received its third consecutive Emmy® award for "Outstanding Daytime Drama Series", was named the Most Popular Daytime Soap Currently on TV by Guinness World Records® and received its sixth Golden Nymph Award at the International TV Audience Awards in the "Telenovela/Soap Opera" category at the Monte Carlo Television Festival. THE BOLD AND THE BEAUTIFUL is the most watched daytime drama series in the world, seen daily by more than 35 million people in over 100 countries.

THE BOLD AND THE BEAUTIFUL, which celebrated its 24th anniversary on March 23, 2011, is a Bell-Phillip Television production, broadcast weekdays (1:30-2:00 PM, ET; 12:30-1:00 PM, PT) on the CBS Television Network. Bradley P. Bell is the Executive Producer and Head Writer. THE BOLD AND THE BEAUTIFUL is the first and only daytime drama to simulcast in Spanish utilizing SAP (Secondary Audio Program) technology.