Aaron D. Spears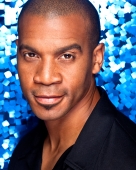 Aaron D. Spears joined the cast of THE BOLD AND THE BEAUTIFUL in September 2009 as Justin Barber, the executive vice president of Spencer Publications, long-time friend and right- hand-man to the company's President, Bill Spencer, Jr., played by Don Diamont. Spears was born and raised in Washington D.C., where he was heavily involved in sports before his transition into acting.

His television credits include guest roles on "NCIS" and "Criminal Minds," on the Network, "Bones," "Boston Legal," "Lincoln Heights" and "Castle." Currently, he stars in the BET breakout series "Being Mary Jane," which debuted in 2014.

His film credits include "Babel," "I Love You, Man," "Bluehill Avenue" and "The Mannsfield 12," in which he starred, composed the music and lyrics, and executive produced.

His birthday is July 10. Follow him on Twitter @aaronDspears.