Adam Gregory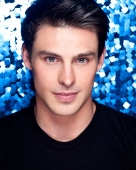 Adam Gregory stars as "Thomas Forrester" the only son and eldest child, of "Ridge Forrester" and "Dr. Taylor Hayes" (portrayed by Ronn Moss and Hunter Tylo, respectively) and older brother to "Steffy Forrester" (portrayed by Jacqueline MacInnes Wood) on THE BOLD AND THE BEAUTIFUL.

In addition to his contract role on THE BOLD AND THE BEAUTIFUL, Gregory is best known for his preppy-bad-boy character, "Ty Collins", on 90210. His additional television credits include, Wizards of Waverly Place and Just Jordan. Gregory also starred alongside Miley Cyrus in Hannah Montana: The Movie and with Zac Efron in 17 Again. He can also be seen as Ashley Tisdale's cheating ex-boyfriend in her music video for her hit song, "It's Alright, It's OK".

Born and raised in Cincinnati, Ohio, Gregory attended Northern Kentucky University where he majored in Musical Theater and was a member of the Sigma Phi Epsilon fraternity.

Gregory currently resides in Los Angeles with his wife, Sheridan, and celebrates his birthday on December 28th.

In 2011, THE BOLD AND THE BEAUTIFUL received its third consecutive Emmy® award for "Outstanding Daytime Drama Series", was named the Most Popular Daytime Soap Currently on TV by Guinness World Records® and received its sixth Golden Nymph Award at the International TV Audience Awards in the "Telenovela/Soap Opera" category at the Monte Carlo Television Festival. THE BOLD AND THE BEAUTIFUL is the most watched daytime drama series in the world, seen daily by more than 35 million people in over 100 countries.

THE BOLD AND THE BEAUTIFUL, which celebrated its 24th anniversary on March 23, 2011, is a Bell-Phillip Television production, broadcast weekdays (1:30-2:00 PM, ET; 12:30-1:00 PM, PT) on the CBS Television Network. Bradley P. Bell is the Executive Producer and Head Writer. THE BOLD AND THE BEAUTIFUL is the first and only daytime drama to simulcast in Spanish utilizing SAP (Secondary Audio Program) technology.