Jacob Young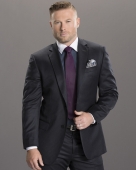 Birthday: September 10
Born and raised in Renton, Washington, Young was bitten by the acting bug in high school while starring in local stage productions. His ambitious career aspirations led him to Los Angeles where he soon landed his first television role on THE BOLD AND THE BEAUTIFUL. Jacob debuted to both fan and critical acclaim and quickly received an Emmy Award nomination for "Outstanding Younger Actor in a Drama Series" in 1999.
After taking a brief hiatus from daytime television to film a movie, Young joined the cast of "General Hospital" as Lucky Spencer, where he earned his second Emmy Award nomination and his first win in 2002. A year later, Young joined the cast of "All My Children" as JR Chandler, where he earned two more Emmy Award nominations.
Young's other television credits include "Hope & Faith" and "One Life to Live." Also, he appeared in the feature film "The Girl Next Door" and the television movies "The Beach Boys: An American Family" and "Imaginary Friend." In 2006, Young fulfilled his dream of starring in a Broadway production when he landed the role of "Luminère" in "Beauty and the Beast."
Young lives in Utah with his wife, Christen, and his children, Luke and Molly.