Josh Charles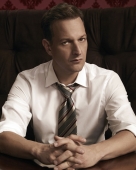 ­Josh Charles, who received a 2011 Emmy Award nomination for Outstanding Supporting Actor on a Drama Series for his work on "The Good Wife," co-starred in season one of "In Treatment" as Jake, the emotionally-explosive husband struggling to save his marriage. For two seasons, Charles starred as sports anchor ­Dan Rydell in Aaron Sorkin's critically acclaimed, Emmy Award-winning series "Sports Night," for which the cast earned a Screen Actors Guild nomination. Additional television credits also include his portrayal of civil rights martyr Andrew Goodman in "Murder in Mississippi," and NPR producer Dave Isay in "Our America."

Charles made his feature film debut in John Waters' original film, "Hairspray," which was followed by his breakthrough performance as Knox Overstreet in the Academy Award-winning film, "Dead Poets Society," opposite Robin Williams. Additional film credits include "Crossing The Bridge," "Threesome," "Pie In The Sky," "Things To Do In Denver When You're Dead," "S.W.A.T " "Seeing Other People,", "Four Brothers" and "Brief Interviews with Hideous Men," "After.Life" and the independent feature, "Weakness."

In 2009, Charles co-starred onstage opposite Judith Ivey in the Long Wharf Theater production of "The Glass Menagerie." His additional theater credits include the U.S. premiere of Neil LaBute's "The Distance from Here," which received a Drama Desk Award for Best Ensemble Cast, the world premiere of Richard Greenberg's "The Well-Appointed Room" for the Steppenwolf Theatre Company, and Caryl Churchill's "A Number" for director Anna D. Shapiro at ACT in San Francisco. In 2007, he appeared in the world premiere of Adam Bock's "The Receptionist" for director Joe Mantello at the Manhattan Theatre Club.

An avid sports fan, Charles can't stop rooting for anything with the word Baltimore in front of it, especially the Ravens and Orioles. Born and raised in Baltimore, Charles lives in New York. His birth date is Sept. 15.