Since this was the 100th episode do you have a favorite look that you created or maybe character that you dressed?

I certainly have some favorite outfits over the seasons that I love. Dressing Alicia has definitely been a highlight for me as the character has changed so much through the series. We are always adjusting her look as the character grows and changes. It's wonderful to have the support of the producers and the network which allows me to follow through with these changes. It makes Alicia seem real just as we all change from day to day.

Alicia's jacket she wore in court in The Decision Tree, who is the designer? Love!

That wonderful suit is by Michael Kors. It is a tweed pencil skirt suit with a silver and black zipper and an off the shoulder shawl collar.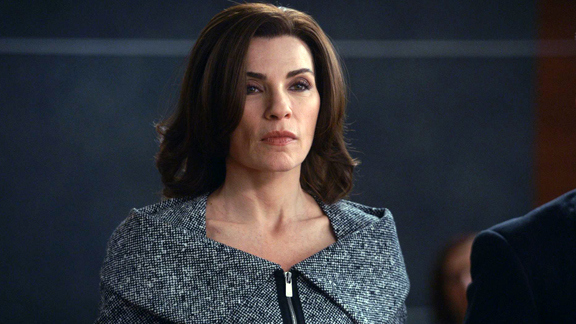 Can you share with me the brand of eyeglasses Diane/Christine was wearing in the "whack-a-mole" episode?

Diane wore glasses by Robert Marc in that episode.

Where can I get the grey cowel collar suit worn by Alicia in the last episode? LOVE IT!

That is by Michael Kors and it was purchased at either Saks 5th Avenue or Bergdorf Goodman.

Where can one find that jacket Jordana Spiro was wearing when she arrested Kalinda in the 100th episode, please?

That winter coat is by Trina Turk. It is a navy wool thigh length coat with black leather trim and and black knit collar. The jacket zips asymmetrically on the side.

Did anyone else notice that Alicia remembered Will touching her blue skirt & in Will's memory it was red? Was that on purpose?

Yes, definitely on purpose. She was also wearing different earrings. We wanted Alicia's memory to be a little less provocative. So she wore a red suit when it was Alicia's memory. When it was Will's memory it was more of a purple toned dress with a more open neckline and slimmer skirt. Alicia also wore stud earrings in her memory and dangle earrings in Will's memory.

This episode also has one of the most effective uses of a costume detail that I've ever seen on TV. Well done.

Thank you. This was a great episode in which to tell a full story through the wardrobe. As Alicia has been wearing more neutral tones this season, I wanted her flashbacks to have her in stronger colors. The contemporary scenes had Alicia in neutral tones. When she was being questioned by Will in Will's mind during his prep for court, I had her wearing the Akris cream suit she wore at the end of season 2 when she and Will went up to the hotel room together. It was the happiest time of their lives when they were having their affair, so I figured Will would picture her in what she was wearing when that happiest time began. Also, Alicia (in Will's mind) isn't just answering questions about the case, he is putting her and their relationship on trial. FYI, in those "Will's Mind" scenes, Will is wearing what he wore to the hotel that night as well!

How amazing did Jackie and Veronica look at the party. how do you capture these two dynamic ladies?

They are such polar opposites that it is great fun to dress them. Veronica is slightly arty, slightly laid back. Whereas Jackie is very done up and tightly wound. Veronica's dress was a black chiffon beaded dress by Antik Batik. She also wore a necklace of very large facetted glass beads that caught the light nicely. Jackie wore a tan St. John Couture knit jacket with pink and tan pearls and rhinestones. Her necklace consisted of strands of tan pearls twisted and fit tightly to the neck, very different from Veronica's long, loose shiny necklace. Veronica's clothing has a looser fit in general and Jackie's has more of a tight, austere fit.