Tim Kang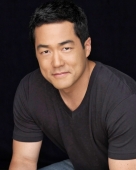 Tim Kang's feature film credits include "Rambo," "The Forgotten," "Two Weeks Notice," "Mister Green" and "Robot Stories."

His television credits include "The Unit," on the Network, and "Third Watch." He has had guest-starring roles in "Ghost Whisperer," also on the Network, "The Office," "The Sopranos," "Monk," "Chappelle's Show," "Law & Order: Criminal Intent" and "Law & Order: Trial By Jury." Kang is also widely recognized for his national commercial spots, including AT&T, Cingular Wireless, Shell Gasoline and Home Depot.

Kang graduated from the University of California at Berkeley with a B.A. in political science and went on to receive an M.F.A from the A.R.T. Institute at Harvard University. He also studied acting at the Moscow Art Theatre School in Russia.

He was born and raised in San Francisco and currently lives in Los Angeles. His birth date is March 16.