Amanda Righetti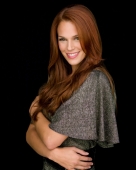 Amanda Righetti had a recurring role on the hit television drama, "The O.C." Her other television credits include "K-Ville," "North Shore" and "Reunion," as well as guest-starring roles on "CSI: Crime Scene Investigation," on the Network, "Entourage" and the television movie, "Romy & Michelle."

Righetti was recently seen in the feature film, "The Chateau Meroux." Her other film credits include "Friday the 13th" and "Return to House on Haunted Hill."

The youngest of eight children, Righetti was born in St. George, Utah, and raised outside of Las Vegas. She currently resides in the Los Angeles area with her husband. Her birth date is April 4.