Owain Yeoman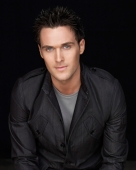 Yeoman is a classically trained Welsh actor who graduated from London's renowned RADA (Royal Academy of Dramatic Art) with distinction and was the winner of the Henry Marshall Shield. His first audition was for the feature film "Troy," for which Wolfgang Petersen immediately cast him as Lysander, Captain of the Trojan Army.

Yeoman went on to play the title role in the television comedy, "Commando Nanny," and then played lead roles in the series "Kitchen Confidential" and "The Nine." In 2008, he played the role of The Terminator (Cromartie) in "Terminator: The Sarah Connor Chronicles," and Sgt. Eric Kocher in the award-winning real life biopic, "Generation Kill."

He appeared in the feature film "Beerfest," and starred in over a dozen stage plays in London's West End, The Oxford Playhouse and the International Edinburgh Fringe Festival. He stars as Detective King in the feature film, "Chromeskull: Laid to Rest 2," due for release in November 2011.

An honors graduate of Oxford University in English Literature, Yeoman currently lives in Los Angeles. He is a vegetarian and an active supporter of PETA, The Humane Society of the United States and a number of dog rescue groups. His birth date is July 2.