Simon Baker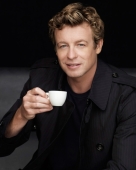 In 2010, Baker was nominated for a Golden Globe Award for Best Performance by an Actor in a Television Series, Drama, as well as a Screen Actors Guild Award for Outstanding Performance by a Male Actor in a Drama Series. Baker was also a 2009 Emmy Award nominee for Outstanding Actor in a Drama Series for THE MENTALIST.

Prior to THE MENTALIST, Baker was known for his performance as Nick Fallin in the drama, "The Guardian," on the Network. Baker starred in the series from 2001-2004 and won widespread critical praise for his portrayal of a hardened corporate lawyer sentenced to work as a legal child advocate after being found guilty of drug possession. In the first season, Baker was recognized by the Hollywood Foreign Press Association with a Golden Globe nomination for Best Actor in a Drama Series.

In 2007, Baker made the transition from television star to big screen leading man with two diverse roles. In the critically acclaimed feature, "The Devil Wears Prada," Baker starred opposite Meryl Streep and Anne Hathaway as the dashing Christian Thompson. In the feature film, "Something New," a romantic comedy starring opposite Sanaa Lathan, Baker played a working class landscaper who falls in love with an uptight professional black woman.

Baker first gained attention in the Academy Award-winning film, "L.A. Confidential," following up with a string of memorable performances in "An Affair of the Necklace," "Red Planet," "Sunset Strip," "Judas Kiss" and the horror sequel "The Ring 2," opposite Naomi Watts and Sissy Spacek. Baker garnered acclaim for his turn in the independent film, "Book of Love," which screened in competition at the 2004 Sundance Film Festival. Baker was part of an all-star cast in Ang Lee's critically acclaimed "Ride With the Devil," which screened at the 1999 Deauville Film Festival and was also a gala presentation at the 1999 Toronto Film Festival.

Baker's other film credits include "Sex and Death 101," starring opposite Winona Ryder, and "Land of the Dead," a critically acclaimed thriller co-starring Dennis Hopper, John Leguizamo and Asia Argento, as well as the indies "Restaurant" and "Love from Ground Zero."

Next up for Baker is the independent film, "Margin Call," in which he plays a ruthless, high-powered securities broker who oversees characters played by Kevin Spacey and Zachary Quinto. He also recently appeared in "The Killer Inside Me" with Casey Affleck, Jessica Alba and Kate Hudson.

A native of Australia, Baker now lives in Los Angeles with his wife and three children. In his spare time, he likes to surf. His birth date is July 30.