Season 5: Episode 19 - Red Letter Day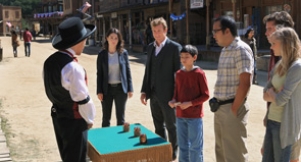 Red Letter Day: Jane and the team head to Percy, a run-down Wild West town with a failing tourist industry. Hollis Percy, whose family has owned the town since the days of the gold rush, was found dead in his office by the local authorities. In recent days, Hollis had sold off most of the town, upsetting those who built their business on the tourist trade. He had also recently started drinking again, causing friction with his family. To cap things off, a series of meth labs in the woods near town had exploded over the last few weeks, scaring the locals. But who among Percy's citizens actually killed Hollis?

Meanwhile, Kirkland has a team infiltrate Jane's aerie in the hopes of finding out what he knows about Red John.