Season 3: Episode 9 - Ball Of Fire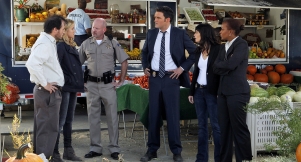 Ball Of Fire: While buying an apple at a fruit stand, Patrick Jane is kidnapped by a big man who shoots the clerk and throws him into the back of his van. Because Jane is able to get a call into the CBI before being overpowered, Lisbon and the team race to the stand to track him down. An eyewitness tells them that she saw the van speeding south down the highway, but it's too late - Jane is gone.

Because the MO is vastly different from Red John, the CBI crew go back through years of Jane's casework looking for someone else who might want to harm him. The only problem is that this list can include nearly everyone that he's ever dealt with. Meanwhile, Jane is tied up in a basement and tortured by his real kidnapper - Rachel Bowman, the woman who told Lisbon about the van! Turns out she's the daughter of an embezzler who died a painful death in prison after Jane had used a 16-year-old Rachel to unwittingly implicate him. Now Rachel wants Jane to suffer at her hands - and she won't stop there. She kidnaps Lisbon as well, tying them both up in the basement to burn to death when she lights the house on fire.

But before she can strike the match, Jane tricks her, making her think that he killed Lisbon to prevent her from suffering in the fire. In her rage, she unties Lisbon, (who was hyptnotized to slow her heart rate) and the fight begins. Hightower, who had been doing research to track her down, show up just in time to save the day.