Season 3: Episode 10 - Red Moon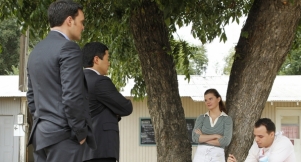 Red Moon: In an episode directed by Simon Baker, The CBI must catch the perpetrator of a brutal triple homicide when two cops and the fiancée of a local EMT are found dead in a Northern California vineyard.

Upon arriving at the scene, Jane immediately feels a kinship with EMT Todd due to his grief and anger at losing his beloved fiancée Keeley. Jane begins looking for people in Keeley's life who might want to kill her, but all the leads seem to be dead ends. Her father, a wheelchair-bound ex marine, was with Todd on the night of the murder. Hobart, a creepy truck driver who hit on Keeley at the diner where she works, didn't kill her. Neither did Rusty, the cook at the diner, who admits to having had feelings for her but is no murderer. This doesn't stop Todd, though, who assaults Rusty in the middle of the police station as he is being brought in for questioning. Jane has to have a heart-to-heart talk with the distraught man over the best way to get revenge.

The case turns when ballistics learns that the gun used to kill Keeley and the two cops was also used to kill cops exactly one month and two months prior. The CBI is now looking for a serial cop killer.

Another suspect, firefighter Harris Kitchen, comes to light when a firefighters' jacket button belonging to the killer is found. But while Kitchen is in custody, Sherriff Mullery is shot dead in broad daylight. It wasn't him, either.

Meanwhile Jane has been working with local astrologer/palmistry expert Ellis Mars who has been persistent in demanding to help with the case. At first Jane is roundly dismissive, but then he begins planting information to help Mars feel like he is actually making progress. Mars is able to fool Woolgar, Mullery's deputy, into believing he is for real.

Of course, it is all a ruse. Jane traps Mars, and then offers him up to Todd as the killer: A favor from one tortured, vengeful man to another.

But when Todd hesitates, Jane becomes certain of what he suspected: Todd is the real killer. He killed the cops to satisfy a perverse need to hurt his father, his fiancée because she was getting too close, and his father when he saw the button from the crime scene and began putting the pieces together. The fact that the murders were a month apart was to give Todd an alibi: he could spend that evening with Keeley's father, a drunkard who would get his VA pension check and then proceed to drink himself into oblivion.

Todd is brought in and locked in a CBI holding cell. But someone in the department decides that capture is not enough, and burns Todd to death. With his last few words before expiring, he repeats to Jane the "Tiger, Tiger" poem that Red John recited to him in the Season 2 finale.