Season 3: Episode 12 - Bloodsport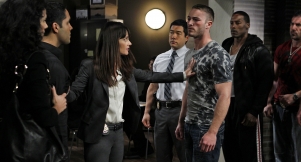 Bloodsport: The CBI delves into the world of professional fighting when Rigsby witnesses a body found at a mixed martial arts match. At first everyone who works in the arena is a suspect, but our team quickly finds out that there is a connection between the victim, Charlotte Mitchell, and one of the boxers, Manny Flacco: they were sleeping together. The gun used to kill Charlotte is also traced back to a gang murder in 1994. Either man may have done the deed.

Charlotte's closest family member is her father, Tom Mitchell, who has a heart attack and collapses when the CBI shows up to ask him a few questions. After dismissing many suspects - Manny, his estranged wife Beatriz, original gun owner Joe Reyes, and boxing opponent Rowdy Merriman - Jane lets it slip in front of Joe's manager Lima and promoter Artash that he strongly suspects that Tom and Charlotte were very close. He tells Lisbon that it is crucial to go to the hospital and protect Tom, as he probably knows everything Charlotte did. Of course, it's a ruse to trap Lima and Artash. After moving Tom out of his hospital room, Jane and Lisbon lie in wait until they come to attack their victim's father. That is when Jane reveals that he knows the truth: Manny has a medical condition that means one more punch could kill him. They wanted their slice of title money before letting Manny know, even if the fight could kill him. Charlotte knew the truth, so she had to die.

Meanwhile, investigator JJ LaRoche has turned his eyes on Rigsby.

We learn that Rigsby's father is the former leader of an outlaw motorcycle gang, and some time ago Rigsby lied to the authorities to provide an alibi for his father and keep him out of jail. He backed up his story by saying that Cho was with him. Now LaRoche is investigating the matter, and Rigsby is forced to ask Cho to perjure himself in order to keep Rigsby's lie a secret.