Sarah Michelle Gellar returned to
The Talk,
this time to present a delicious cooking segment chock full of family friendly recipes. Her newly released cookbook,
Stirring Up Fun with Food: Over 115 Simple, Delicious Ways to Be Creative in the Kitchen
offers a wide array of engaging and enticing dishes for families to craft together. She graciously shared a few with the show, but for more, be sure to pick up a copy of her book, in stores now!
Recipes courtesy of
Stirring Up Fun with Food: Over 115 Simple, Delicious Ways to Be Creative in the Kitchen
.
Coconut Chicken Fingers
Serves six
Ingredients:
3 egg whites
½ cup corn starch
1 teaspoon garlic salt
1 teaspoon black pepper
1 cup sweetened flaked coconut
1 cup panko bread crumbs
½ teaspoon kosher salt
1 teaspoon paprika
12 chicken breast tenders
Red pepper jelly
Directions:
Preheat the oven to 425⁰F
In a small bowl, whisk the egg whites just until foamy. In a shallow dish, stir together the cornstarch, garlic salt and ½ teaspoon of the pepper. In a separate shallow dish, stir together the coconut, bread crumbs, salt, paprika, and remaining ½ teaspoon pepper.
Working one at a time, dredge the chicken tenders first in the cornstarch mixture, then dip them in the egg whites, and finally dredge them in the coconut mixture, pressing it gently with your fingers to adhere. Skewer the chicken tenders, if desired, then coat them generously on each side with cooking spray; arrange them on a wire rack set over a backing sheet.
Bake until golden and the chicken is opaque when pierced, 12 to 15 minutes, turning once after 8 minutes. Serve warm with red pepper jelly.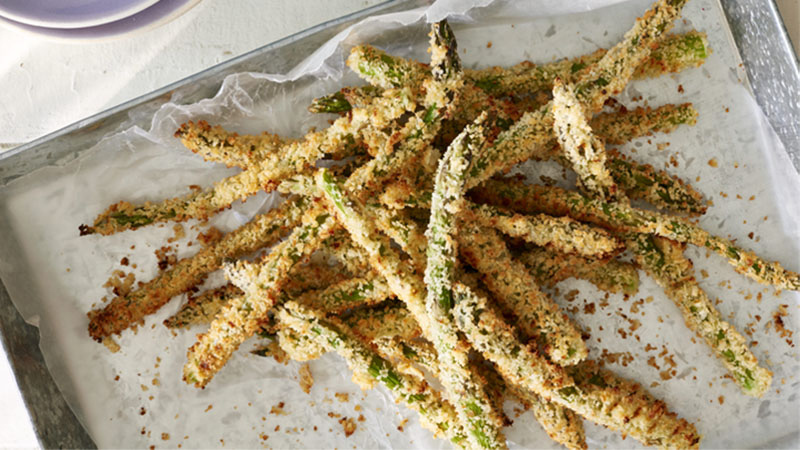 Crispy Asparagus Fries
Serves 4 to 6
Ingredients:
1 ½ cups panko bread crumbs
2 tablespoons canola oil, plus more for greasing
1 teaspoon garlic powder
1 teaspoon kosher salt
½ teaspoon black pepper
½ cup grated Parmesan cheese
1 large egg
½ cup buttermilk
½ cup all-purpose flower
1 pound medium asparagus spears, tough ends removed
Creamy Dijon mustard, for serving
Directions:
Preheat the oven to 450⁰F. Lightly grease wire rack with canola oil and set it over a baking sheet.
In a shallow bowl, toss the bread crumbs with the 2 tablespoons canola oil, garlic powder, salt, and pepper until well coated; stir in the cheese. In a second shallow bowl, whisk together the egg and buttermilk. Spread the flour in a third shallow bowl. Roll each asparagus spear in flour, then in the egg mixture, letting any excess drip off, and then coat with bread crumbs, pressing gently to adhere.
Arrange the spears on the wire rack and bake until golden brown, about 15 minutes. Serve with a side of Dijon mustard.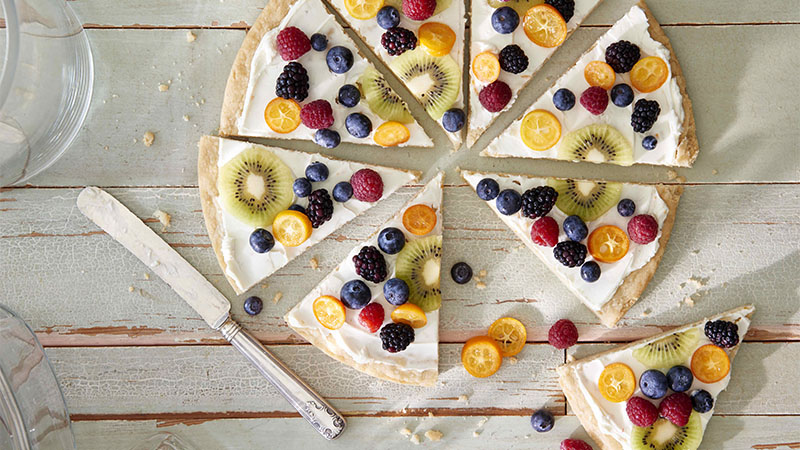 Sweet Pizza with Fruit Toppings
Makes one 12-inch pizza
Ingredients:
Sugar cookie dough (recipe below)
1 ½ (8-ounce) packages cream cheese
2 tablespoons heavy cream
2 tablespoons honey
½ teaspoon orange zest
1/4 teaspoon pure vanilla extract
1 kiwi, peeled and sliced
½ cup raspberries
½ cup blueberries
½ cup blackberries
½ cup kumquats, thinly sliced
Directions:
Preheat the oven to 350⁰F
Roll out the dough to about ½ inch thick. Place a 12-inch pizza pan over the dough and, using a paring knife, cut around the edges to make a 12-inch circle. Remove the pan and spray it with cooking spray, then place the dough in the pan. Bake until the edges are golden, about 15 minutes. Set aside to cool.
Combine the cream cheese and heavy cream in a small bowl and, using an electric mixer, mix until creamy and smooth. Add the honey, orange zest, and vanilla and mix until combined. Spread the cream cheese mixture over the cooled cookie, leaving a small border uncovered for the "crust." Arrange the fruits in a design on top of the pizza. Using a very sharp knife, cut the pizza into 12 slices. Serve immediately or chill until ready to serve.
Sugar Cookie Dough
Ingredients:
½ cup (1 stick) butter
1 cup sugar
1 large egg
1 ½ teaspoons pure vanilla extract
¼ teaspoon kosher salt
½ teaspoon baking powder
2 cups all-purpose flour, plus more for rolling
Directions:
In the bowl of a stand mixer fitted with the paddle attachment, cream the butter on medium speed. Gradually add the sugar and beat until the mixture is light and fluffy. Add the egg and vanilla and mix until combined, then add the salt and baking powder and mix until incorporated. Slowly pour in the flour and mix until incorporated and a dough forms. Gather the dough into a ball and flatten it in a 1-inch-thick disk. Wrap tightly in plastic wrap and freeze for 30 minutes.