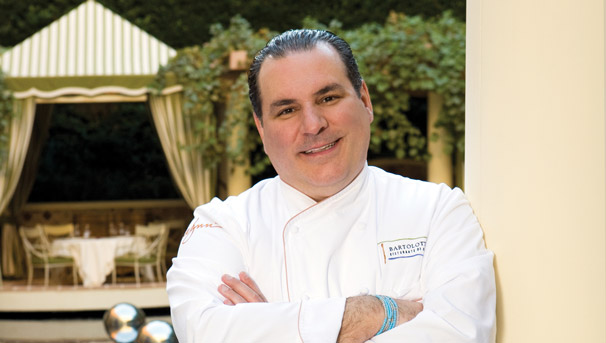 Talk Takeaway: Cooking with Chef Paul Bartolotta
Chef Paul Bartolotta of Bartollota Ristorante di Mare at Wynn Las Vegas joins us for a Talk Takeaway: Cooking segment. He'll be making up a light and delicious Italian feast, starting with a Sicilian oven baked fish and a traditional Tuscan bread salad. He'll finish the meal off with a Mascarpone cream dessert and espresso granite. Chef Bartolotta is an Italian-American chef best known for his Italian coastal cuisine. He is a two-time winner of the James Beard Foundation Award for Best Chef and also owns the restaurants Bacchus, Ristorante Bartolotta, Bartolotta's Lake Park Bistro and Mr. B's.
Pesce Alla Palermitana – Sicilian Oven Baked Fish
Serves 4
Ingredients
4 pc. (8 oz ea.) fillet fish (sea bass or snapper)
4 oz Extra virgin olive oil
2 cloves garlic
12 oz cherry tomatoes (quartered)
1 oz green olives (pitted)
½ oz capers
8 oz fingerling potatoes (approx. 5 potatoes boiled and cut in half longwise)
1 lemon (quartered in wedges)
8 oz dry white wine
12 oz water
1 T fresh oregano leaves
1 T Italian parsley (coarsely chopped)
Sea salt (to taste)
Freshly ground pepper (to taste)
Preparation
Preheat oven to 350 °F.
Season the fish fillet with salt and black pepper. In a large sauté pan, heat the extra virgin olive oil adding garlic and sauté lightly careful not to brown the garlic. Add tomatoes, olives, capers, potatoes, lemon wedges and white wine. Put the fish in the center of the pan, adding water and making sure the liquid is just covering the fish. Cook in the oven for approximately 8 - 10 minutes. Remove the fish fillets from the pan, set aside and keep warm. Return the sauce to the burner over high heat and reduce it to obtain thicker consistently. Add fresh oregano and parsley. Adjust the seasoning of the sauce with salt and black pepper to taste. Carefully arrange the potatoes in the center of each serving plate. Spoon the Palermitana Sauce on top of the potatoes and then arrange one fillet of fish on each plate. Finish by drizzling a small amount of extra virgin olive oil on top of each fillet of fish. Serve immediately.
Panzanella – Tuscan Bread Salad
Serves 4

Ingredients for salad
8 oz day old bread (sliced, not sourdough)
10 oz cherry tomatoes (quartered)
4 oz cucumber (cubed)
24 leaves basil (coarsely chopped)
3 oz red onion (thinly sliced lengthwise)
1 qt water (room temperature)
¼ cup red wine vinegar
Ingredients for Vinaigrette
9 oz extra virgin olive oil
2 oz red wine vinegar
Sea salt (to taste)
Freshly ground black pepper (to taste)
Preparation
In a medium sized bowl combine water and red wine vinegar and soak red onions.
For the vinaigrette, whisk together all the ingredients. Add soaked and strained red onions, cherry tomatoes, cucumber and basil. Toss ingredients and adjust salt and black pepper to taste.
Dip the bread in the water – vinegar mixture for no more then 5 seconds and gently squeeze out excess liquid with your hands careful not to lose the texture of the bread by over–pressing. Break the bread by hand into big chunks and add to the salad mixture. Toss gently, adjusting salt and black pepper to taste. Serve at room temperature.
Coppa Di Mascarpone Con Granita Di Caffe
Serves 4
Ingredients for mascarpone cream
2 oz yolks (room temperature)
2 oz sugar
9 oz mascarpone (room temperature)
4 oz heavy whipping cream
¼ lemon (zest0
Preparation
Whip the cream in the kitchen aid on high speed until thick. Remove whipped cream and set it aside in the refrigerator. Combine yolks and sugar in the stainless steel bowl, cook over water bath until thick and pale yellow, continually whisking it. Pour eggs mixture into the clean kitchen aid bowl. Whip on medium-high speed until cool. Add softened mascarpone to the eggs mixture and whip it again just until combined. Fold in whipped cream and lemon zest.
Ingredients for espresso granita
16 oz espresso
5 oz sugar
Preparation
Dissolve the sugar in the espresso. Freeze in mold. Once it frozen solid, shave into granita.
Plating
Spoon 1/5 cup of the mascarpone cream into the dessert glass, spread the granita evenly on the top and zest a generous amount of orange over granita. Complete with chocolate gelato on top.