Talk Food Festival: Ann Gentry
Chef and founder of Real Food Daily, Ann Gentry, helped kick off Sheryl's month of eating Vegan for The Talk Food Festival. She made a healthy and delicious meat-free meal. Here are all her vegan friendly recipes from today's show.
PECAN AND CORNMEAL CRUSTED TEMPEH WITH COCONUT SWEET POTATO PUREE
Reprinted with permission from "Vegan Family Meals, Real Food for Everyone" by Ann Gentry Copyright 2011 Andrews McMeel Publishing
Serves 4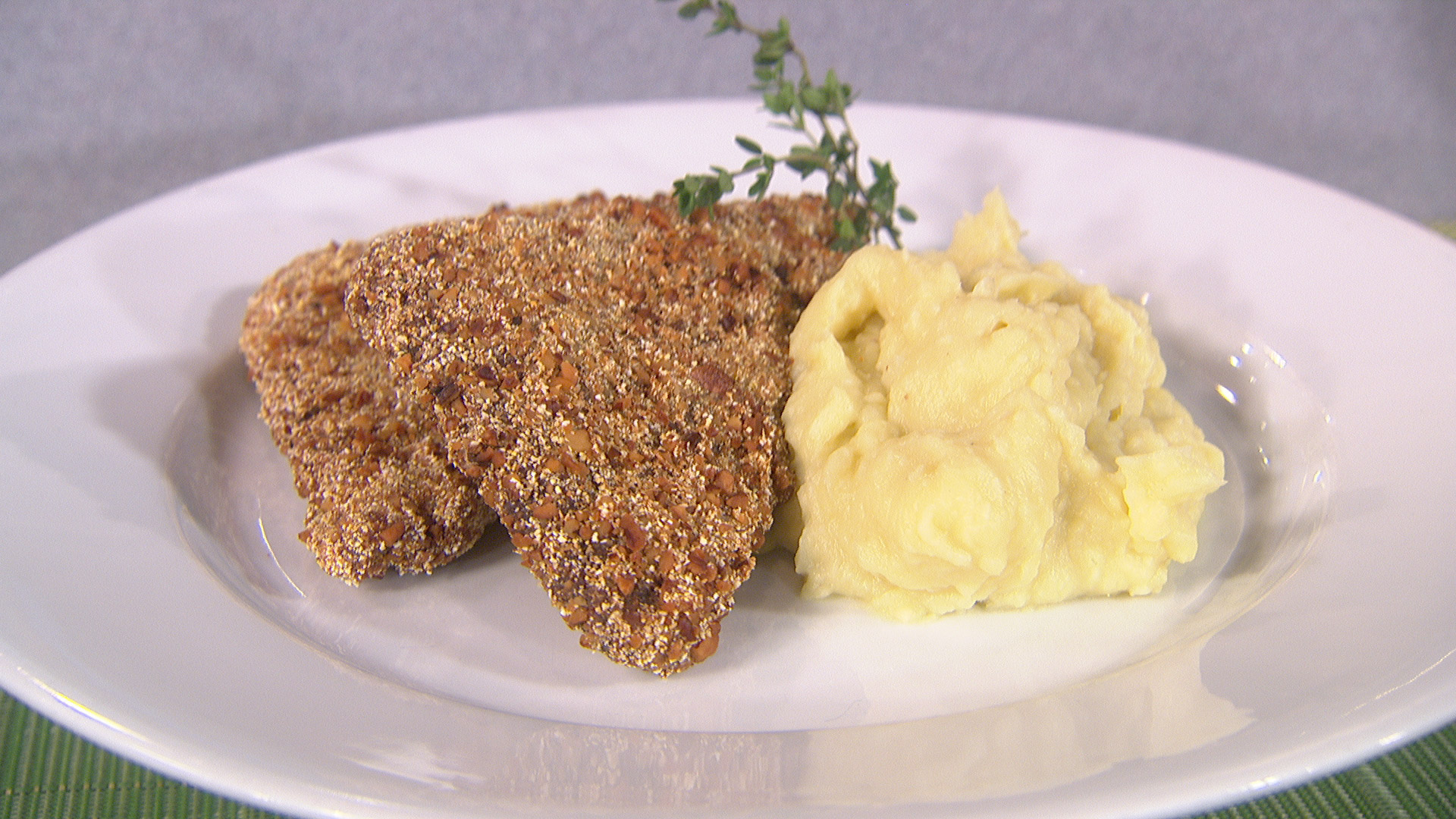 TEMPEH:
½ cup tamari
¼ cup water
2 tablespoons minced garlic
2 tablespoons minced peeled fresh ginger
2 tablespoons pure maple syrup
2 tablespoons dried thyme
2 tablespoons toasted sesame oil
1/8 teaspoon cayenne pepper
2 (8-ounces) square packages grain-based tempeh, cut horizontally in half, then cut diagonally into 8 triangles
COATING:
1 cup pecans
½ cup cornmeal
½ teaspoon fine sea salt
Pinch of ground white pepper
½ cup spelt flour
½ cup unsweetened soy milk
High-heat neutral cooking oil, for deep-frying
COCONUT MASHED SWEET POTATOES:
5 small beige-colored sweet potatoes (about 1 ½ pounds total), peeled and cut into about ¾-inch pieces
1 cup unsweetened coconut milk, warmed
¼ cup shredded unsweetened dried coconut, toasted
Sea salt and ground white pepper
METHOD:
To prepare the tempeh, whisk the tamari, water, garlic, ginger, maple syrup, thyme, sesame oil, and cayenne in a heavy 12-inch frying pan. Add the tempeh pieces so that they are in a single layer. Bring to a boil over high heat, then decrease the heat to medium-low and simmer gently for 10 minutes, turning the tempeh slices over after the first 5 minutes. Remove the pan from the heat and set it aside until the mixture is cool, about 25 minutes.
Using the pulse button, finely chop the pecans in the food processor until they are as broken down as possible without turning them into a paste. (If you overprocess the nuts, their high oil content will turn them into a paste, so be careful not to do that.) Add the cornmeal and pulse until the mixture has a nice even texture without any large chunks of pecans. Add the salt and white pepper.
Place the spelt flour, soy milk, and cornmeal-pecan mixture in 3 separate pie plates. Working with 1 piece of cooled tempeh at a time, dredge the tempeh pieces in the spelt flour, then dunk them in the soy milk, and finally, roll them in the cornmeal-pecan mixture to coat completely.
Pour enough oil into a heavy large frying pan to reach a depth of 2 inches. Heat the oil over medium heat until it reaches 350°F on a deep-fry thermometer. Working in batches, fry the breaded tempeh until they are crisp and golden brown, about 2 minutes per side. Transfer the croquettes to paper towels to drain the excess oil.
Meanwhile, to prepare the sweet potatoes, place the sweet potatoes in a large saucepan of water. Bring the water to a boil over high heat and cook the potatoes until they are tender, about 30 minutes. Drain well.
Place the sweet potatoes in a blender or food processor. With the machine running, add the coconut milk and the toasted shredded coconut and blend until the puree is as smooth as possible. Stop the machine and scrape the sides of the bowl down occasionally. Season to taste with salt and white pepper.
Spoon the sweet potatoes onto plates and place the tempeh alongside and serve.
Real Food Daily Chocolate Pudding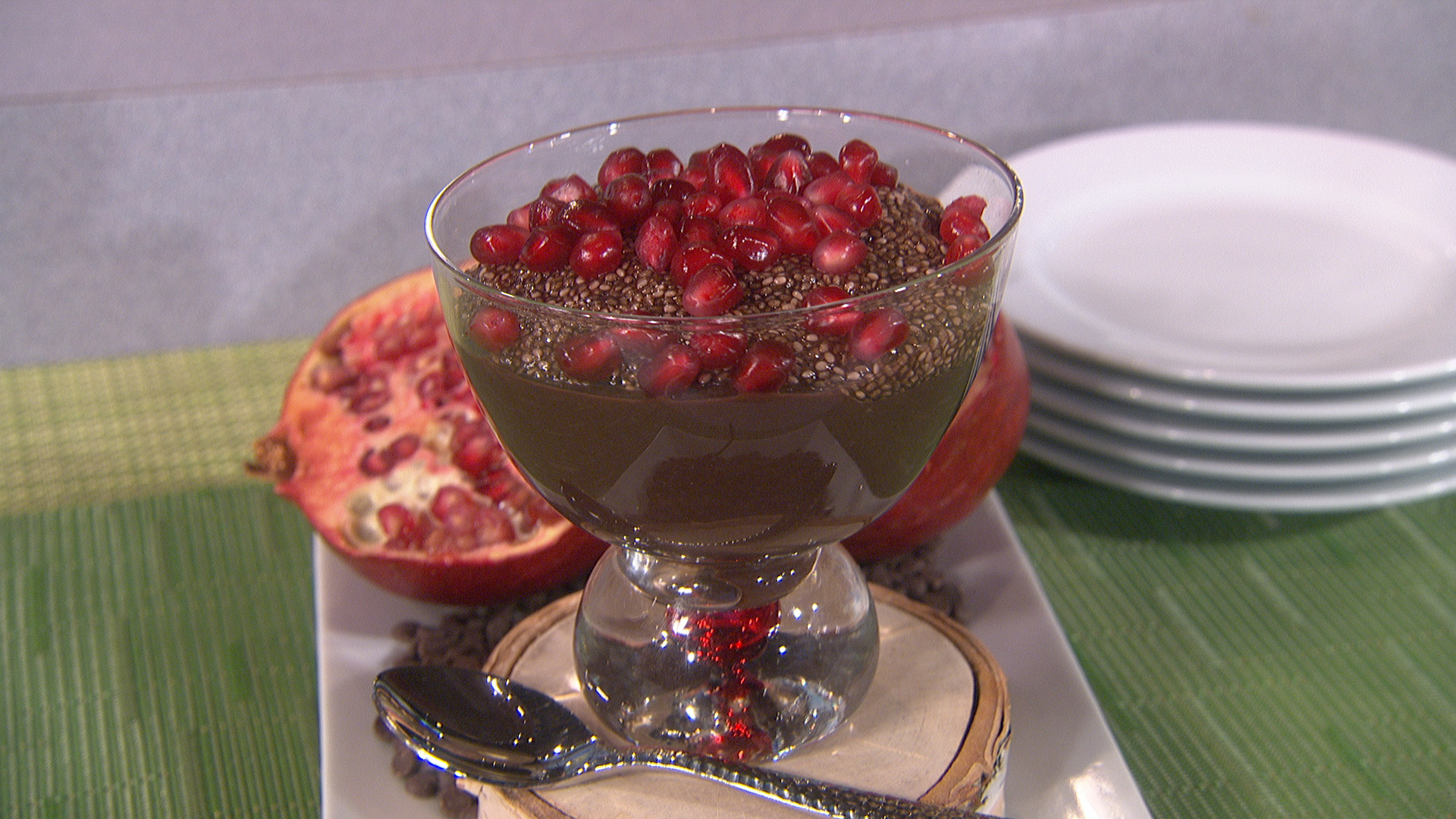 Courtesy of Ann Gentry and Real Food Daily
Pudding Part 1
1 12.3 package Mori-Nu silken tofu
1/4 cup Maple Sugar
1/2 cup Cocoa Powder
1/8 cup Maple Syrup
1 teaspoon Vanilla Extract
1/4 teaspoon Sea Salt
Place silken tofu and maple sugar in a blender or food chopper. Pulse until mixture is smooth.
Add cocoa powder, maple syrup, vanilla extract and salt and continue to pulse until the consistency is smooth and creamy. Place into a large mixing bowl and set aside.
Pudding Part 2
1/2 cup Maple Syrup
3 cups Soymilk (Plain or Vanilla)
1/2 tablespoon Vanilla Extract
1/2 cup Cocoa Powder
¼ teaspoon Sea Salt
2 heaping tablespoons Kudzu
1/3 cup Water
2 heaping tablespoons Arrowroot Powder
3/4 cups Chocolate Chips (Dairy Free)
Combine maple syrup, soymilk, vanilla, cocoa powder and sea salt in a medium stock pot. Place on stovetop on medium heat and bring to a simmer.
Meanwhile, place kudzu in a small cup and add water and stir with a fork until all lumps are liquefied. You will now have a paste like slurry. Slowly pour kudzu into the simmering liquid. Add arrowroot powder stirring constantly. Increase heat to allow coming to a boil. Once at boil, place
chocolate chips into a medium-mixing bowl. Pour boiling mixture over chocolate chips to melt and stir until smooth.
Cover with plastic wrap and set-aside until cool at room temperature about 30 minutes.
Once part 2 is cool, add to Pudding Part 1. Stir together with a whisk until mixture is smooth.
Place in refrigerator to chill about an hour.
Chia Mixture
1 cup Pomegranate juice
1/2 cup Agave Nectar
1/8 teaspoon Vanilla bean paste
1 cup Chia seeds
1 package or 1 whole pomegranate (remove seeds)
Combine juice, agave, vanilla paste and chia seeds in a small bowl.
Allow chia seeds to soften about 20 minutes. Stir occasionally to make sure all seeds are softening.
Serve in a parfait glass
Scoop about 2 – 3 oz. of Chocolate Pudding into bottom of the parfait glass.
Add 3-4 oz. of Chia Pudding on top of the chocolate pudding.
Top with 2-3 oz. of Pomegranate Seeds.