Talk Food Festival: Edward Lee
Chef and owner of MilkWood in Louisville, Kentucky, Edward Lee was back at "The Talk" for "The Talk Food Festival." He made sweet and savory dishes using chocolate! Here are all of his recipes.
Dark Braised Lamb Shoulder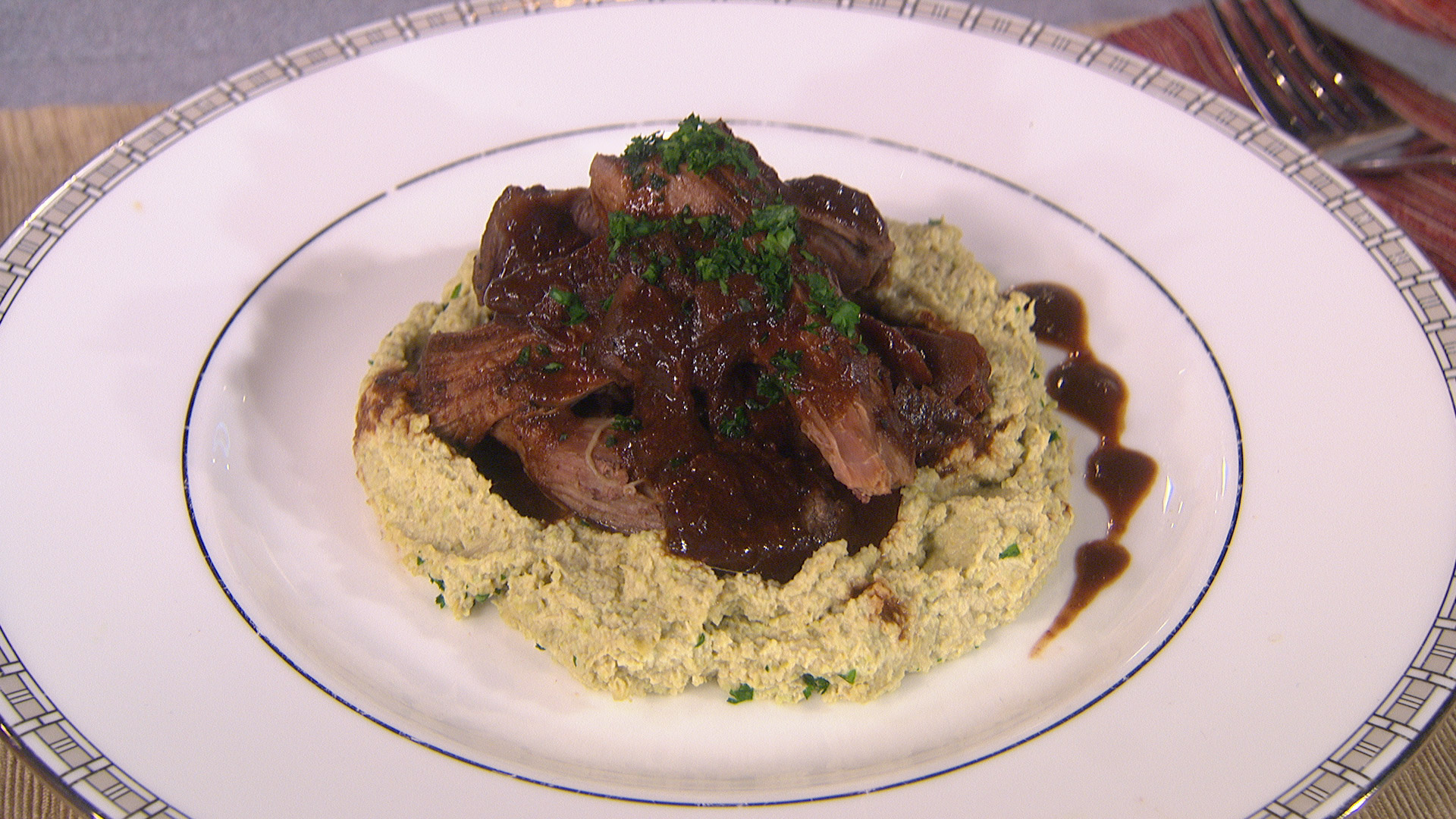 Feeds 6 as a main course
4 tablespoons kosher salt
2 tablespoons black pepper
1 lamb shoulder, roughly 3 pounds
2 tablespoons canola oil
1 cup diced onions
1 cup chopped carrots
1 cup chopped celery
3 cloves garlic minced
1 cup chopped button mushrooms
½ cup bourbon
¼ cup ketchup
1 tablespoon soy sauce
3 tablespoons sorghum
¼ cup black bean paste
1½ ounces dark chocolate, roughly chopped
1½ quart chicken stock
Make a rub by mixing the salt and pepper together in a bowl. Rub this all over the lamb shoulder.
2. Add the canola oil to a large Dutch oven over medium-high heat. Once the oil is hot, add the lamb shoulder to the pan and brown on all sides.
3. Add the vegetables to the pot and brown them a little. Next, add the bourbon, ketchup, soy sauce, sorghum, black bean paste, chocolate and the chicken stock.
4. Bring this to a simmer over medium-high heat. Put the lid on the pot and cook for 2½ to 3 hours.
5. Check for doneness.

6. Carefully remove the lamb to a cutting board. Pull it in large chunks off the bone. Serve it over edamame hummus in warm bowl. Ladle some of the braising liquid with the vegetables over the meat and serve immediately with a garnish of fresh chopped parsley.
Edamame Hummus
Feeds 6 to 8 as a side dish
2 tablespoons olive oil
1 shallot, fine diced
5 cloves garlic, chopped
2 cups edamame beans, shelled
1 cup water
½ cup tahini
1/3 cup lemon juice
1 tablespoon soy sauce
2 teaspoons salt
1 ½ teaspoons ground cumin
In a large saucepan, heat the olive oil over medium heat. Add the shallots and garlic and sauté for 2 minutes until soft.

Add the edamame and cook for 2 minutes.

Add the water, tahini, lemon juice, soy sauce, salt and cumin. Stir and simmer for 10 minutes.

Transfer the contents to a food processor and puree until you get a thick crumbly puree. Keep warm in a pot on the stove until ready to serve.
Cardamom Ambrosia Salad with Creamy Tofu Dressing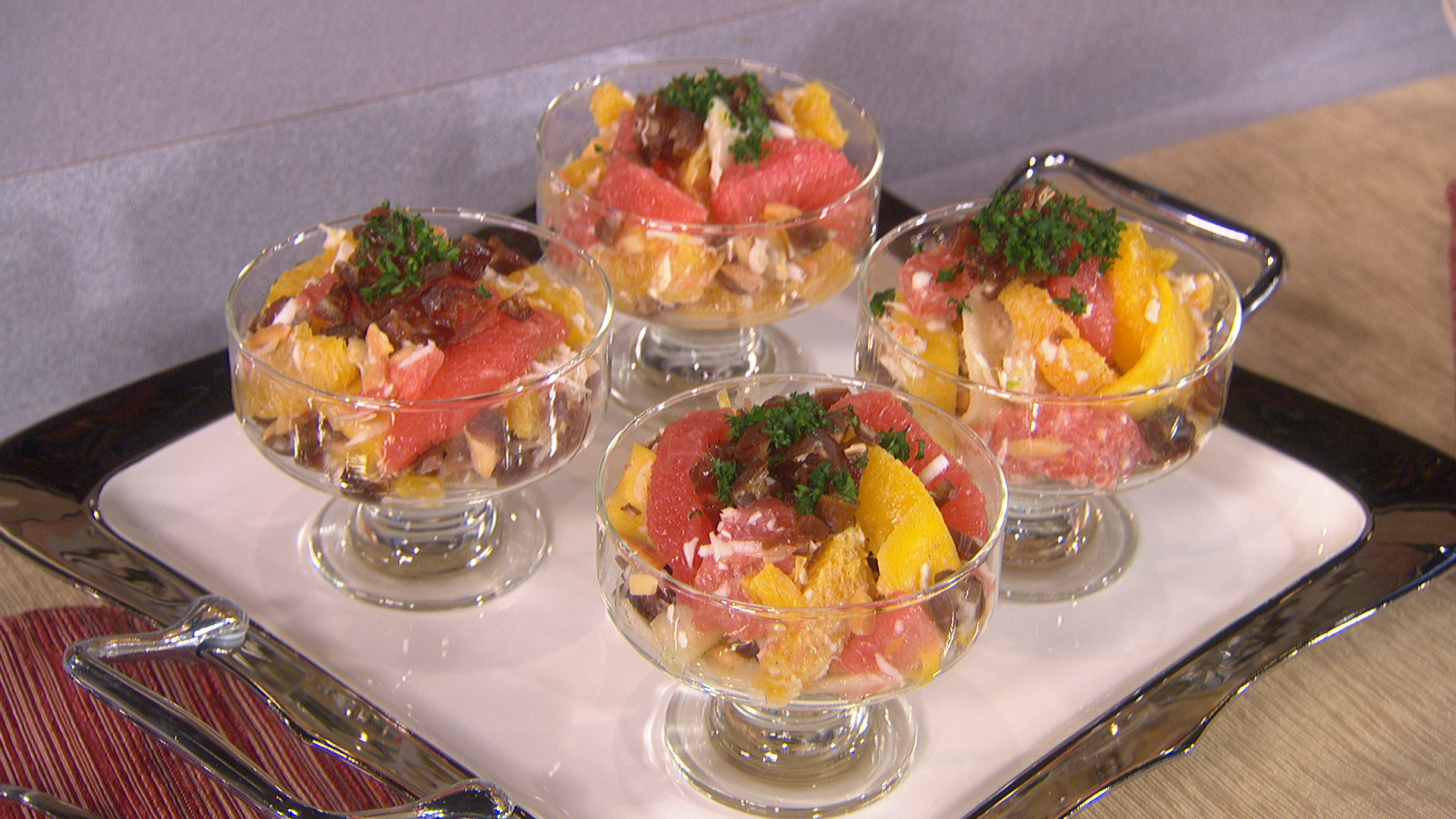 Feeds 6 to 8 as a side dish
Tofu Dressing:
4 ounces soft or silken tofu
2 teaspoons blond or white miso
½ teaspoon honey
Juice of half a lemon
Salt and black pepper to taste
Squeeze moisture out of tofu. Place tofu in blender with the miso, honey and lemon juice. Puree until smooth. If needed, add a little water. Season with salt and pepper and blend again til creamy.

Transfer to glass container. It will keep for up to a week in the fridge.
Salad:
2 oranges, cut into supremes
1 grapefruit, cut into supremes
2 Champagne mangoes, peeled and sliced thin
2 Anjou pears, sliced thin
½ cup shredded fresh coconut
3 ounces dried dates, roughly chopped
2 ounces almond slivers
¾ teaspoon ground cardamom
2 teaspoons coconut water (from the fresh coconut)
Make the creamy tofu dressing.

Combine the oranges and grapefruit supremes and mango and pear slices into a large mixing bowl. Add the shredded coconut, dates and almond slivers. Sprinkle the ground cardamom over the salad and add the coconut water. Thoroughly toss the salad in the mixing bowl.

Divide the salad into bowls. Add a spoonful of the tofu dressing to each bowl. Garnish it with more chopped dates and some parsley leaves
Chocolate Torte with Shaved Chestnuts and Pomegranate Seeds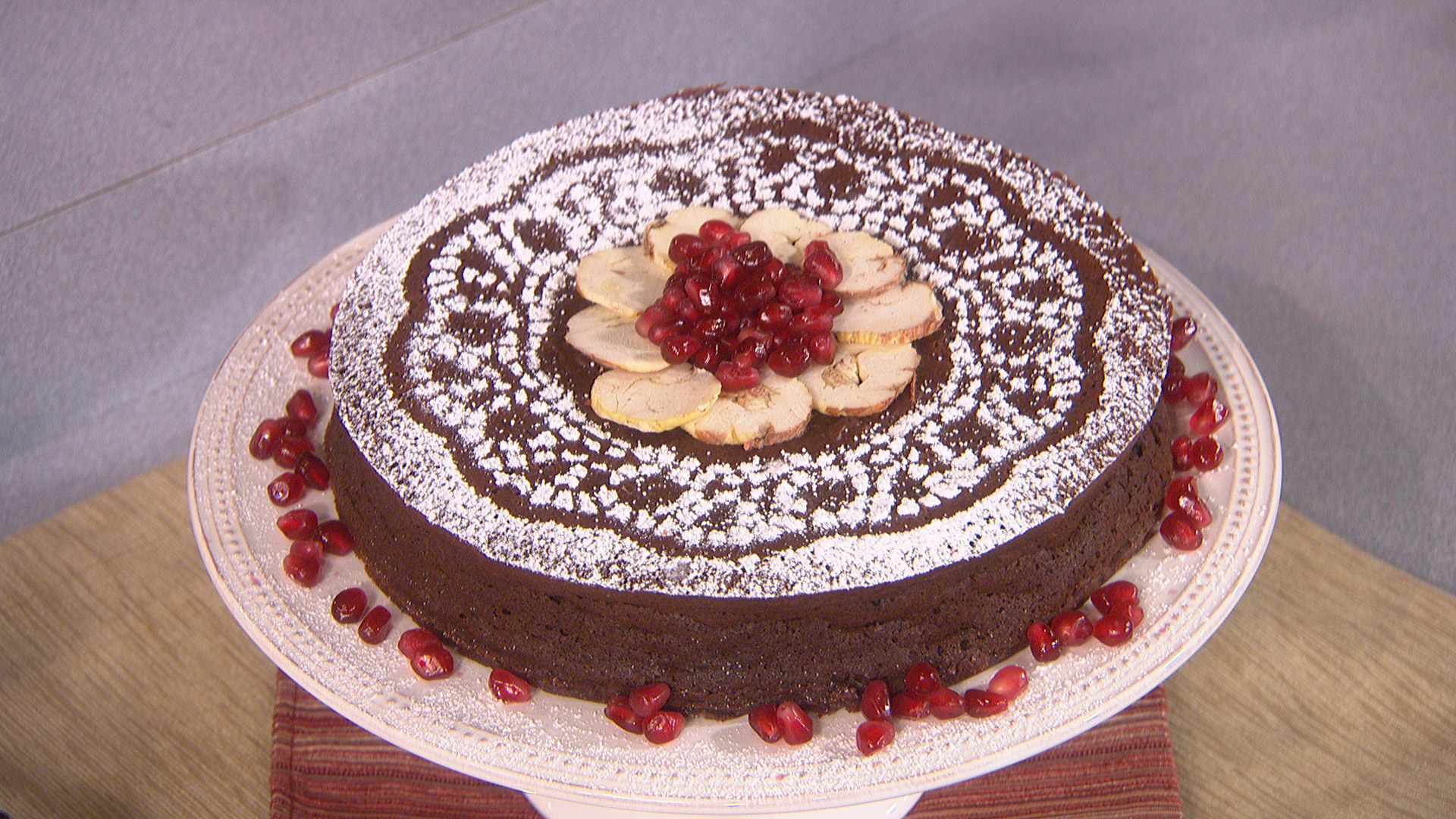 1/2 pound unsalted butter, cut into small pieces
1 pound bittersweet chocolate, coarsely chopped
1/4 cup ornage liquor
8 large eggs
1/4 cup sugar
1 teaspoon vanilla extract
1/2 teaspoon salt
Confectioners Sugar
6 raw and peeled chestnuts
¼ cup pomegranate seeds
Powdered sugar
Preheat oven to 325 degrees F.

Line a 9-inch springform pan with a parchment paper.

In a double boiler, melt the chocolate, butter, and orange liquor in a bowl until smooth.

Beat the eggs, sugar, vanilla, and salt in a bowl with an electric mixer until frothy and doubled in volume. Fold this into the chocolate mixture little by little until completely combined.

Pour batter into springform pan and bake in a water bath until cake edges are just beginning to set, about 40 to 45 minutes. Remove pan and cool to room temperature and refrigerate at least 4 hours.

Remove cake from refrigerator and unmold. Garnish just before serving by slicing chestnuts thinly on mandolin. Garnish with pomegranate seeds. Dust with powdered sugar and serve immediately.