Talk Food Festival: Dean Sheremet
Chef Dean Sheremet returned to The Talk for "The Talk Food Festival." He made a chocolate-inspired menu that you can make this Valentine's Day! Here are his decadent recipes that will be sure to earn you brownie points!
Cocoa and Coffee Encrusted Steak with Chocolate Chipotle BBQ Sauce and Frizzled Onions
2 6-8 ounce steaks of your choice, filet or rib-eye work great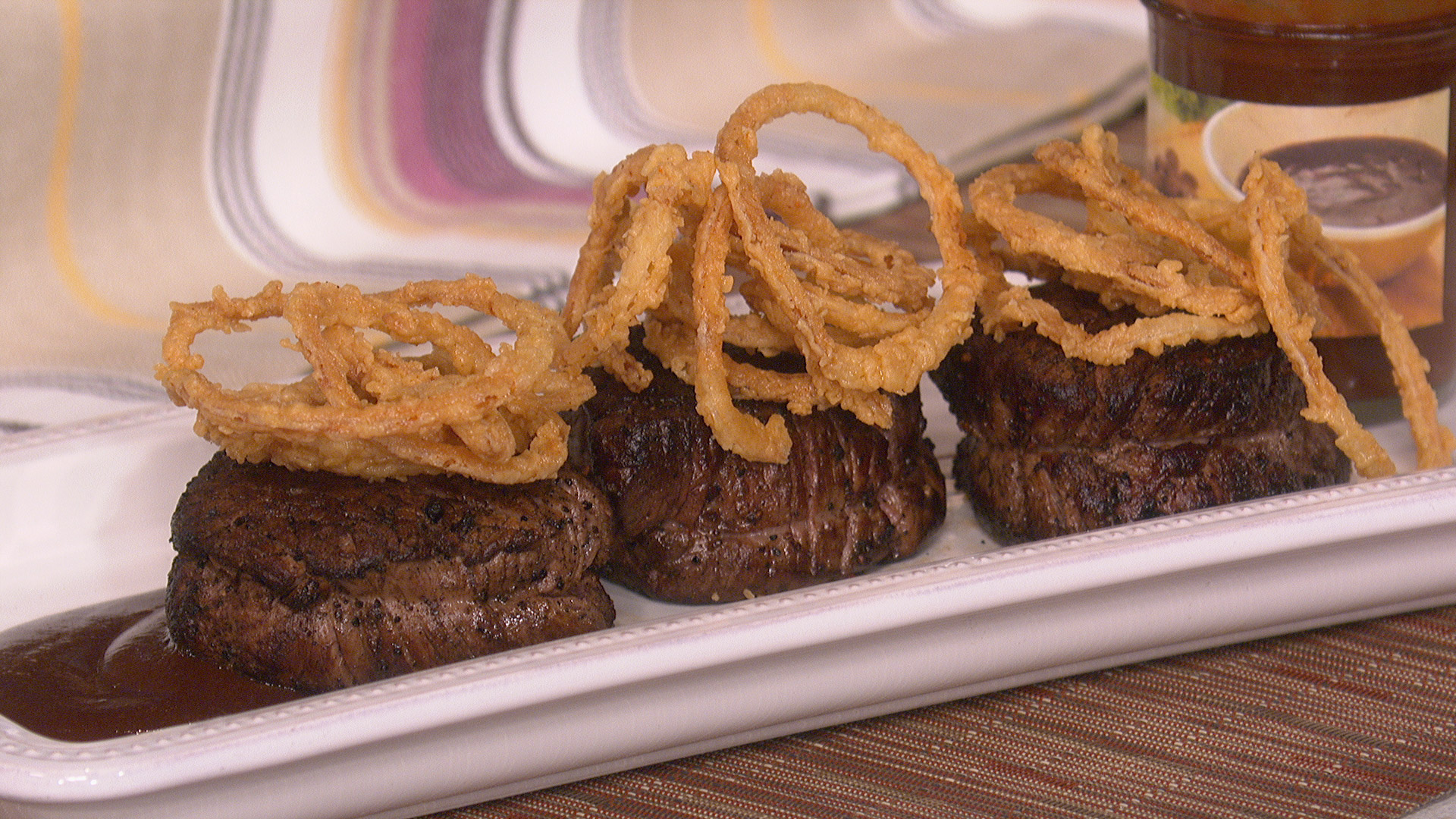 Grapeseed or high-heat cooking oil
2 Tablespoons unsalted butter
1 Sprig of rosemary
1 clove of garlic, smashed
Chocolate chipotle BBQ sauce (recipe below)
Rub
1 Tablespoon black peppercorns
1 Teaspoon kosher salt
1 Teaspoon espresso powder
1 Tablespoon cacao nibs
Frizzled Onions
1 Spanish onion, shaved 1/8in thin on a mandoline
2 cups Buttermilk
1 cup all purpose flour
1 Teaspoon kosher salt
¼ teaspoon cayenne pepper
3 cups grapeseed or high temperature oil
Pre-heat the oven to 500 degrees, place rack in center position and set a half sheet tray with a wire rack inside
Bring your meat out to temper about 30 minutes before you start cooking
Tip the rub ingredients into a mortar and pestle and grind them until the peppercorns and nibs are coarse, not too fine
Add the sliced onions to a container just large enough to hold them and pour the buttermilk over them, making sure they are completely submerged
In a large bowl, whisk together the flour, salt and cayenne and set aside
Heat the 3 Cups of oil in a medium saucepan until it reaches 350 degrees
Add 3 Tablespoons oil to heavy skillet set over high heat
Generously coat the meat on all sides with the rub
When the oil is just about to smoke, add the steaks to the pan and cook 2-3 minutes on each side until a nice crust develops
Add the butter, rosemary and garlic to the pan, tip the pan toward you and gently baste the meat in the flavored butter for about 30 seconds
Remove the meat from the pan and place it on the wire rack in the oven
Transfer the steaks to the oven and cook about 4-5 minutes more for medium-rare - flipping the meat halfway through. Check for doneness and allow the meat to rest on a cutting board at least 5 minutes before carving
While the meat is resting remove a handful of the onions and shake off the excess buttermilk, dredge in the flour mix, being careful they don't clump up
Fry until golden brown, (this happens very quickly) and drain on a plate lined with paper towel
Place the steaks on a plate and top with a heap of frizzled onions and a healthy amount of barbecue sauce
Chocolate chipotle BBQ sauce
1 Tablespoon olive oil
3 Cloves garlic
1 Cup of Chocolate stout (any stout will work fine)
1 Teaspoon Onion powder
1/3 Cup Low sodium soy sauce
2/3 Cup Ketchup
1 Tablespoon of Worcestershire sauce
1 Chipotle in adobo with 1 ½ Tablespoons of sauce, minced
1/3 Cup brown sugar
1 ½ ounces of dark chocolate, chopped
Heat the oil in a saucepan and gently cook the garlic until golden brown
Add the remaining ingredients and simmer for 30 minutes or until the sauce is very thick
Using a mesh strainer, strain the sauce into a clean jar
The sauce will keep a week in the fridge
Citrus Salad with Cocoa Vinaigrette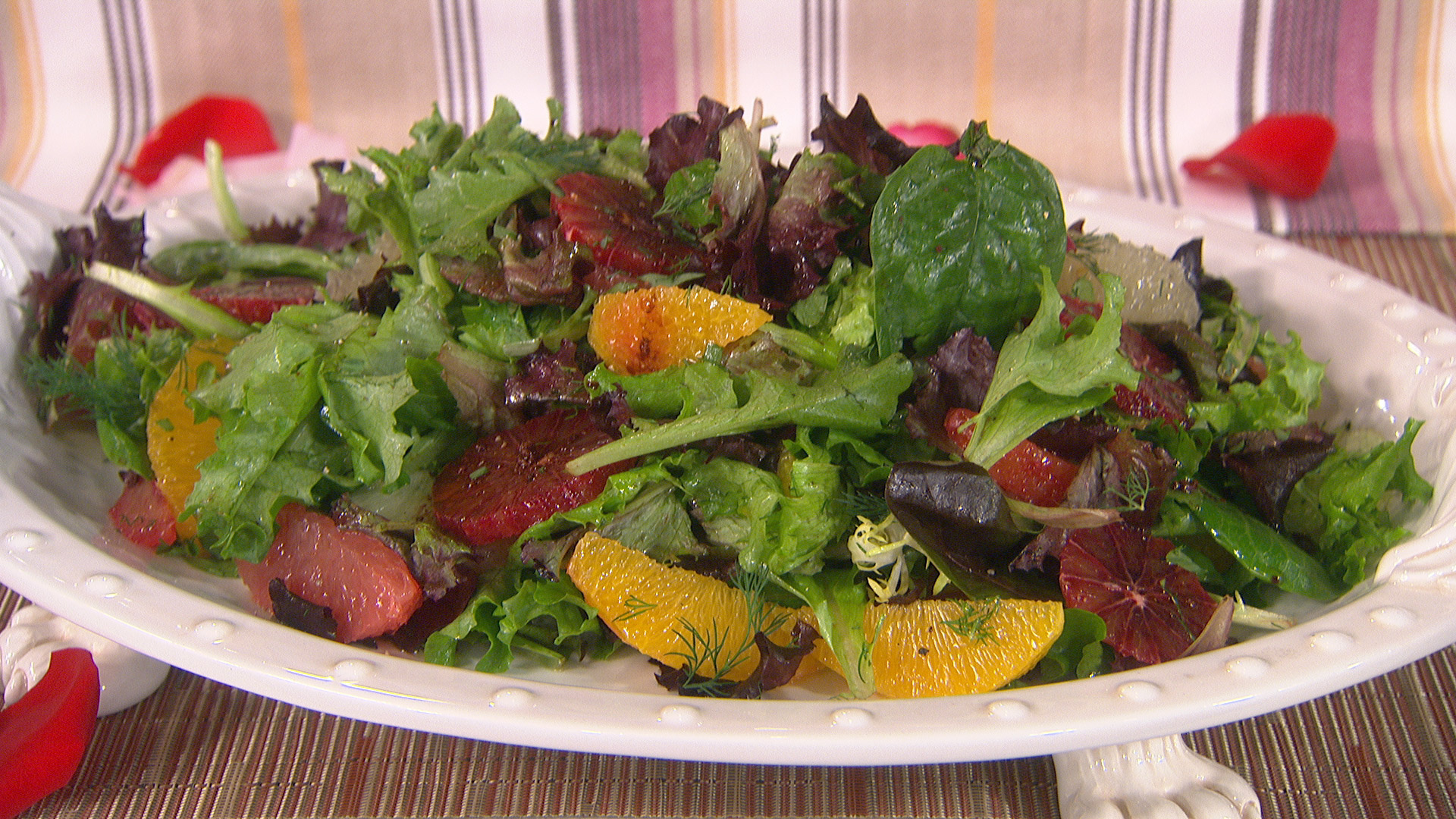 Vinaigrette
1 ½ Teaspoons of cacao nibs
1 ½ Teaspoons of unsweetened cocoa powder
1 Teaspoon fluer de sel
½ Teaspoon fresh ground pepper
3 Tablespoons balsamic vinegar
1 1/2 Teaspoons honey
3/4 cup extra virgin olive oil
Combine the nibs, cocoa powder, salt and pepper in a mortar and pestle or spice grinder and grind into a fine powder
In a bowl or old jam jar, combine the powder with the oil and vinegar and whisk or shake well to combine
This dressing will keep about a week in the fridge
Salad
4 cups of spring mix greens
2 tablespoons tarragon leaves
2 Tablespoons dill leaves, chopped
1 grapefruit, peeled and segmented
1 ruby red grapefruit, peeled and segmented
1 navel orange, peeled and segmented
1 blood orange, peeled and sliced into disks
In a large bowl, gently toss the greens with just enough vinaigrette to coat them
Arrange on a plate with the citrus and herbs finish with an extra drizzle of the dressing over everything
Chocolate Chocolate Chip Cookies with Salted Caramel Drizzle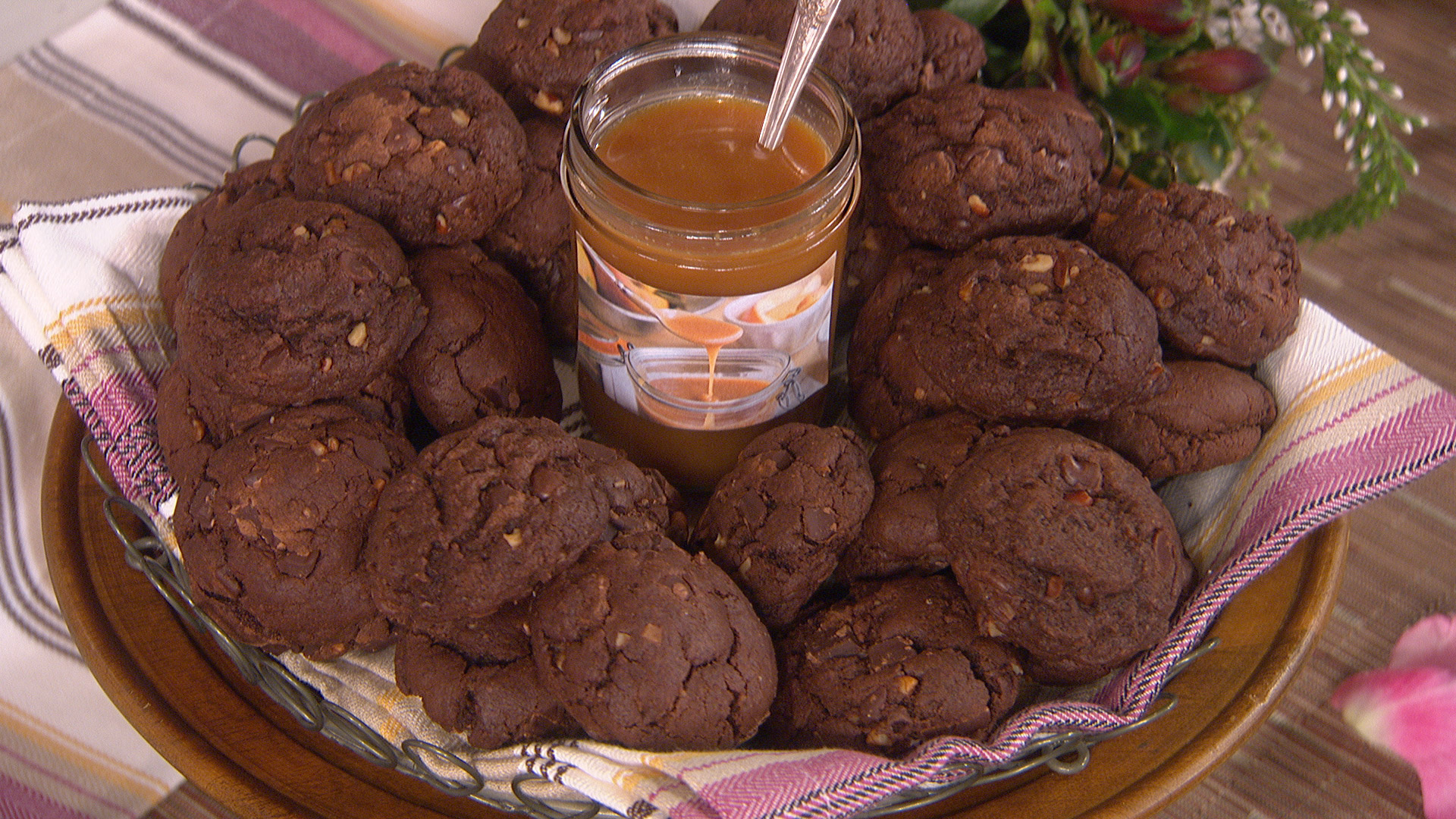 Whenever I bake I always measure by weight for absolute accuracy.
I normally use a #40 scoop, which is about 1.5 Tablespoons, but feel free to play with the size.
275 grams All purpose flour
75 grams Unsweetened Cocoa Powder
1/2 teaspoon Baking Soda
1/2 teaspoon Baking Powder
200 grams Dark Brown Sugar
Teaspoon of salt
8 ounces unsalted butter at room temp
100 grams of white sugar
2 large Eggs, at room temperature
340 Grams of Bittersweet Chocolate chips
1/2 cup of pecan pieces
1 teaspoon of vanilla extract
1. Preheat the oven to 350 degrees
2. In a large bowl, Combine the flour, cocoa powder, Baking soda and baking powder
3. In a stand mixer, cream the butter and sugars and salt until light and fluffy about 5 minutes
4. Add eggs one at a time, letting each one incorporate before adding the next
5. Add the vanilla extract
6. Lower the speed of the mixer and add the dry Mixture in 2-3 batches
7. Fold in the chocolate chips and pecans with a spatula
8. Roll the dough into balls and bake for 9 minutes, rotating halfway through
9. Drizzle with the sauce after it has cooled
Caramel Sauce
1 cup sugar
2 Tablespoons corn syrup
¼ cup water
1 cup of heavy cream
½ vanilla bean, split and scraped into the cream
¼ cup Greek yogurt
1 Teaspoon fleur de sel
Heat the sugar, syrup and water in a saucepan until it becomes dark amber in color, about 6-8 minutes or until it registers 350 degrees on an oil thermometer. Taking care to brush the sides down with a wet brush so the sugar doesn't burn as it bubbles up
Heat the cream and the vanilla bean in a separate pan until just below a simmer (do not allow it to boil over)
Once the sugar has come to 350 degrees, remove the vanilla pod from the cream and gently pour the cream into the sugar mixture. It will bubble like crazy, but keep stirring with a heat safe spatula or wooden spoon
Once the mixture has cooled a bit and is smooth, whisk in the Greek yogurt until completely emulsified
Pour into a large glass jar
Keeps about a week, but it won't last that long