Talk Food Festival: Rick Moonen
Chef Rick Moonen joined the ladies in the kitchen for "The Talk Food Festival." Rick is the chef and owner of RM Seafood and Rx Boiler Room at the Mandalay Bay in Las Vegas. He showed the ladies how to make his incredible Lamb Osso Buco Greek Style with Toasted Orzo. Here are all of his recipes from today's show!
Recipes courtesy of Chef Rick Moonen.
Lamb Osso Bucco Baked with Orzo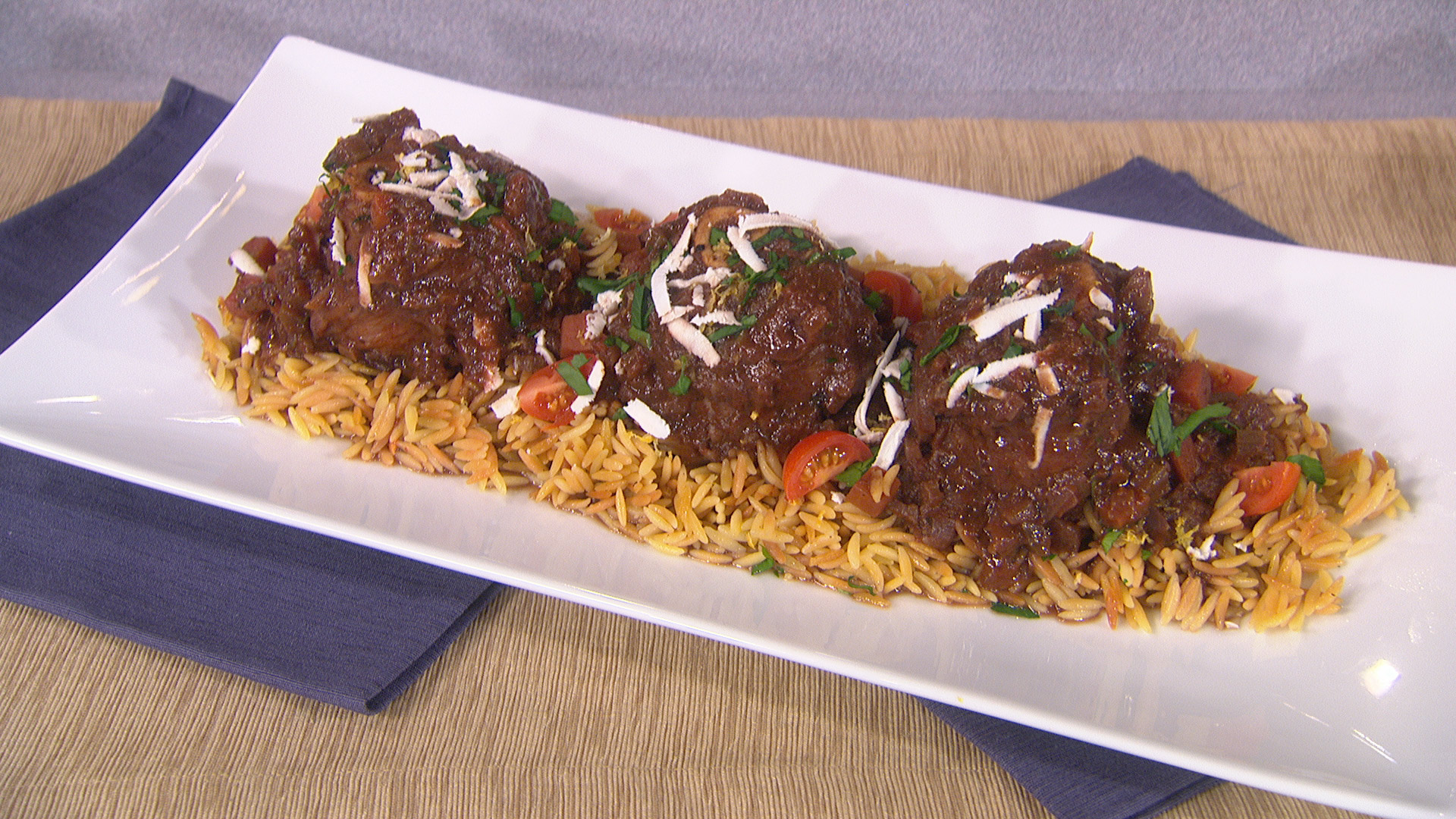 Yield: 12 servings.
Lamb Marinade:
6 Pounds Lamb Shanks cut into 2 inch thick steaks
1 Cup EVOO
1 ea Lemon zest and juice
3 Tbs Garlic, sliced
2 Tbs Dry Savory
1 tsp. Fresh Ground Black pepper
Whisk together the Olive Oil, Lemon, Garlic, Savory and the pepper. Place the marinade and the lamb shanks in a zip-top bag to combine. Let marinate for 12 hours.
To braise the lamb:
½ Cup EVOO
Salt and Pepper
5 Cups Onion, small dice
2 Cups Celery, small dice
2 Cups Carrot, small dice
1/3 Cup Garlic, Sliced
1 Tbsp Ras el Hanout
1 tsp Aleppo Pepper
1 Tbsp Dry Savory
750ml. Dry Red Wine
1 ½ Quart Lamb Stock
1 #10 Can Whole Peeled Tomato in puree (Crushed through a mill)
Sachet (ingredients should be Wrapped and tried in cheesecloth)
1/2 bunch Parsley stems,
6 sprigs Fresh thyme,
2 ea Bay leaves,
2 whole Cinnamon sticks
Remove the lamb from the marinade and season well with salt and pepper.

Heat a large, wide pan over medium high heat. Sear the seasoned lamb shanks very well on all sides in some oil. Remove when caramelized and keep covered.

Add the celery, carrot and onion. Cook for 5 minutes to soften.

Add the garlic and cook for an additional 2 minutes.

Stir in the Aleppo, savory, and ras el hanout.

Deglaze the entire pan with the red wine. Scrape the bottom to release the brown bits.

Bring to a simmer and cook for 2 minutes.

Add the lamb stock, tomato, sachet and the reserved lamb shanks.

Taste and season the braising liquid.

Bring to a gentle simmer. Cover the pot and braise in a 300 degree oven for 2 hours (until the meat is very tender and almost falling off the bone.

Carefully remove the shanks to a hotel pan. Reduce the braising liquid by half to obtain a flavorful stock.

Remove the sachet and pour the braising liquid over the lamb.

Cool the lamb in the liquid. Reserve.
To Finish the Dish:
2 each Lamb shanks, reheated in the braising liquid.
½ cup Cooked Orzo pasta (blanched in salted boiling water for 2 minutes, shocked, drained and coated in EVOO)
1 tsp Garlic, chopped
1/8 tsp Lemon Zest
1 tsp Parsley, Chiffonade
1 tbsp Freshly grated parmesan cheese
Toast the garlic and orzo in a sauté pan with a little bit of olive oil.

Add lemon zest and parsley.

Place lamb shanks on top of pasta and top with a spoonful of sauce.

Top the lamb with the cheese and more of the parsley.

Serve immediately.
Moonen Tater Tots with Tartar Sauce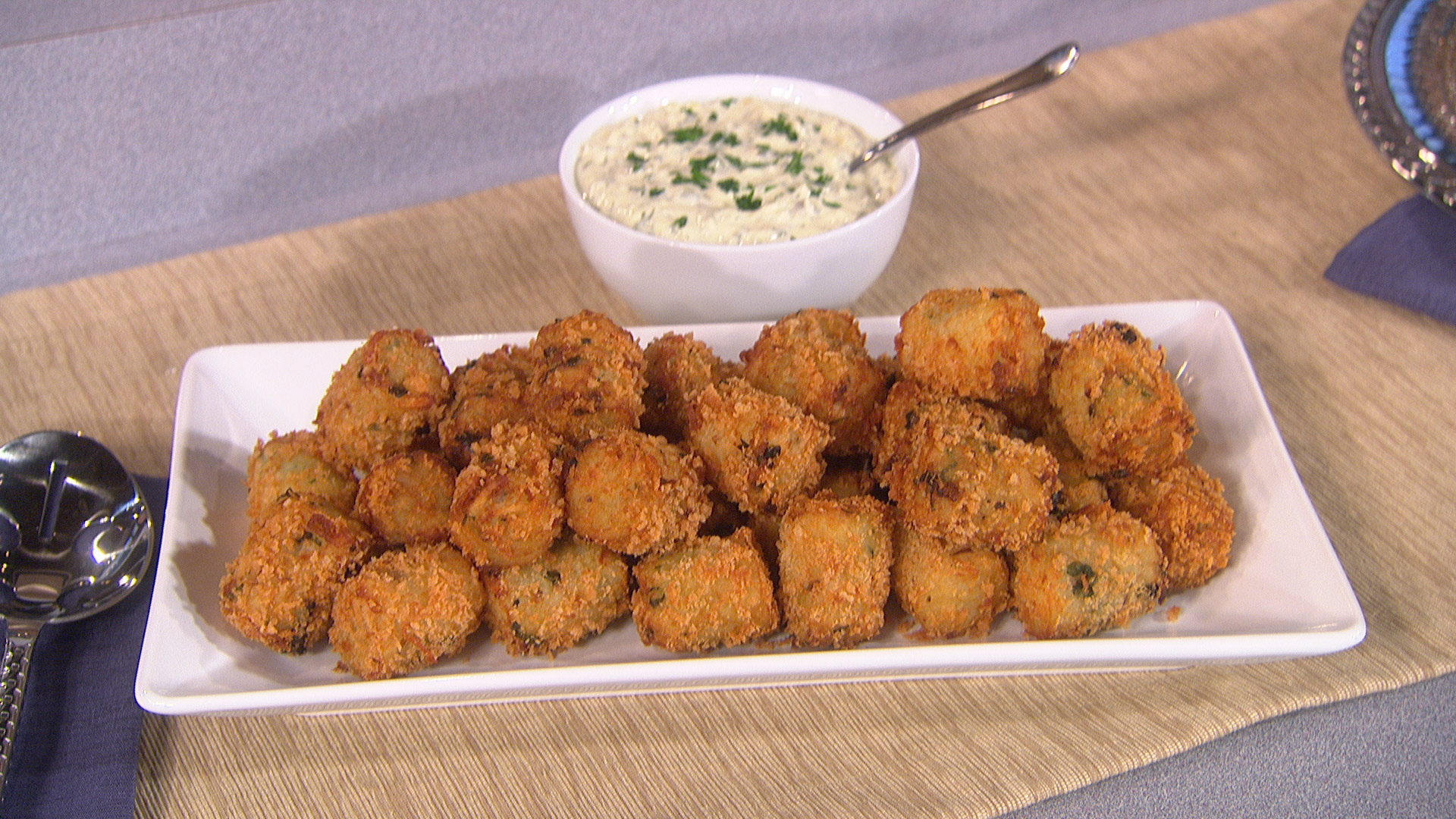 Tater Tots:
5 pounds Russet potatoes, cooked in their skins…chilled and peeled
4 ounces corn starch
1 ounce fresh chopped chives
½ cup parmesan cheese
2 large egg yolks
2 cups fine panko bread crumbs
Green Tartar Sauce:
Makes about one cup
1 large shallot, chopped
3 tablespoons chopped capers
1/4 cup chopped cornichons or gherkins
3/4 cup mayonnaise
3 tablespoons chopped fresh chives
3 tablespoons chopped fresh parsley
2 tablespoons chopped fresh dill
1 teaspoon fresh lemon juice
1/2 teaspoon Dijon mustard
1/2 teaspoon freshly ground pepper
1/4 cup olive oil
Green Tartar Sauce Instructions:
In a food processor, combine the shallot, capers and cornichons and pulse until finely chopped. Add the mayonnaise, chives, parsley, dill, lemon juice, mustard and pepper and process to blend. With the machine on, add the olive oil in a slow steady stream.
MAKE AHEAD The sauce can be refrigerated for up to 3 days. Bring to room temperature before using.
Tater Tots Instructions:
Grate the cooked potatoes on a box grater. Add the cornstarch, Parmesan and yolks. Mix well then incorporate the chives. Form into tater tot shapes and roll in panko bread crumbs. Chill in the refrigerator and fry in 350-degree oil until crispy. Serve with green tartar sauce.
Chopped Vegetable and Organic Greens Salad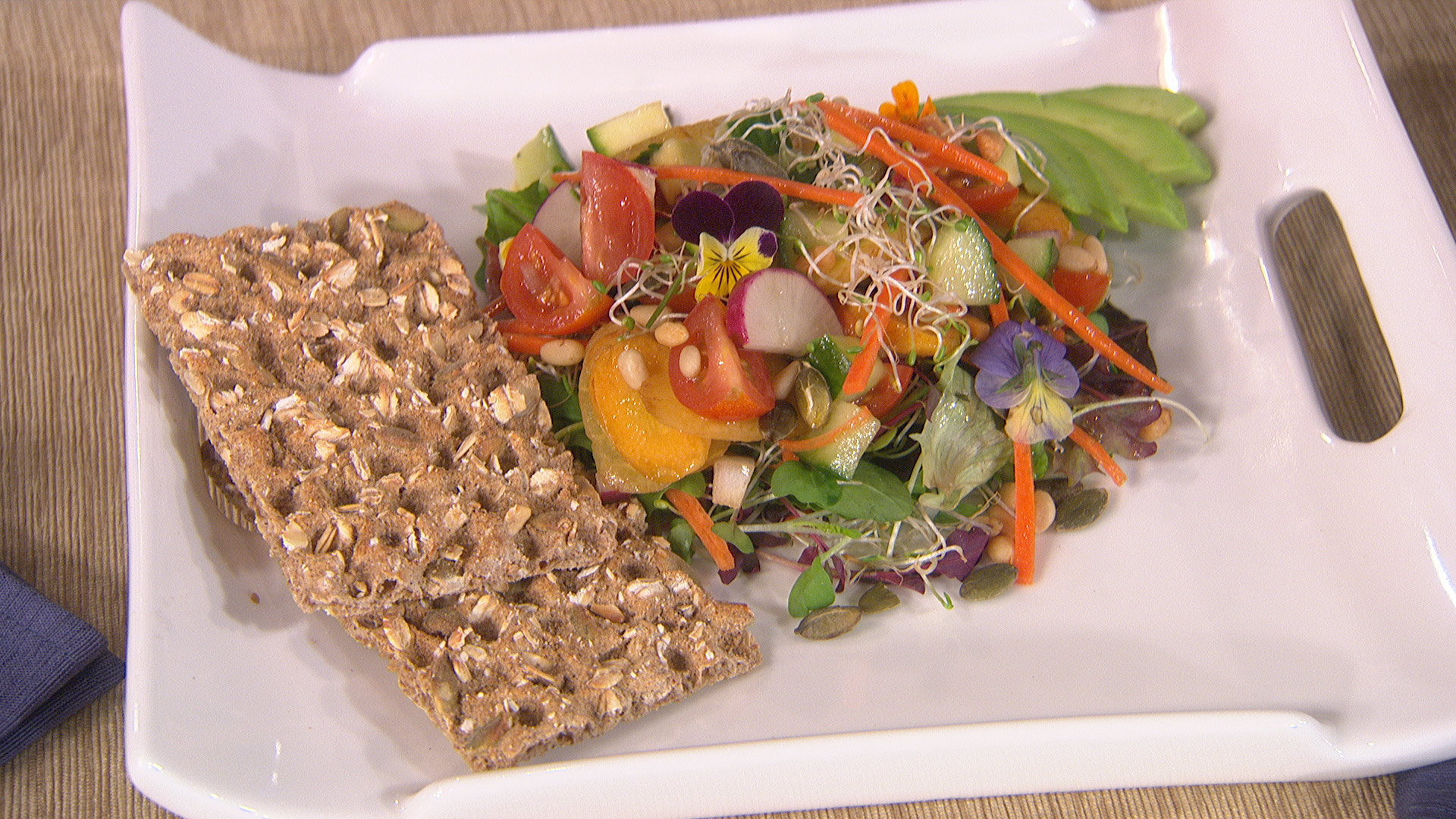 Yields: 6 servings
Apple Cider Flax Seed Vinaigrette:
1 tbsp liquid aminos
1 tbsp apple cider vinegar
1 tbsp flax seed oil, unfiltered, high lignin
1 tbsp extra virgin olive oil
1 tsp chopped fresh garlic
Whisk together all ingredients. Season lightly with salt and pepper, to taste.
Chopped Vegetable and Organic Green Salad
6 cups organic greens
Edible flowers of your choice
4 ounces julienne carrots
4 ounces bias cut carrots
2 ounces diced cucumbers
2 ounces cut and whole radishes
2 ounces whole and julienne peppadew
2 ounces whole cherry tomatoes
1 tsp pine nuts
1 tsp walnuts
1 tsp pumpkin seeds
In a salad bowl, dress the inside of the bowl with the Apple Cider Flax Seed Vinaigrette. Add the organic greens, vegetables and nuts into the bowl. Toss with Apple Cider Flax Seed Vinaigrette with two hands until all the ingredients are incorporated.
"Smoked Whiskey Cola"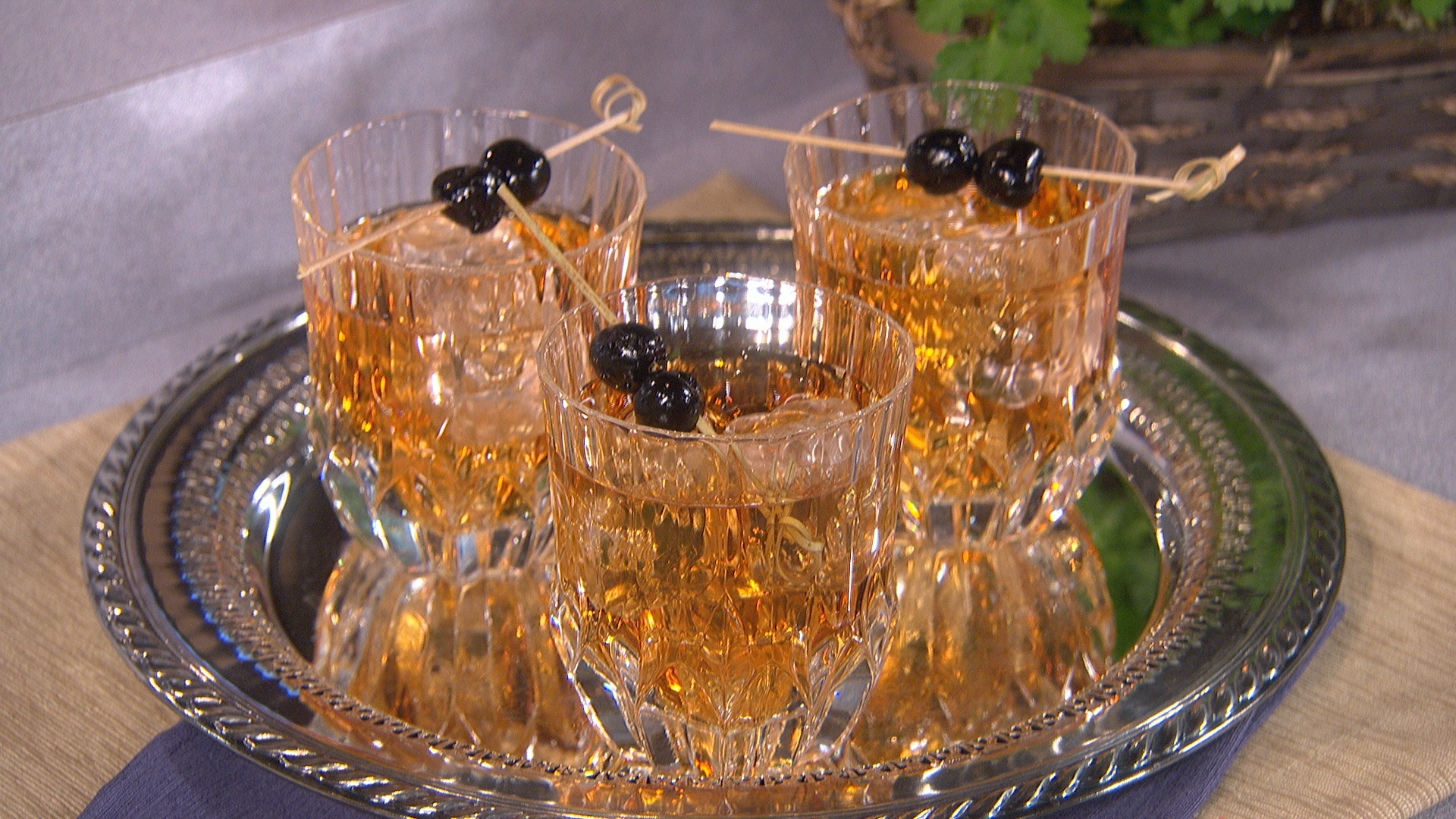 2 oz Tennessee Whiskey
3/4 oz House Cola Syrup
1/4 oz H2O
2-3 Drops of Bittercube Cherry Bark Vanilla
Bitters
1 Tsp Cherrywood Chips
Hoshizaki or Kold Draft-style ice

Method: Stir to chill in a beaker/mixing glass. Strain, with a funnel, into a Crystal Head Skull (need to empty out a Crystal Head Skull Vodka container; 750ml is fine). Bring out The Smoking Gun and Cherrywood Chips. Smoke for 7-8 seconds. Put cork back in the skull and roll around to have the smoke permeate throughout. Pour over Hoshizaki/Kold Draft cubes in a Large Rocks Glass. Top with Fever Tree Soda Water. Briefly stir to incorporate.
Garnish: 2 Luxardo Cherries (Brandied), Speared
Glass: Large Rocks
House Cola Syrup
Grated Zest of 4 Oranges
Grated Zest of 2 Limes
Grated Zest of 2 Lemons
1 tsp Ground Cinnamon
1 1 ½ tbsp Nutmeg
1 Whole Star Anise Pod, Crushed
2 tsp Lavender Buds
5 tsp Minced Ginger
2 Vanilla Beans, Split
1/2 tsp Citric Acid
2 ½ cups Granulated Sugar
1/2 Cup (Packed) Sugar In the Raw
1 ½ tsp Caramel Color Powder, Optional
Method:
In a heavy pot over medium heat, bring 2 cups of water to a simmer with the zests, cinnamon, nutmeg, star anise, lavender, ginger, vanilla and citric acid. Reduce heat to low, and simmer gently for 10 minutes.

In a separate bowl, combine the sugars together, and then transfer to the simmering pot. If using the caramel color powder, sprinkle that on the sugar before adding to the pot of water/herbs mix.

Let simmer until the sugars are completely dissolved. Remove from heat.

Line a sieve or colander with a double thickness of cheesecloth and place over the bowl. Pour the contents of the pot through the sieve. Carefully gather up the corners of the cheesecloth and twist the top to close. Press out as much of the juices from the solids as possible.

Stir the syrup while chilling the mixture in an ice bath. Transfer to plastic quart containers or a larger plastic food grade container and refrigerate. Label with the date made. The syrup will last 1 month.