Talk Food Festival: Mary Sue Milliken
Chef Mary Sue Milliken, co-owner of Border Grill, joined the ladies in the kitchen for The Talk Food Festival. She made a savory and delicious Mexican brunch that can be enjoyed tapas-style! Here are her recipes.
All recipes Copyright © 2014, Mary Sue Milliken and Susan Feniger, www.bordergrill.com
Skillet Chilaquiles
Serves 4
1 cup chipotle salsa
2 cups chicken or vegetable broth
1/2 cup half and half or heavy cream
2 cups of your favorite vegetable combination:
sautéed zucchini and/or zucchini blossoms

roasted yams and caramelized onions

roasted poblano chiles and red, yellow, and green bell peppers

sautéed mixed mushrooms and fresh oregano or epazote

sautéed greens, such as collard greens, red chard, and/or green chard

grilled corn and black beans
6 to 8 cups corn tortilla chips
4 eggs
Olive oil, to cook the eggs
8 strips bacon, cut into 1/4 inch cubes and cooked until crisp and brown
1 cup panela cheese cut into 1/2-inch dice
1 ripe California avocado, halved, seeded, peeled, and cut into 1/2-inch dice
1/2 small red onion, finely diced
1 to 2 jalapeño or serrano chiles, stemmed, seeded if desired, and minced
1/2 bunch cilantro, chopped
1 lime, cut into wedges, for serving
1/4 cup sour cream, for serving, optional
In a wide skillet, bring salsa, broth, and half and half or cream to a boil.
Meanwhile, in a separate pan, gently scramble the eggs. Once cooked add eggs, vegetables, bacon cubes, and tortilla chips to salsa mixture, mixing gently to coat each chip while simmering.
In 1 to 2 minutes, when some of the chips have moistened and begun to break up, but others are still holding their shape, add panela cheese. Continue stirring gently for another minute to distribute cheese evenly. Divide among 4 warmed plates.
Top with avocado, onion, chiles, and cilantro. Garnish with a squeeze of lime and a dollop of sour cream and serve immediately.

Heirloom Bean Tostada with Crispy Avocado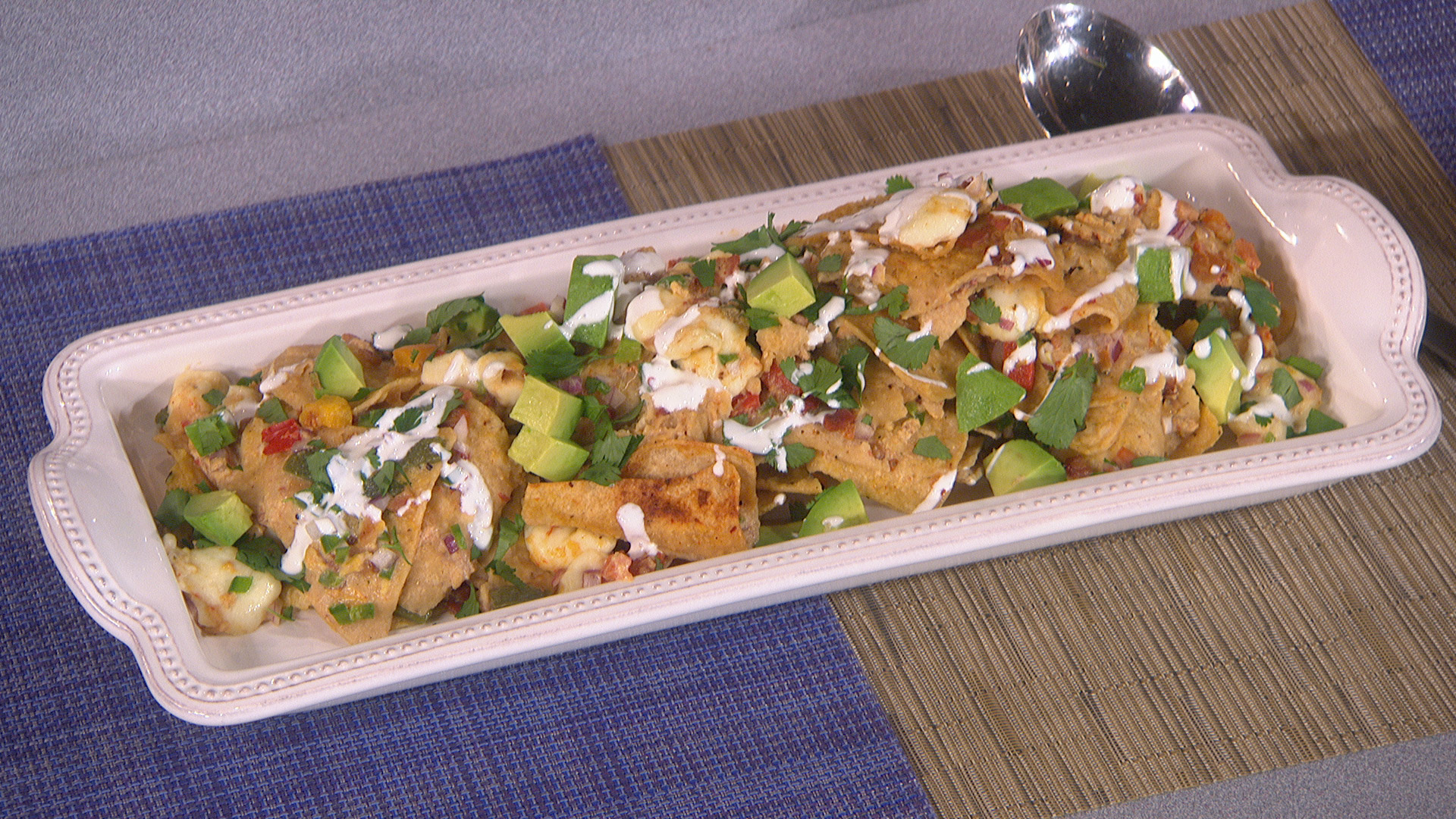 Serves 10
Heirloom Bean Salad:
3 cups dried heirloom beans (Cannellini, Christmas lima, Scarlet runner, Peruvian yellow, black calypso)
8 fresh bay leaves
1 large onion, cut into quarters
2 pounds (about 6 cups) trimmed green beans and yellow wax beans, cut into 1/2-inch pieces
2 tablespoons extra virgin olive oil
3 tablespoons sherry vinegar (Jerez)
1/2 tablespoon agave syrup
1/2 tablespoon Dijon mustard
1 to 2 canned chipotle chiles, stemmed, seeded, and minced
Salt and freshly ground black pepper, to taste
3 to 4 jalapeño chiles (red and green), stemmed, seeded, and finely diced
3 green onions, trimmed and thinly sliced
6 6-inch deep yellow corn tortillas, fried until crispy
1 1/2 cups frisee (super light), rough chopped, for serving
Cilantro Aioli, for serving
Crispy Avocados (see recipe), for serving
Cilantro Aioli:
1 bunch cilantro
1 lime, juiced
Salt and freshly ground black pepper, to taste
1/2 cup silken tofu
1/4 cup extra virgin olive oil
Cooking each variety in a different pot, cover beans with water. Add bay leaves and onion wedges, dividing evenly between pots. Bring to a boil, and then reduce heat, simmering gently, covered, for 45 to 75 minutes or until beans are cooked through and creamy inside. Remove from heat, cool to room temperature, remove bay leaves and onion, and drain thoroughly.
Meanwhile, fill a saucepan with water and bring to a boil with a very large pinch of salt. Cook green and yellow beans until just tender, 3 to 4 minutes. Drain and scatter on a platter lined with paper towels. Set aside to chill in the refrigerator.
In a mixing bowl, add olive oil, vinegar, agave, mustard, chipotle chiles, salt, and pepper. Whisk to form vinaigrette. Add all cooked beans, jalapeño chiles, green onions, and gently toss to evenly coat. Taste and adjust seasonings with salt, pepper, and vinegar as needed.
For the Aioli: To a food processor, add cilantro, lime juice, salt, and pepper. Pulse until cilantro is very finely chopped and a paste begins to form. Add tofu and combine thoroughly. Slowly drizzle in extra virgin olive oil to incorporate and emulsify. Taste and adjust seasonings.
To Serve: Squirt or spread a little cilantro aioli on each crispy tostada and top with frisee lettuce. Mound bean salad mixture on top and garnish with fried avocado slice drizzled with chipotle vinaigrette. Serve immediately.
Crispy Avocado:
2 1/2 tablespoons rice flour
1/3 cup water
1/2 teaspoon ground cumin
1/2 teaspoon salt
1/2 teaspoon freshly ground black pepper
1/3 cup red and white quinoa
1/3 cup poppy seeds
1/3 cup black and white sesame seeds
Rice flour, for dusting
1 ripe, firm, fresh California avocado, seeded, peeled and cut into 10 slices
Salt, to taste
Combine rice flour, water, cumin, salt and pepper to make a batter. In a separate bowl, combine quinoa, poppy seeds and black and white sesame seeds. Place flour for dusting into a third bowl.
Season avocado liberally with salt. To coat avocado, dust wedges with rice flour, shaking off all excess. Dip floured wedges into batter to coat lightly and then roll each wedge in the seed mixture, pressing gently to form a complete crust. Freeze on a rack overnight.
Heat 1 to 2 inches of vegetable oil to 375 degrees F in a small pot. In batches, fry the coated avocado wedges in the hot oil until seeds are golden and crispy, about 2 to 3 minutes, and then transfer to a rack to drain.
Border Sunrise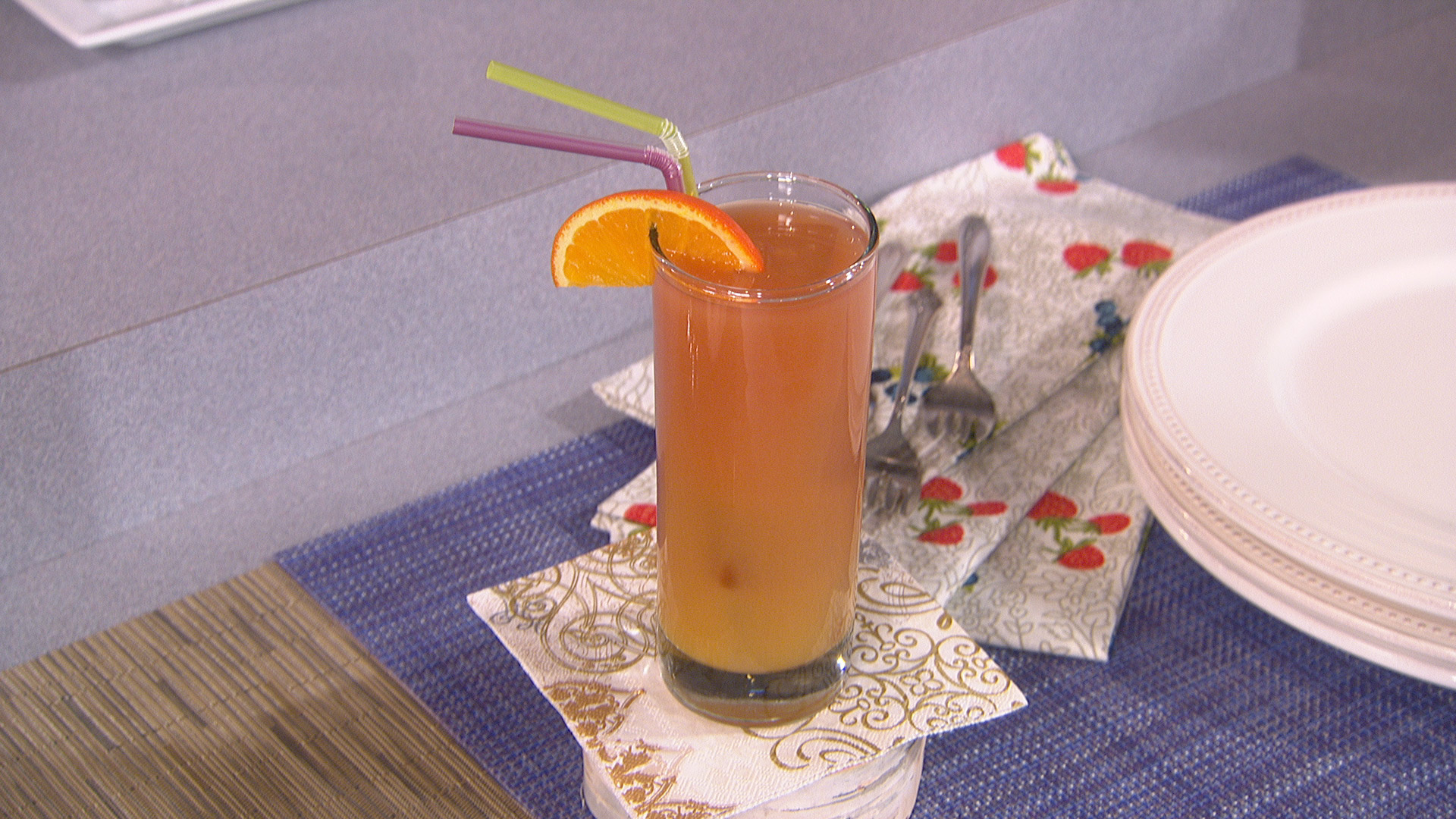 Serves 1
2 ounces gold tequila
1/2 cup freshly squeezed orange juice
1/2 cup Jamaica Flower Water, see below
lime and orange slices
Pour the tequila into a tall clear glass filled with ice. Pour on the orange juice and then the Jamaica. Float slices of lime and orange on top and serve with a stirrer.
Jamaica Flower Water
Makes 1 ½ quarts
2 quarts water
3/4 cup dried Jamaica or hibiscus flowers
1/2 cup sugar or honey
orange slices for garnish
Bring the water to a boil. Add the flowers and return to a boil. Reduce to a simmer and cook 10 minutes. Stir in the sugar or honey, strain into a pitcher and refrigerate. Serve cold over ice with slices of orange as garnish.