Aida Mollenkamp Recipes
Aida Mollenkamp returned to the kitchen for The Talk Food Festival. She showed the ladies how to make a delicious light salad that is perfect for spring! Here are all her recipes from today's show.
Smashed Pea Bruschetta with Ricotta and Greens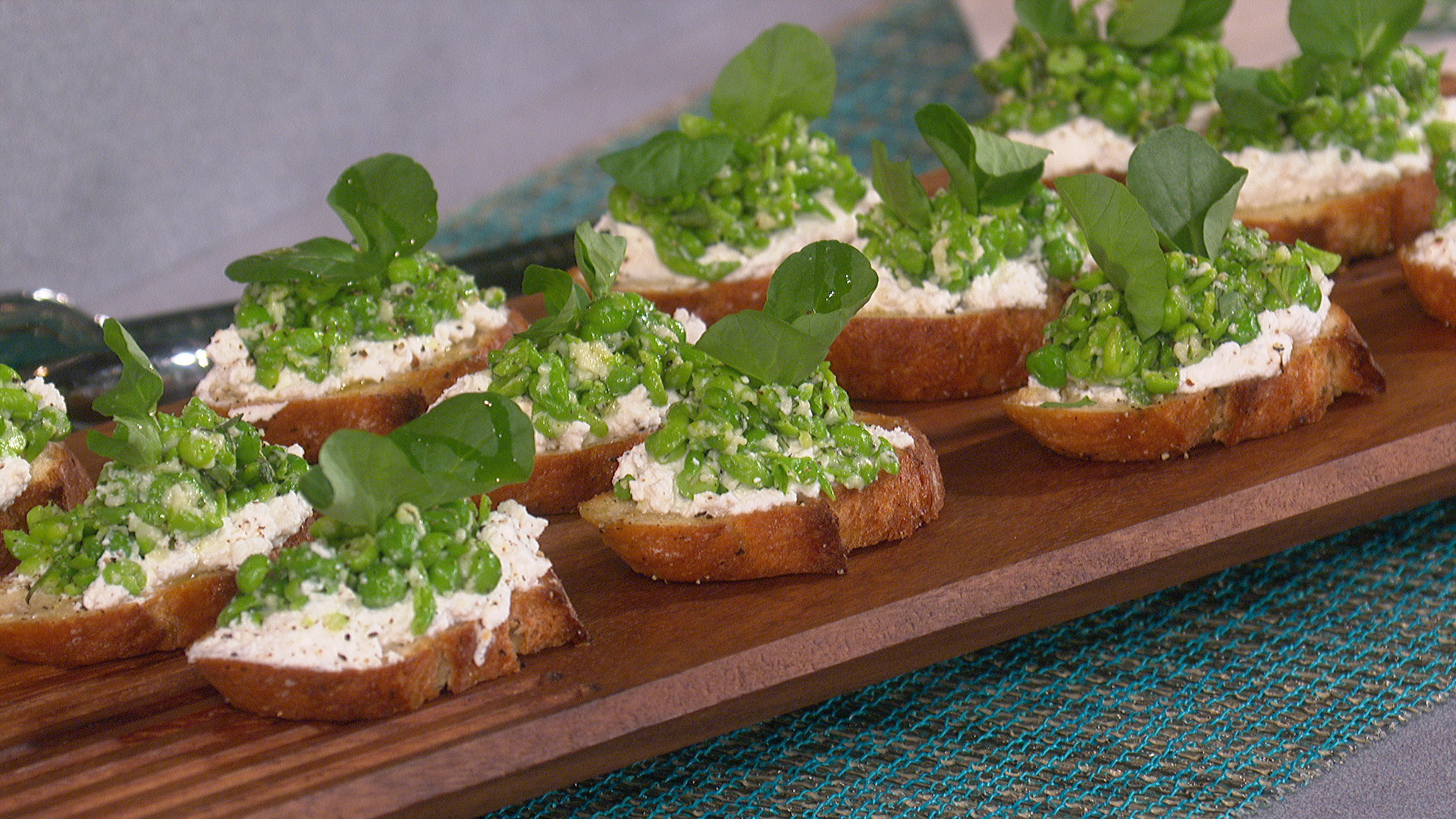 Servings: About 30 toasts (8 to 10 Servings)
Ingredients
1 (8 ounce) French (aka sweet) baguette cut into 1/4-inch slices
2 tablespoons olive oil plus more for crostini
Kosher Salt and Freshly Ground Black Pepper
2 cups shelled fresh or frozen peas
2 ounces finely grated Pecorino Romano cheese about 1/2 cup
2 tablespoons finely chopped chervil or tarragon
2 cups whole milk ricotta cheese
3 ounces watercress leaves or pea shoots
Lemon olive oil for garnish
Instructions
Heat oven to 375°F and arrange a rack in the middle. Pour enough olive oil on a rimmed baking sheet to just coat it, add the baguette slices and toss to coat. Season with salt and freshly ground black pepper.
Bake in a single layer until crostini are toasted and crisp, about 15 minutes, turning crostini halfway through.
Meanwhile, bring a medium saucepan of salted water to a boil over high heat. Add the peas and cook until just tender, about 3 to 4 minutes, then drain and rinse with cold water.
Transfer cooled peas to a medium nonreactive bowl, lightly mash peas with a potato masher or the back of a fork. Add olive oil, cheese, and herbs, season with salt and pepper and stir to combine. Taste and adjust seasoning as desired.
To serve, top each crostini with about 1 tablespoon of ricotta, a few teaspoons of peas, and a few leaves of watercress or pea shoots. Drizzle with a good quality extra virgin lemon-infused olive oil and serve.
Asian Chicken Salad with Creamy Miso Dressing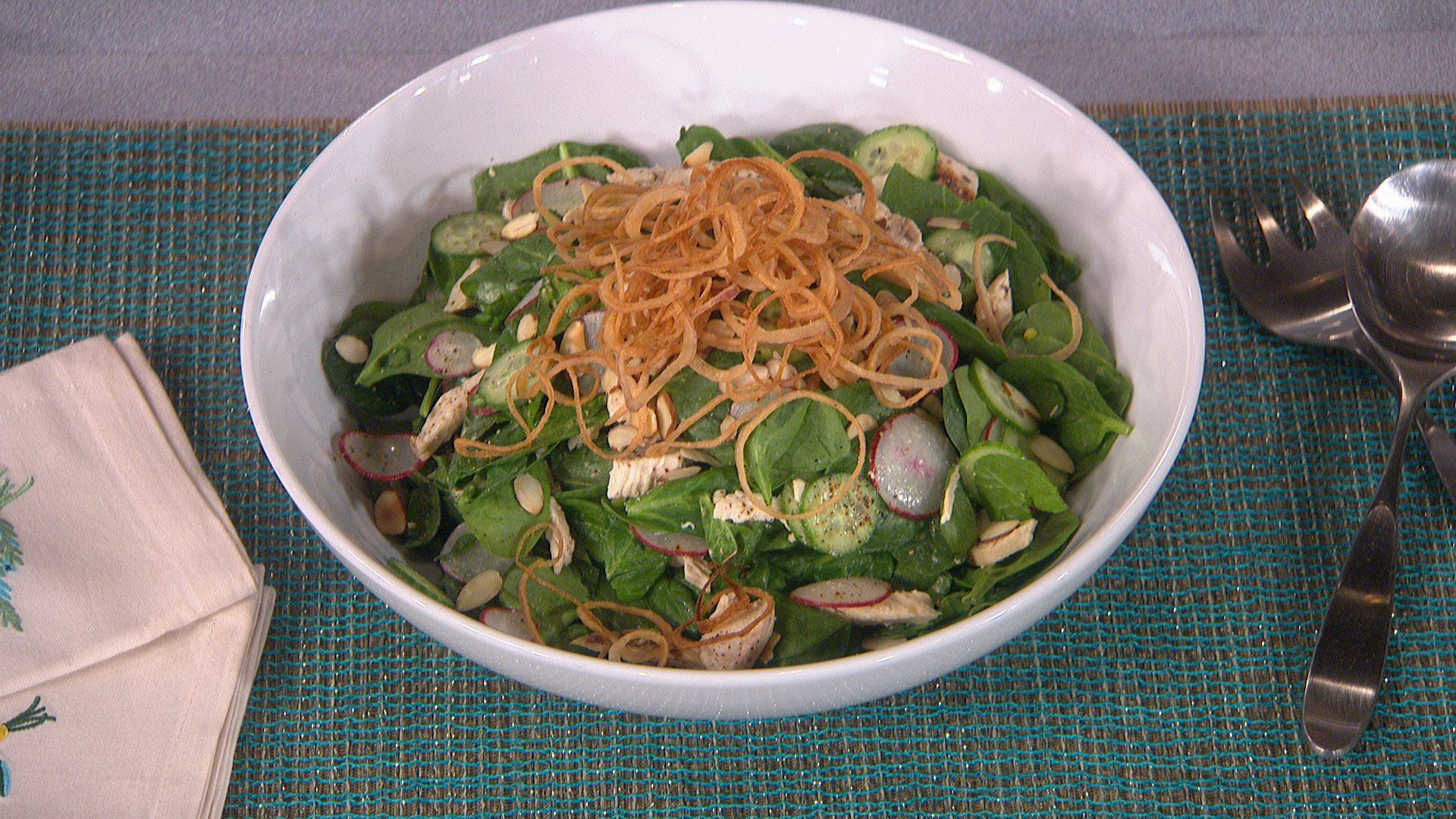 Servings: 1 cup dressing (4 to 6 Servings)
Ingredients
1/3 cup neutral oil (like canola, grapeseed, or peanut oil)
4 medium shallots, sliced paper thin (about 1 cup)
3 tablespoons white whole wheat flour
4 tablespoons whole milk plain yogurt or heavy cream
2 1/2 tablespoons honey
2 tablespoons Dijon mustard
2 tablespoons white (aka yellow or mellow) miso
2 tablespoons seasoned rice wine vinegar
8 ounces baby spinach or baby tatsoi
3 cups shredded cooked chicken (about 1 pound)
4 medium radishes sliced paper thin
4 medium Persian cucumbers sliced paper thin
1 cup Toasted sliced almonds
Instructions
Heat oil in a small saucepan over medium-high heat and line a plate with paper towels and set aside. Meanwhile, separate the shallot slices into rings and toss with the flour to coat. When the oil is heated, take about one quarter of the shallots, shake off excess flour and place the in the oil. Cook until the shallots are golden brown, about 3 minutes, then remove with a slotted spoon and set aside on the towel lined plate. Repeat with remaining shallots.
Meanwhile, mix the yogurt or cream, honey, mustard, miso, and vinegar in a small bowl until smooth. Dip a lettuce leaf into the dressing and adjust seasoning as desired -- add water if you'd like to thin it out.
To serve, combine greens, radishes, cucumber, and chicken in a serving bowl and top with about 2/3 of the almonds and shallots. Serve, passing dressing and additional dressing on the side.
Triple Citrus-Coconut Shortbread Bars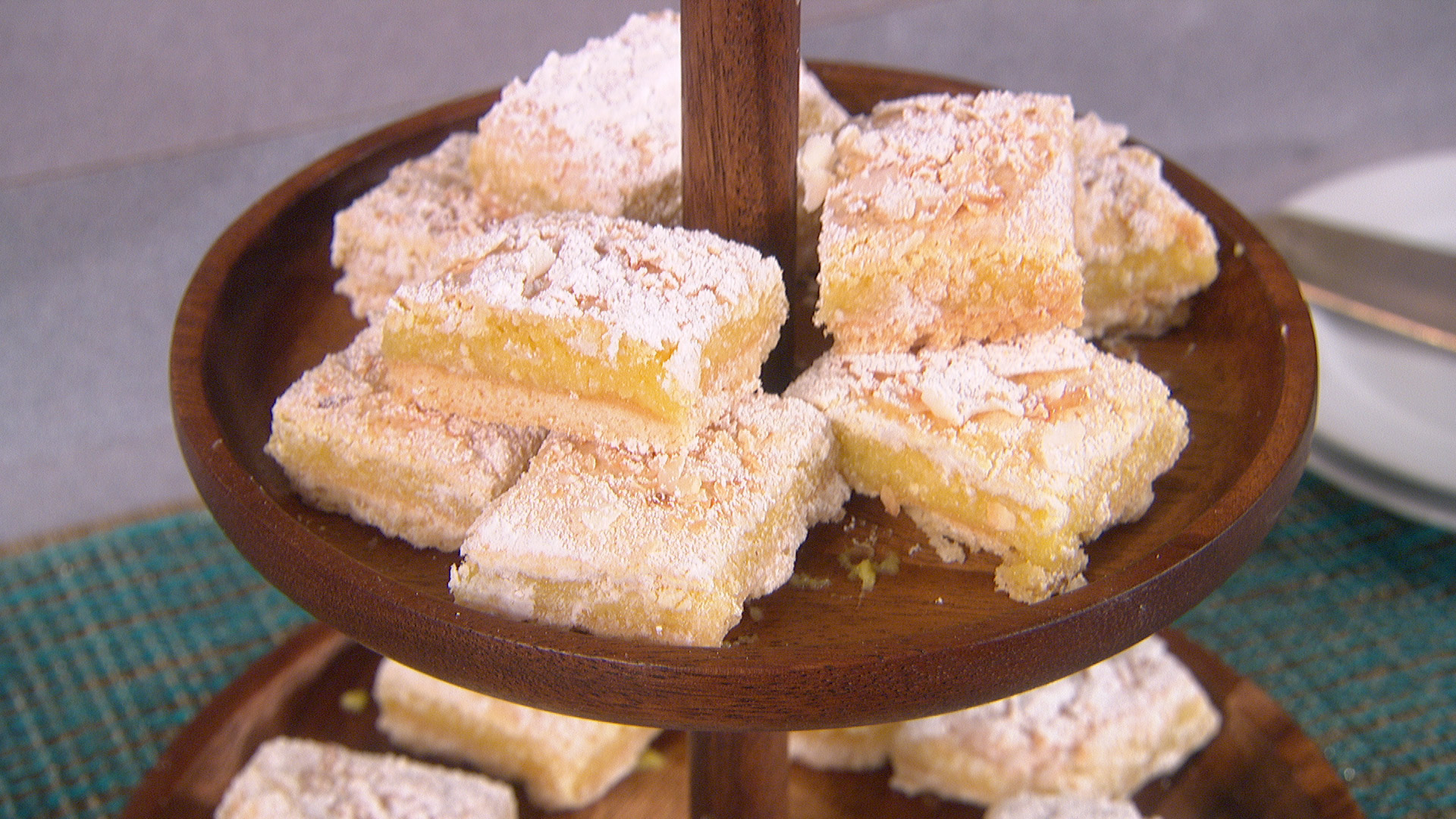 Yields: 24 bars
1 1/2 cups unsweetened flaked coconut (5oz or 140g)
For the base:
1 3/4 cups all-purpose flour (224g)
3/4 cup powdered sugar (96)
3/4 teaspoon kosher salt (5mL)
12 tablespoons (1 1/2 sticks) cold unsalted butter, cut into small pieces (6 oz or 170g)
For the filling:
2 2/3 cups powdered sugar (341g), plus more for garnish
6 large eggs (300g)
6 egg yolks (110g)
6 tablespoons (3/4 stick) unsalted butter, melted (80g)
3/4 cup freshly squeezed lemon juice (from 4 limes) (175mL)
1/3 cup freshly squeezed lime juice (90mL)
1/3 cup freshly squeezed orange juice (from 1 orange) (90mL)
1 1/2 teaspoons lemon zest (5mL)
1 1/2 teaspoons lime zest (5mL)
1 tablespoon orange zest (15mL)
Heat oven to 350°F (177°C/gas mark 4) and arrange a rack in the middle. Spread coconut on a baking sheet, and toast, tossing every few minutes to ensure even cooking, until golden brown, 5 to 8 minutes; Set aside to cool.
For the base:
Coat a 13-by-9-inch (32.5cm x 23 cm) baking dish with butter and line the pan with 2 pieces of parchment that overhang each side of the pan by 1 inch (2.5 cm).
Combine 1 cup of the coconut, flour, powdered sugar, and salt in a large bowl and whisk until evenly combined. Scatter butter pieces over flour mixture, and, using a pastry cutter, two knives, or your fingers, blend until dough just begins to come together.
Crumble dough into prepared baking dish and, using the base of a measuring cup or a glass dipped in flour, evenly press into the pan. Bake until crust is fully set and just starting to brown on the edges, about 25 to 30 minutes. Remove from the oven and let cool while you make the filling.
For the filling:
Combine all ingredients in a large non-reactive bowl and whisk until sugar is dissolved and mixture is smooth, about 2 minutes.
Pour filling over baked crust, scatter with remaining 1/2 cup coconut, return to the oven, and bake until just set in the middle, about 25 to 35 minutes. Remove from the oven and let cool completely on a wire rack. Cover and place in refrigerator to set up for 2 to 3 hours.
To serve, sift powdered sugar over the top, if desired, then, using a knife dipped in hot water, cut into squares.