Christy Jordan Recipes
Christy Jordan, editor of the blog SouthernPlate and author of "Come Home to Supper," stopped by THE TALK with a family-friendly chicken meal that will stretch your dollar!
Chicken Patties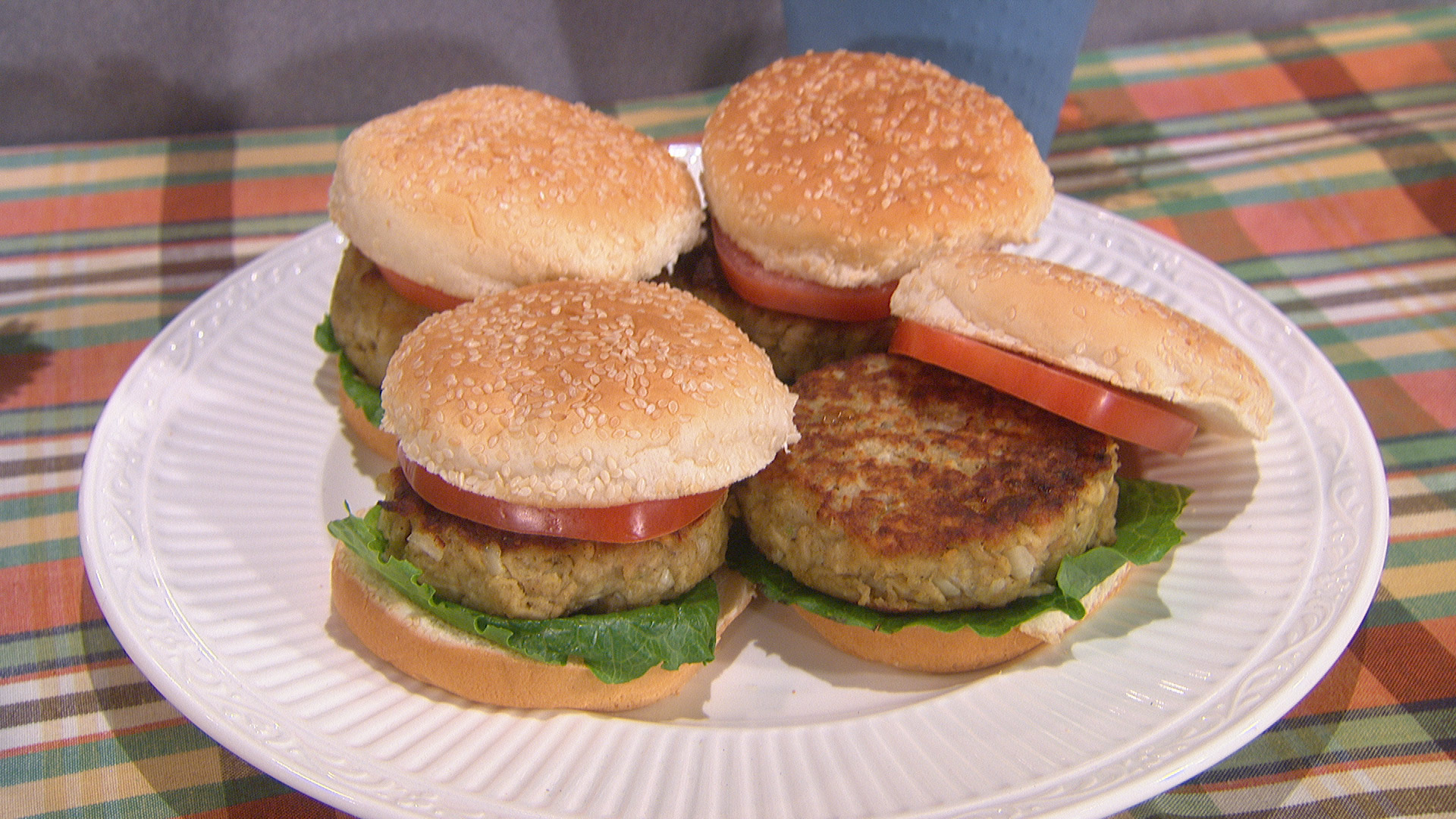 Makes 5 to 7 sandwiches
I love being able to recycle food into new dishes—mainly because I hate to waste food when I could provide one more delicious meal from it, and also because that is the way of my ancestors.
This is a great way to use leftover chicken. If you have leftover fried chicken, just take the skin off and shred it up! Leftover rotisserie chicken can also be used, as well as canned chicken. To really give this recipe a twist, substitute canned tuna or salmon for the chicken. I like these patties so much, though, that I usually cook chicken special just to make them.
Ingredients
1 sleeve saltine crackers (about 35 crackers)
2 cups chopped cooked chicken
¾ cup milk
2 large eggs
1 small onion, finely chopped
1 tablespoon poultry seasoning
¼ teaspoon salt
1/8 teaspoon ground black pepper
2 tablespoons vegetable oil
Hamburger buns, for serving
Mayonnaise, lettuce leaves, and sliced tomato, for serving
Directions
1. Put the crackers in a large zip-top bag, seal it, and finely crush them by hand or with a rolling pin.
2. Place the chicken in a large bowl, add the crushed crackers, and stir to combine.
3. Whisk together the milk, eggs, onion, poultry seasoning, salt, and pepper in a separate, small bowl. Pour the milk mixture over the chicken mixture and stir well to combine. Cover the bowl with a dish towel and allow the mixture to sit until it has moistened, 5 minutes.
4. Form the chicken mixture into 5 to 7 patties (each about ½-inch thick).
5. Place the oil in a large skillet and heat it over medium-high heat until hot, 2 to 3 minutes. (When the oil is hot enough, a small piece of cracker will sizzle when dropped into it.) Reduce the heat to medium.
6. Working in batches and being careful not to overcrowd the skillet, carefully add the chicken patties to the skillet and cook them, turning once, until well browned on both sides, 7 to 8 minutes.
7. Serve the chicken patties on their own or on buns, with the mayonnaise, lettuce, and tomato slices, if you like.
Note: These patties can be easily frozen after step 4. To reheat, start with step 5 and allow for a slightly longer cooking time when browning the patties in the skillet, about 15 minutes total.
Parmesan Oven Fries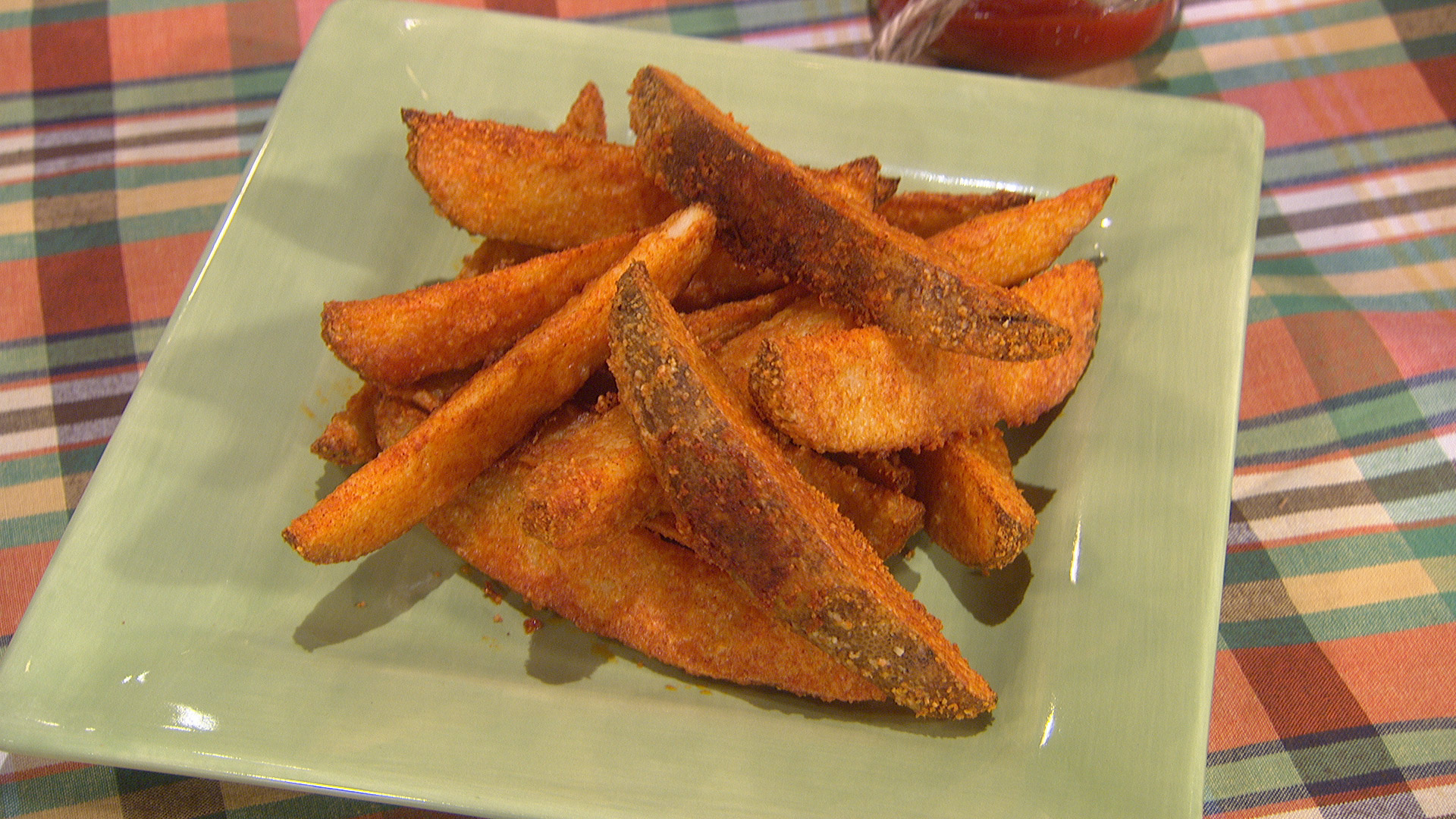 Serves 4 to 6
This recipe came from my husband's granny Jordan, one of the best examples of grace and kindness you could ever hope to meet. They are a great side for any dish but I need to warn you that they are slightly addictive.
Ingredients
Cooking spray
3 medium-size russet potatoes (about 1½ pounds), washed and unpeeled
1/3 cup freshly grated Parmesan cheese
¾ teaspoon garlic powder
¾ teaspoon salt
¾ teaspoon paprika
¼ cup (½ stick) butter, melted
Directions
1. Preheat the oven to 375°F. Lightly coat a rimmed baking sheet with cooking spray.
2. Cut each potato lengthwise into 8 spears. Combine the Parmesan cheese, garlic powder, salt, and paprika in a large, shallow bowl or pie plate. Dip the cut sides of the potato spears into the melted butter, then into the Parmesan mixture, dredging to coat.
3. Arrange the potatoes in a single layer on the prepared baking sheet and bake until they are tender and browned, 30 to 40 minutes. Serve hot.
Simply Delicious Tomato Basil Soup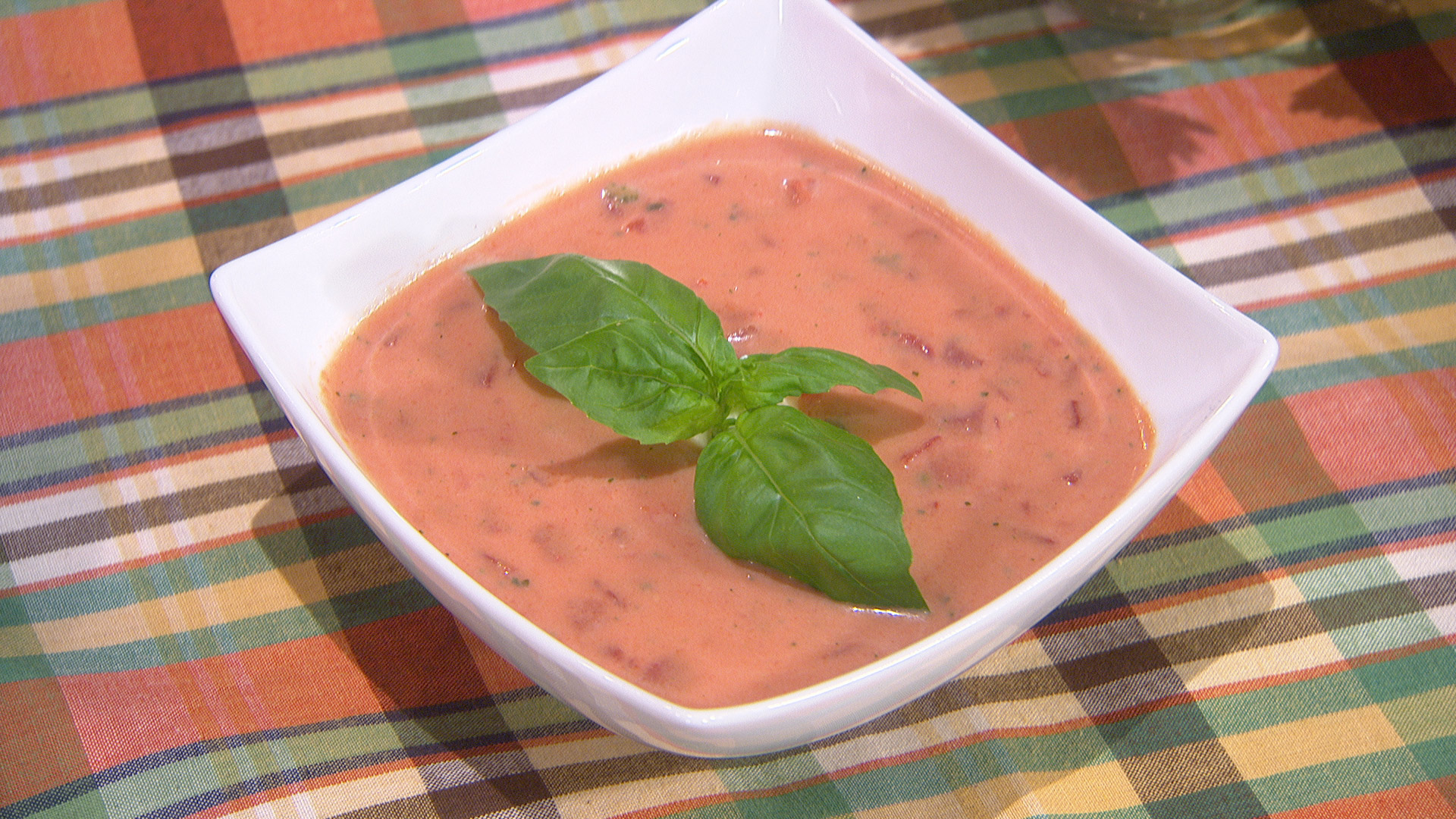 Serves 2
Some days just beg for a bowl of creamy tomato soup and a grilled cheese sandwich at supper time. When you find yourself having one of those days, reach for this simple but flavorful recipe, which quickly dresses up store-bought soup and takes it to a whole new level.
Ingredients
1 can (10.5 ounces) condensed tomato soup
1 can (15 ounces) petite diced tomatoes, with their liquid
1 tablespoon store-bought pesto sauce
1¼ cups milk
Directions
Combine the condensed tomato soup, tomatoes, pesto sauce, and milk in a small saucepan over medium heat. Cook, stirring constantly, until heated through and just barely bubbling, about 10 minutes. Enjoy!
Apple Scoop Pie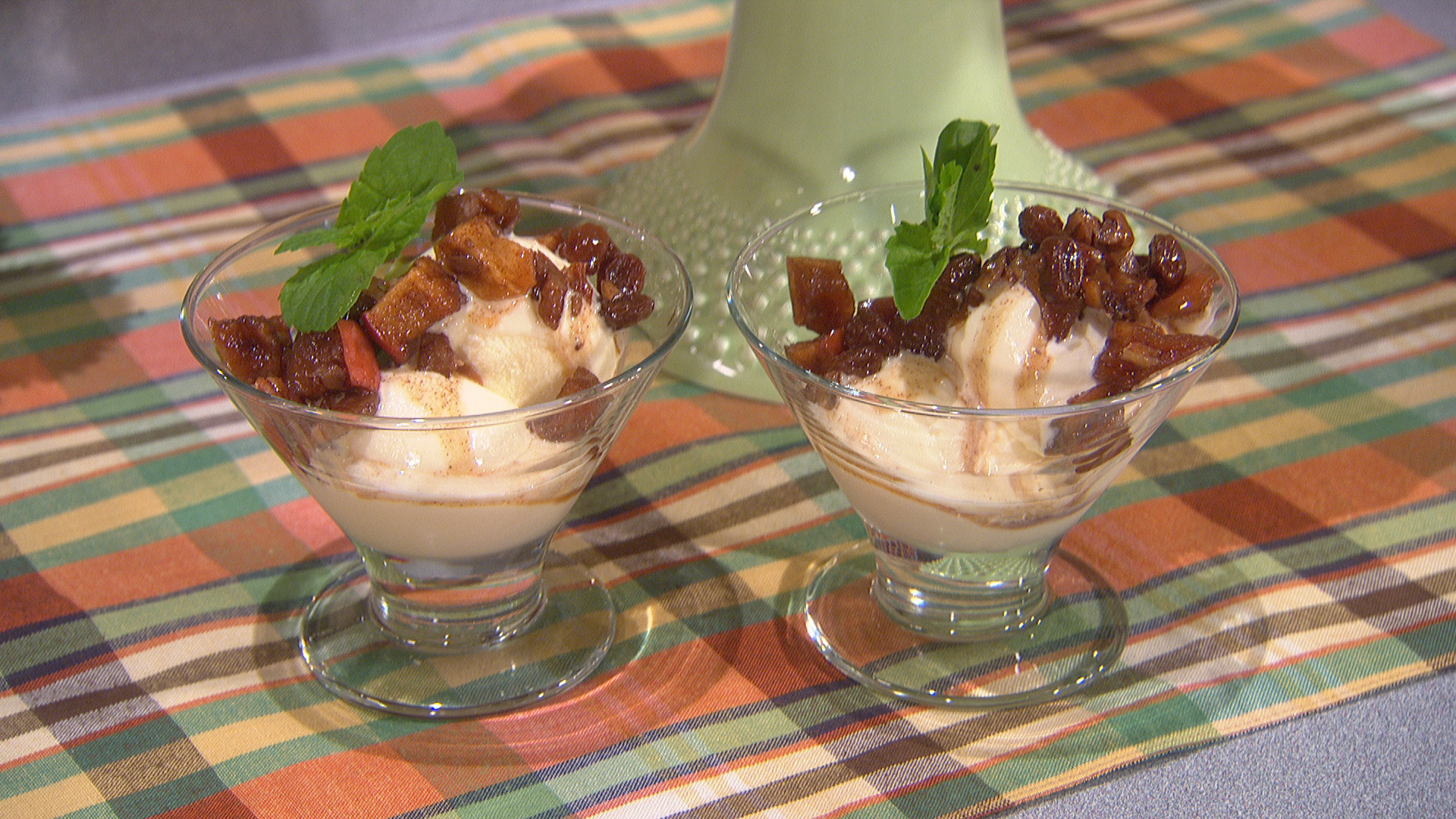 Serves 4 to 6
This apple scoop pie offers an easy way to fill your house and tummy when you're longing for the smells and tastes of fall. Baked in a pie plate with no crust to contend with, apples mingle with juicy raisins and spices to provide the perfect dessert (or even a side dish!). My mother said that developing this recipe was one of my greatest accomplishments in life—I'm pretty sure that's a good thing!
This pie is also good served over ice cream, and leftovers keep well in the refrigerator, so you can stir them into oatmeal the next morning.
Ingredients
5 to 6 medium-size sweet crisp apples, such as Gala
1 cup pecan pieces
½ cup raisins
1 cup brown sugar
1 tablespoon ground cinnamon
1 teaspoon ground allspice
Directions
1. Preheat the oven to 350°F.
2. Core the apples and cut them into bite-size pieces (don't peel them). Place them in a large bowl, add the remaining ingredients, and stir until well combined.
3. Pour the apple mixture into a deep-dish 10-inch pie plate, cover with aluminum foil, and bake for 20 minutes. Uncover and bake until the apples are tender, 10 to 15 minutes more. Serve warm.