Paul Bartolotta Recipes
Chef Paul Bartolotta was here for The Talk Food Festival. He showed the ladies how to make his specialty, classic rustic Italian fare! Here are all of his delicious recipes from today's show.
Recipes courtesy of Paul Bartolotta Bartolotta Ristorante di Mare Wynn Las Vegas
PEPERONE AL FORNO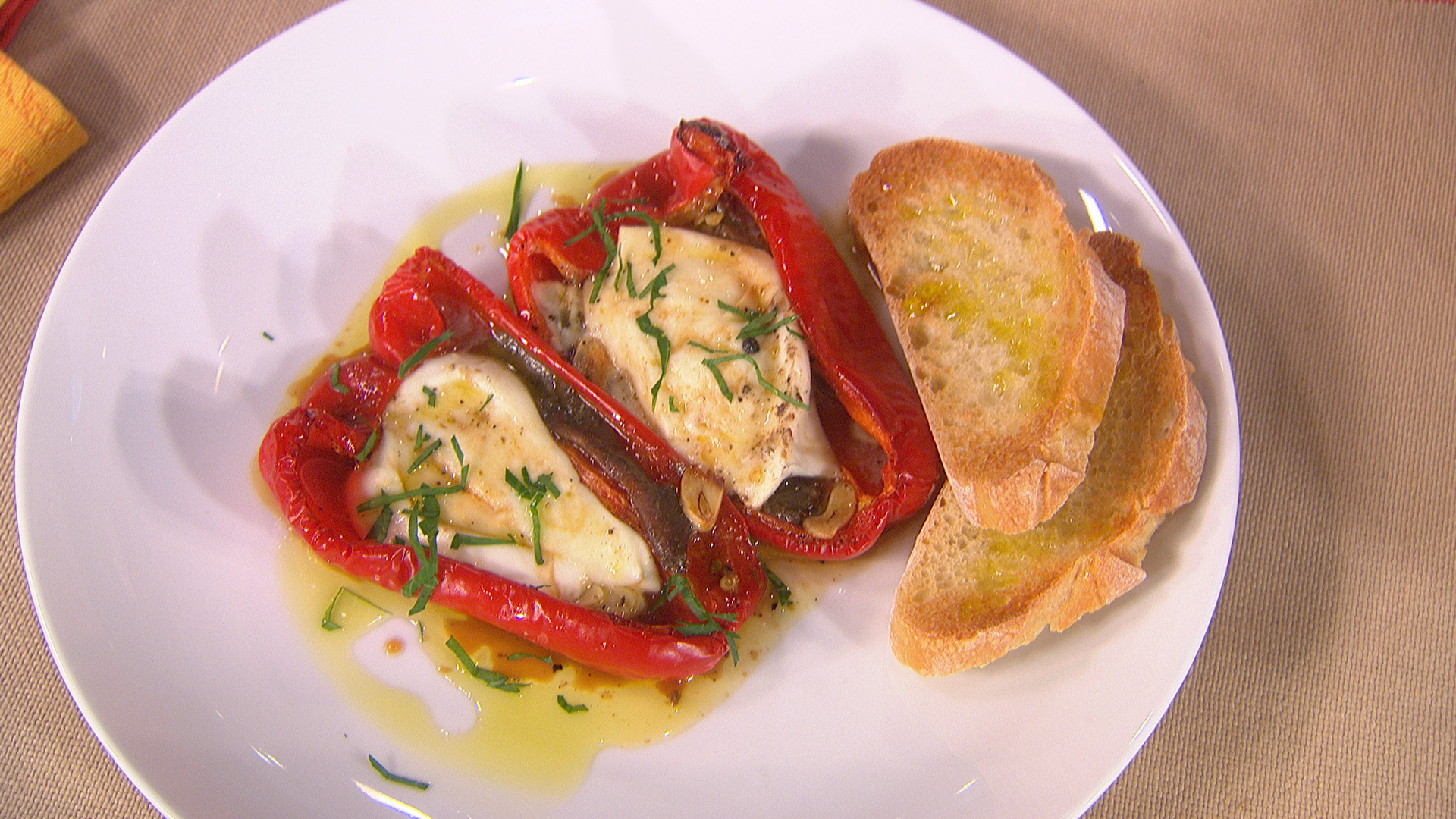 Roasted red bell peppers with garlic and anchovies
Serves: 4
Ingredients:
4 ea.

Red bell peppers (cut in half lengthwise and seeds removed)

To taste

16 fillets

Sea salt and black pepper

Anchovies

8 cloves

Garlic (thinly sliced)

16 tsp.

Extra virgin olive oil

2 pc.

Mozzarella di Bufala (optional)

8 sm.

2 cloves

Crostini (toasted)

Garlic (whole)

8 tsp.

Extra virgin olive oil

To taste

Sea salt and black pepper
Preparation:
Preheat oven to 400 F. Wash and dry red bell peppers. Cut peppers in half lengthwise to obtain 8 halves. Remove the seeds and stems placing them in a roasting pan or baking dish skin side down with the cut opening facing up. Season each bell pepper half with sea salt, freshly ground black pepper, two anchovy fillets placed in the cavity of the each pepper and one clove garlic thinly sliced in each half bell pepper. Drizzle one teaspoon of extra virgin olive oil in and around each bell pepper half. Place in preheated oven and bake for 45 minutes or until peppers are cooked tender and browned. Turn off oven and allow to rest an additional 15 minutes in the oven with the oven door slightly open.
In the meantime, toast the bread crostini until golden brown. Rub each crostino with whole garlic clove to perfume them, drizzle with extra virgin olive oil and season each crostino to taste with sea salt and freshly ground black pepper.
To serve, place two half bell peppers per plate with two crostini on the side. The roasted bell peppers are delicious served hot, warm or at room temperature.
(Optional with Mozzarella: You may place a wedge of mozzarella di bufala inside each half of bell pepper while they are resting for the last 15 minutes in the oven. The mozzarella with should not melt completely but warm and soften.)

PEPOSO ALLA FORNACINA DELL'IMPRUNETA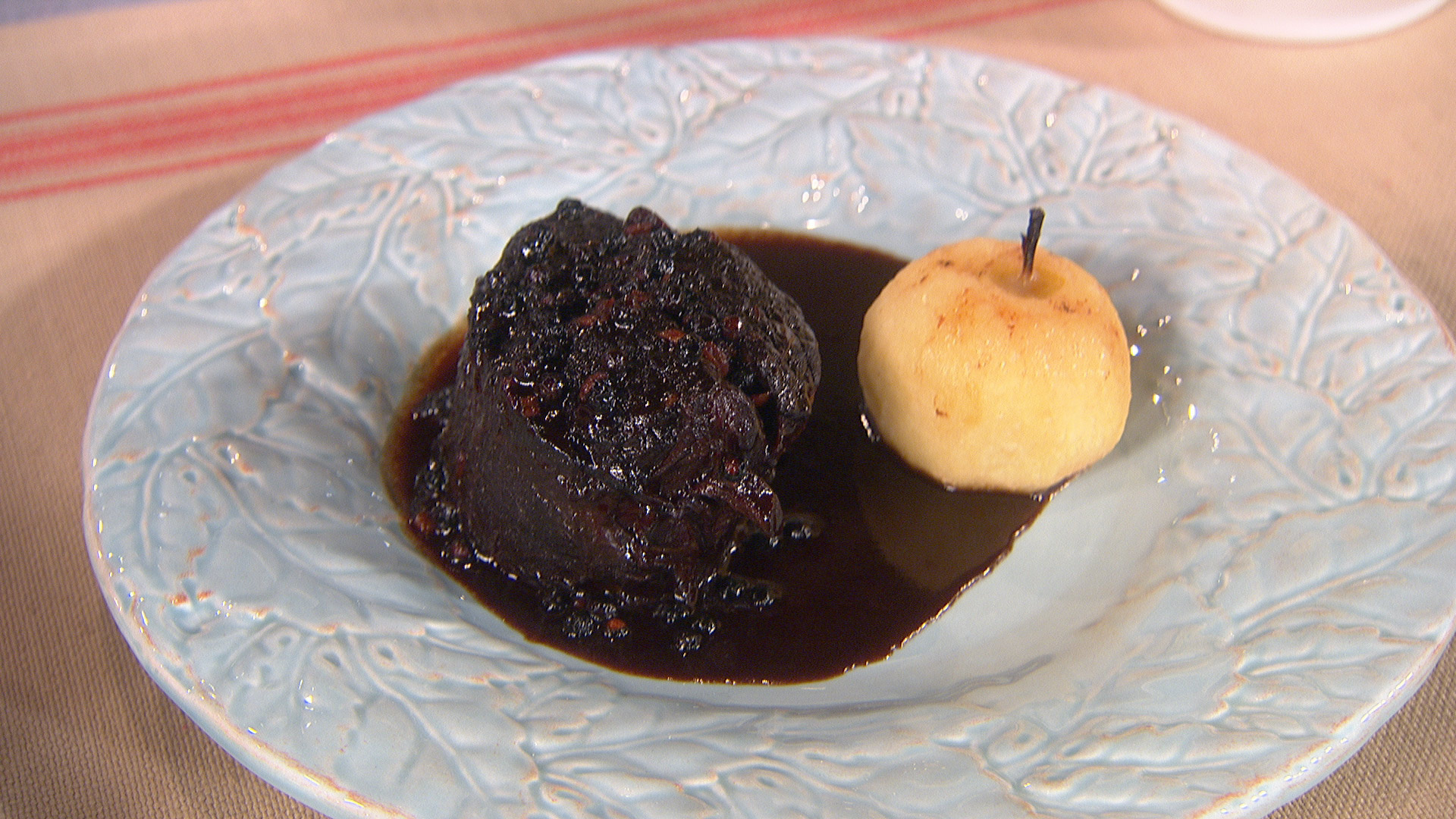 Braised beef hind shank in Chianti wine with black peppercorns from Impruneta
Serves: 4
Ingredients:
4 (10 oz.)

To taste

Beef hind shank

Sea Salt

3 Bttles

Chianti wine

4 T.

Black peppercorns

16 cloves

Whole garlic
Preparation:
In a large pot place the pieces of beef shank. Season the meat with sea salt. Allow 30 minutes for the salt to season the meat. Pour in Chianti wine, add the black peppercorns and whole garlic cloves. Place over medium heat and cook slowly adding small amounts of water as required to keep the meat covered during the braising process. Cook the meat for approximately 5 hours or until the meat is very tender. Carefully remove the meat so it does not fall apart, set aside and keep warm. Increase the temperature of the cooking liquid to high and reduce allowing the natural gelatin of the shank meat to thicken the sauce to a shiny glaze. Adjust salt to taste at the very end. Place one piece of meat on each serving plate and spoon over the "Peposo" sauce or peppercorn glaze.
(Note: To offset the richness of the wine sauce and the spice from the peppercorns this dish is most traditionally served with cooked fruits such as apples or pears that were baked with butter, sugar, lemon and sometimes white wine. More commonly today it is served with soft polenta, potato puree or toasted bread.)
RICOTTA DI PECORA AL MIELE, PINOLI E UVA PASSA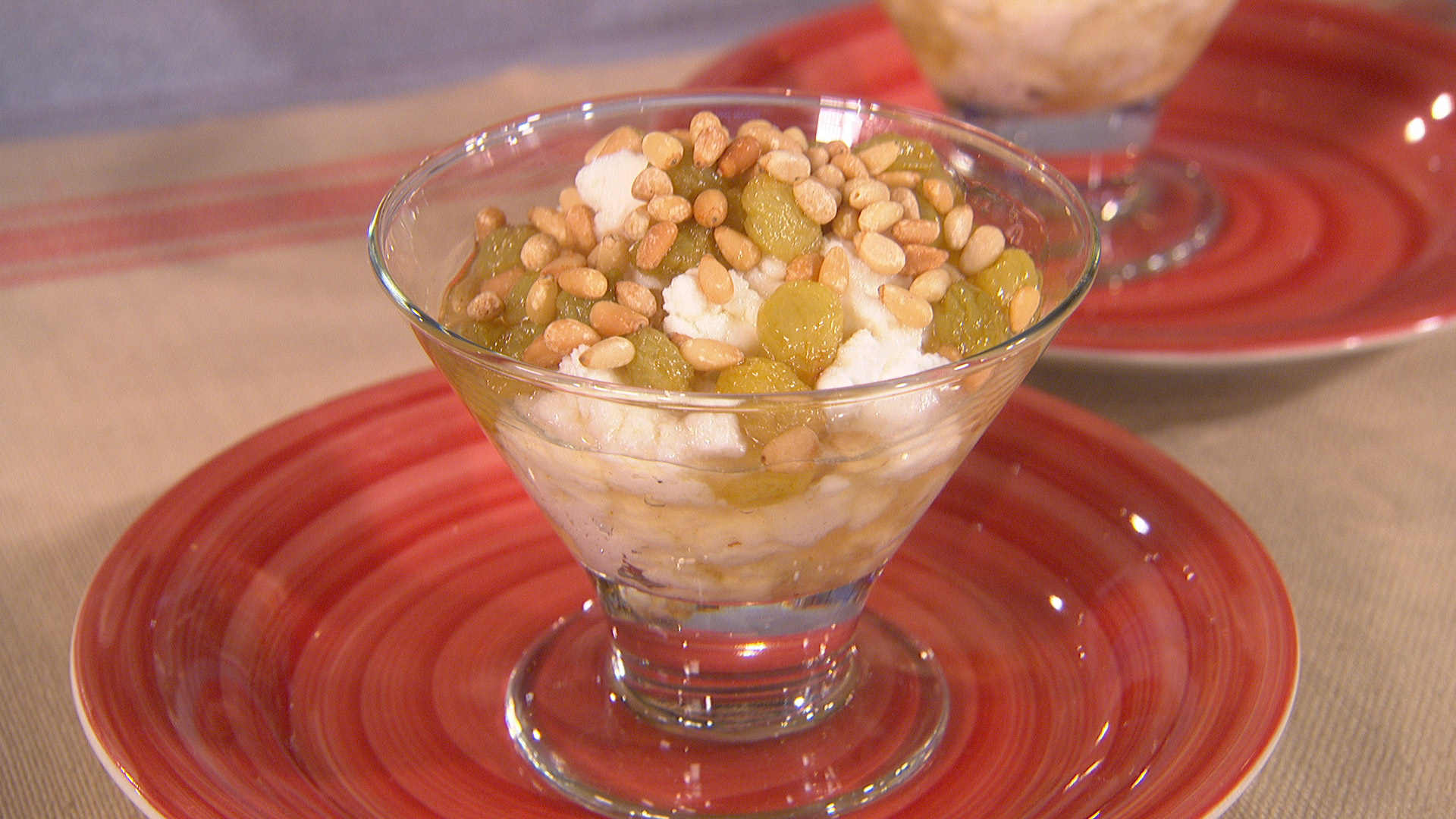 Sheep's milk ricotta with honey, pine nuts and raisins
Serves: 4
Ingredients:
1 lb.

6 oz.

Sheep's milk ricotta (may substitute cow's milk ricotta)

Acacia honey

4 T.

Pine nuts (lightly toasted)




8 T.

2 oz.

2 T.




Golden Raisins (soaked in brandy and warm water then strained)

Water

Brandy
Preparation:
Place fresh sheep's milk ricotta is serving glasses distributing evenly in four portions.
Gently toast the pine nuts on a baking try in the oven at 350 F. until lightly golden.
Set aside and keep warm.
In a small sauce pot bring the brandy and water to a boil. Add the golden raisins, remove from heat and allow to soak for 10 minutes. Strain and set aside.
In a small sauté pan, over low heat, warm the honey and raisins. Do not make hot only warm. Pour the honey-raisin syrup over the ricotta and top each with a sprinkling on toasted pine nuts on top.