CJ Jacobson Recipes
Executive Chef CJ Jacobson of Girasol in Studio City, CA, joined the ladies in the kitchen for The Talk Food Festival. He cooked a tasty pork dish inspired by his love of rustic California cuisine. Here are all of his recipes from today's show.
Recipes courtesy of Executive Chef CJ Jacobson of Girasol
Grilled Pork Satay with Caramelized Onion Puree and CA Fennel Pollen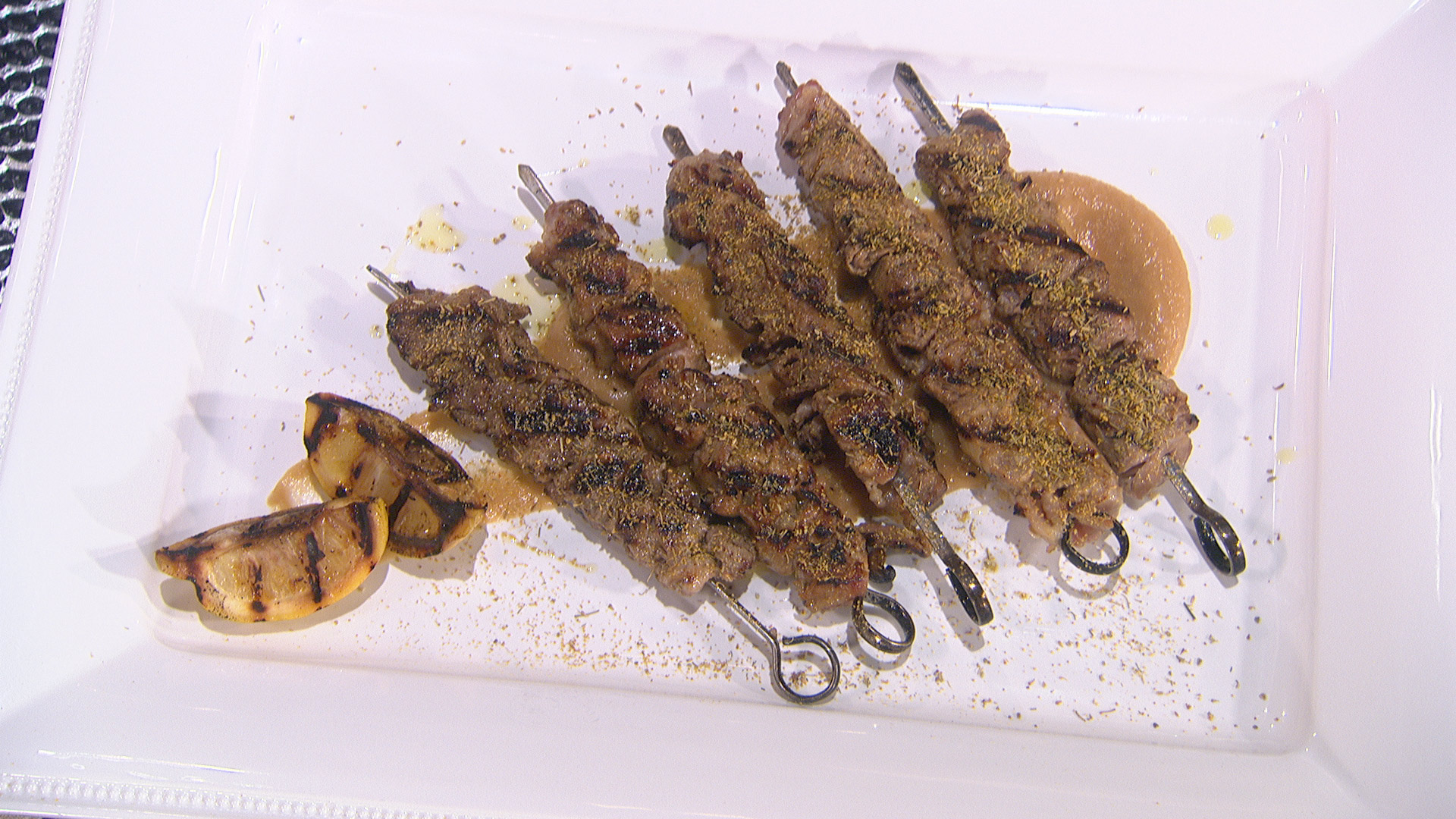 Ingredients
2 lbs. Pork Shoulder (sliced thin by your butcher or with a very sharp knife)
1 shallot (finely chopped)
Juice of one lemon
Extra Virgin Olive Oil
Salt
2 Onions (sliced thin)
1T Fennel Pollen
Method
Begin the grilled pork satay by laying out the pork on a flat sheet tray or cutting board. Drizzle flattened pork with olive oil then sprinkle shallots, lemon juice and salt all over. Allow to marinade for an hour or 6.
After marinating, carefully ribbon the pork up to about one inch high (6" x 12" x 1"), then carefully place a skewer though the center of the meat, parallel to the cutting board. Repeat 6 times so each skewer is about 2" wide by six inches long. Slice between the skewers and keep cold.
While skewers are marinating, slowly sauté the onions on medium to low heat until brown. It is important to constantly mix the onions to prevent them from burning. Once fully caramelized, transfer to a blender and process until smooth. Season with salt and lemon. Keep warm.
On a hot grill or grill pan, season the skewers and grill for 4 minutes on each side or until cooked all the way through. Place on a bed of onion puree then sprinkle with fennel pollen. Serve with a grilled lemon.

Forest Floor Roasted Pears with Burrata and Basil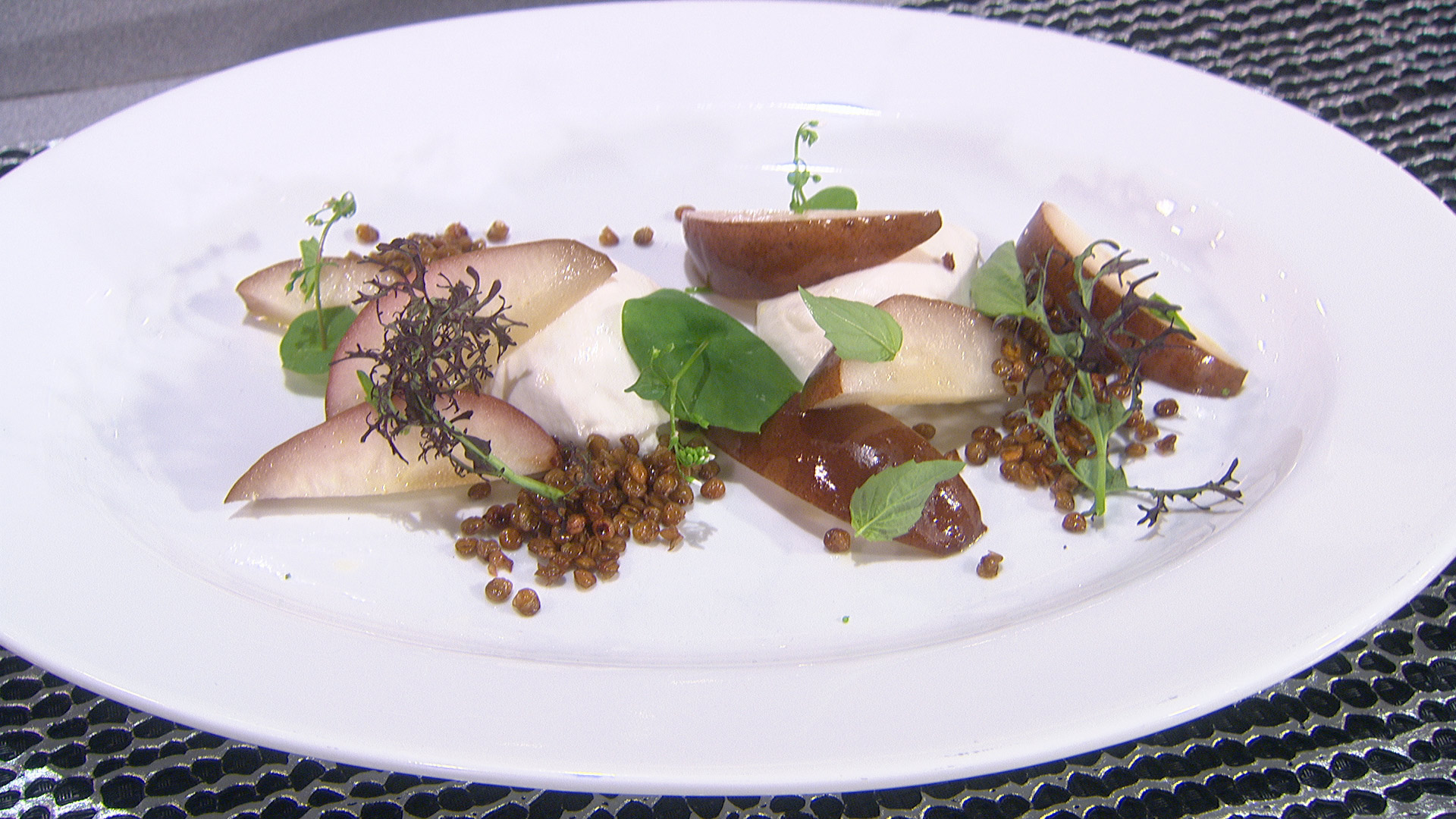 Serves 4


Ingredients
4 Bartlet, Bosc or French Butter Pears (firm is preferred)
1 Locally Foraged Forest floor rinsed in water. (you can also use an assortment of local herbs and grass if preferred)
1 tub Burrata or Fresh Mozzarella
2 cups Cooked Lentils
1 qt Canola Oil for frying
1 sprig Basil
4 sprigs Mustard Greens
1 lemon juiced
Olive oil
Sea Salt
Method:
In a heavy bottomed pot, lay down half of the forest floor.
Add the pears to the pot and cover with the remaining forest floor.
Cover with a damp towel and then tent the pot with foil or use a sturdy lid. Cook pears in a 350 F oven for three hours. Allow pears to cool with no lid or towel within the forest floor. Once cooled remove and gently brush off anything sticking.
Meanwhile, bring the oil up to about 360 in a heavy bottomed pot.
Gently add the lentils, careful not to splatter.
Cook until crispy, about 8 minutes. Drain and dry on a towel.
To Assemble:
Slice pairs in quarters the long way.
Remove the seeds then slice again.
Toss the pears in a bowl and season with olive oil, lemon and salt to taste.
Place a large scoop of burrata at the base of a bowl then arrange the pears on top.
Spoon some of the seasoned crispy lentils along the side of the cheese and pears.
Garnish with torn leaves of basil and mustard greens.
Prickly Pear & Bergamot Mint Mimosa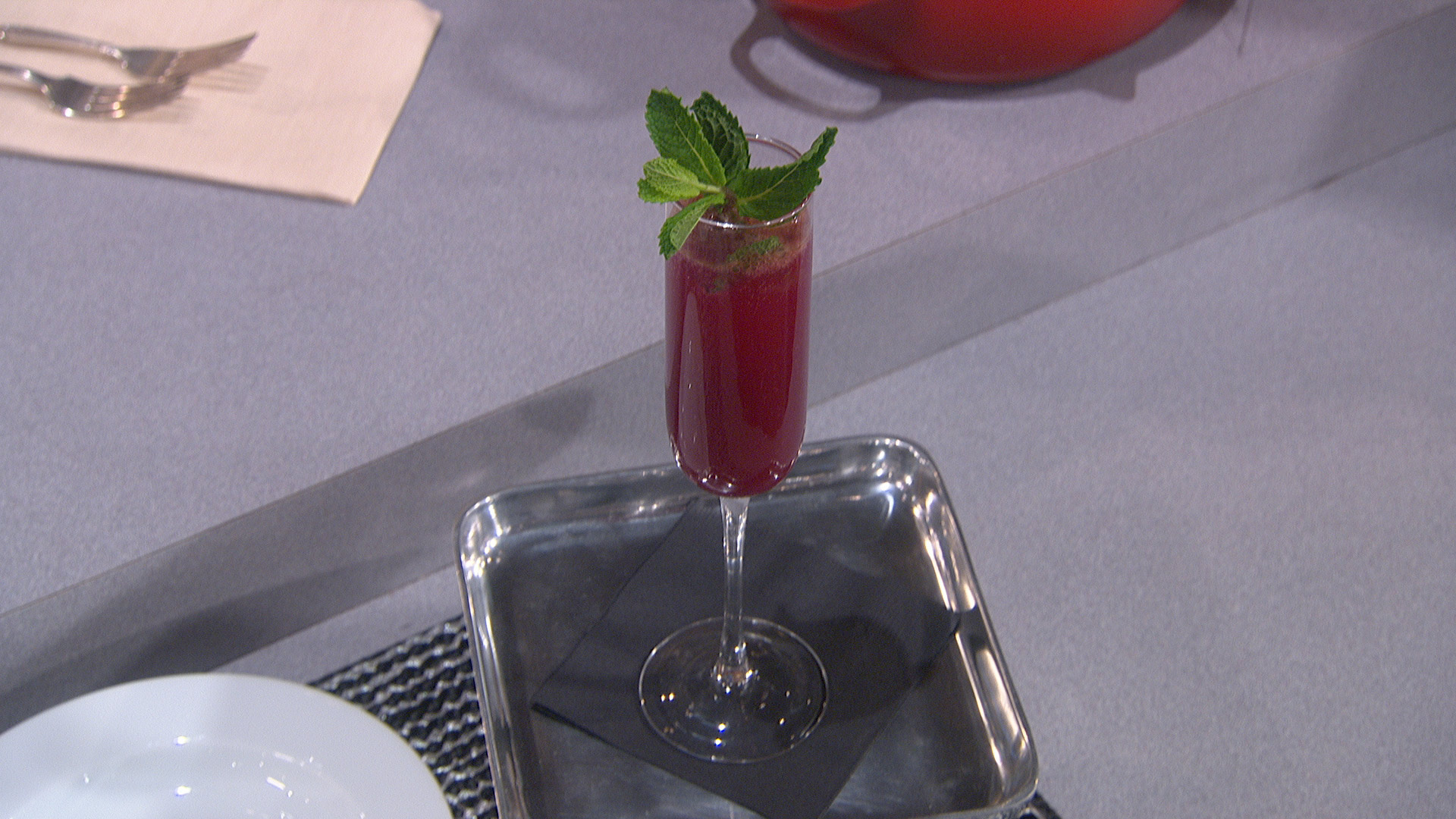 12 Prickly Pear Fruits (puréed and strained)
½ cup Bergamot Mint
1 ½ cup Granulated Sugar
2 oz. Prosecco
Blend the prickly pears, mint and sugar. Add 2 oz of Prosecco to each serving.