Adrianne Calvo Recipes
Chef Adrianne Calvo, owner of Chef Adrianne's Vineyard Restaurant and Wine Bar in Miami, joined the ladies to make some unique and inspired dishes that are fun and full of flavor.
Garlic Bread Crusted Shrimp with a Lemon Horseradish Aioli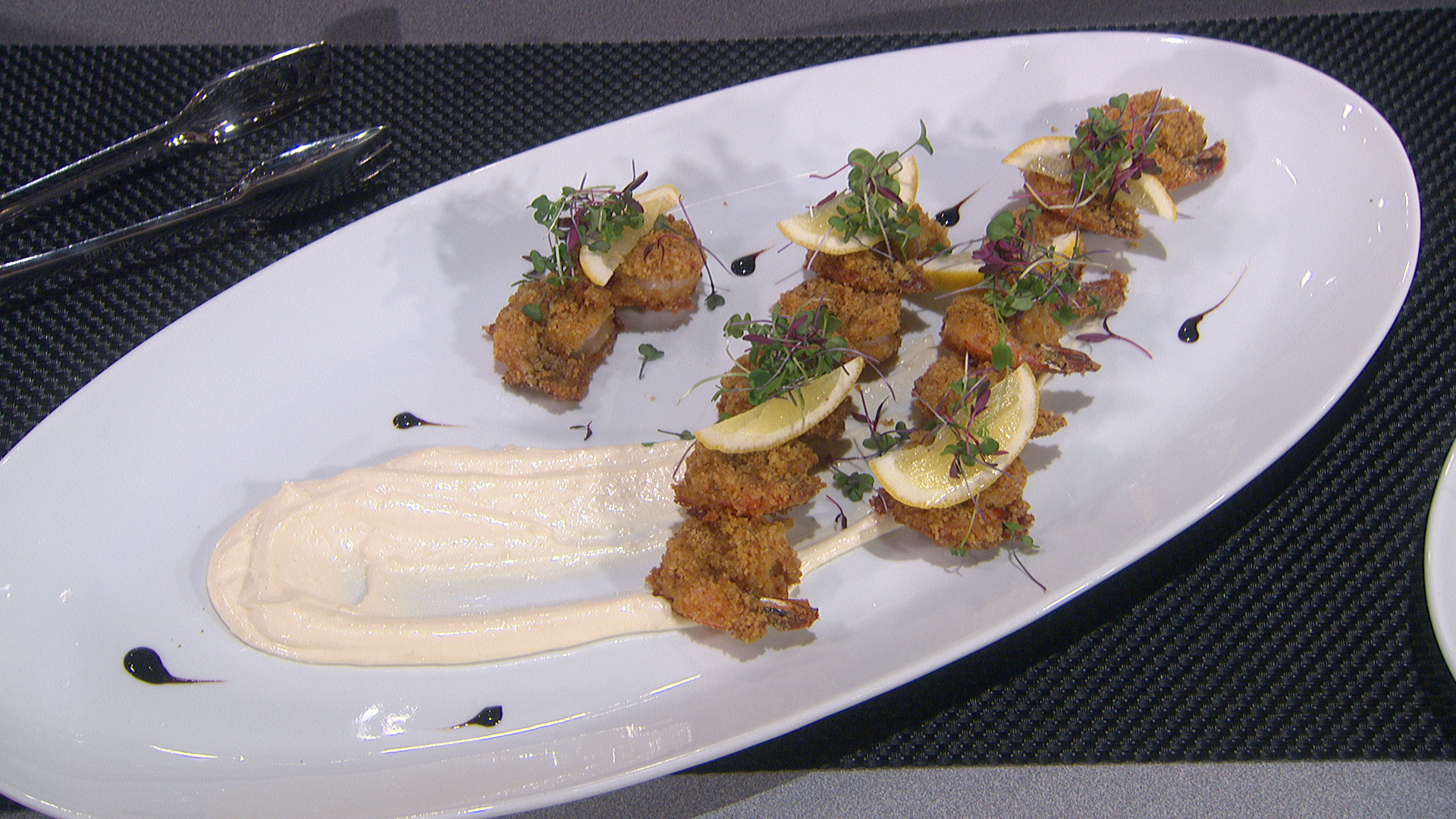 Ingredients
1 lb. Shrimp, peeled and deveined, U16/20
1 cup Butter, clarified
2 Cups Garlic Bread, toasted to crunchy, ground
1 cup Mayonnaise
1 tablespoon Horseradish
1 tablespoon Dijon Mustard
1 teaspoon Worcestershire Sauce
1 dash Tabasco Pepper Sauce
¼ cup Lemon Juice
1 teaspoon Garlic, minced
Pea Shoots, for garnish
Directions
Preheat the oven to 450ºF.
Set up a work station with two mixing bowls. One with the clarified butter and one with the garlic bread crumbs. Dip the shrimp into the clarified butter and then into the garlic bread crumb. Press on the garlic bread crumbs to make sure they adhere. Place the coated shrimp on a baking sheet. Bake for 6-7 minutes.
Meanwhile, in another mixing bowl, whisk together the remaining ingredients to make the lemon horseradish aioli. Serve the baked shrimp over the aioli and garnish with pea shoots.
Note: I like to make my own garlic bread by using a crusty French baguette, spreading a good quality butter on top, and a lot of fresh garlic. I finish it with a sprinkle of sea salt and bake it at 225ºF for 30 minutes until the bread is super crispy throughout.
Umami Charred Brussels Sprouts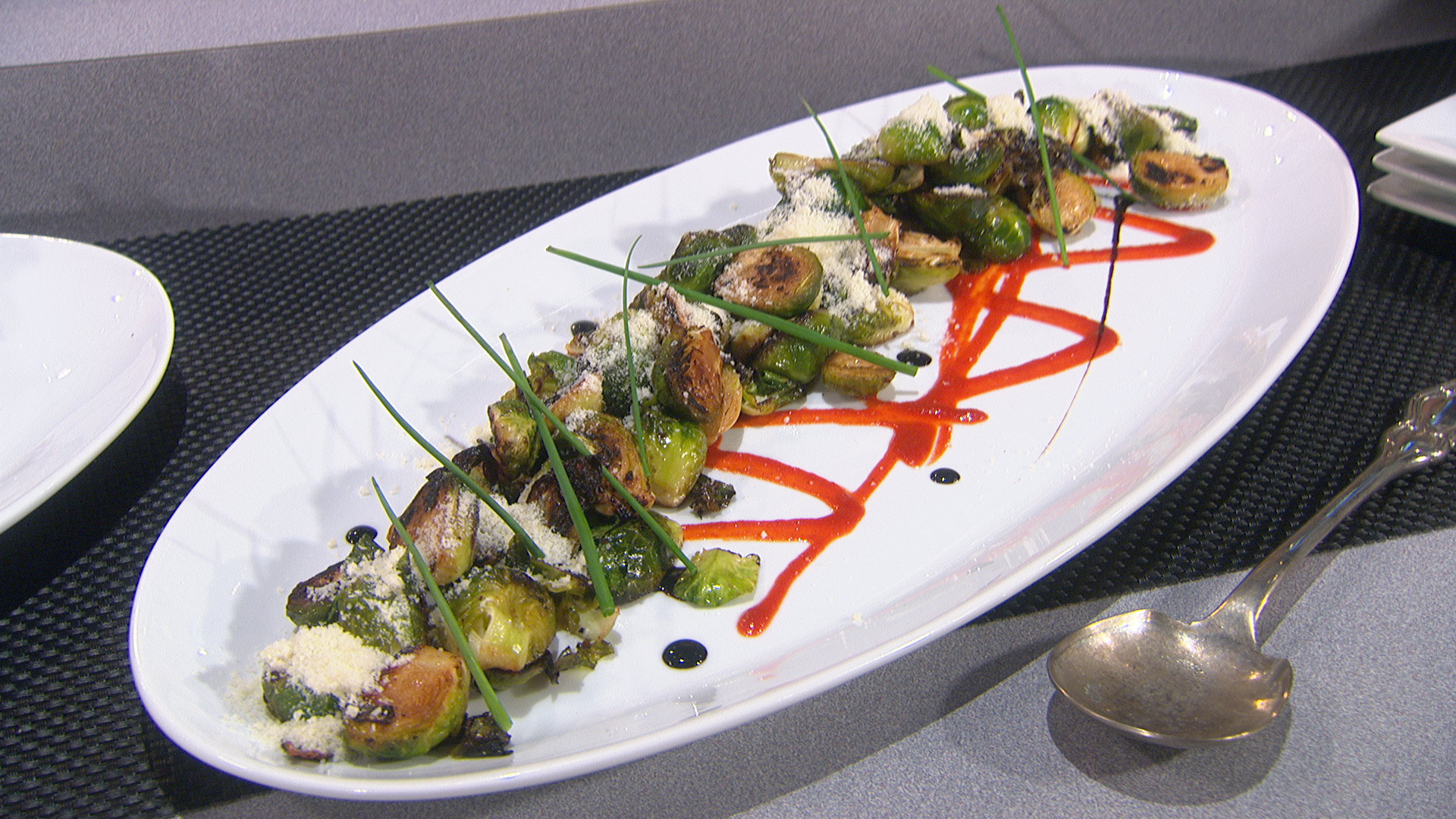 Ingredients
1 cup Brussels Sprouts, stem trimmed and cut in half lengthwise
¼ cup Extra Virgin Olive Oil
1 tablespoon Garlic, minced
1 tablespoon Light Soy Sauce
¼ teaspoon Black Pepper
1 tablespoon Parmesan Cheese, grated
1 teaspoon White Truffle Oil, optional
Sriracha Sauce
Directions:
Preheat oven to 400ºF.
In a mixing bowl, toss everything together except truffle oil and Sriracha. Place coated Brussels sprouts on a baking sheet and cook for 12-15 minutes or until crispy or slightly charred. Finish by topping cooked Brussels sprouts with white truffle oil and a bit of Sriracha.
Peanut Butter Cup Pie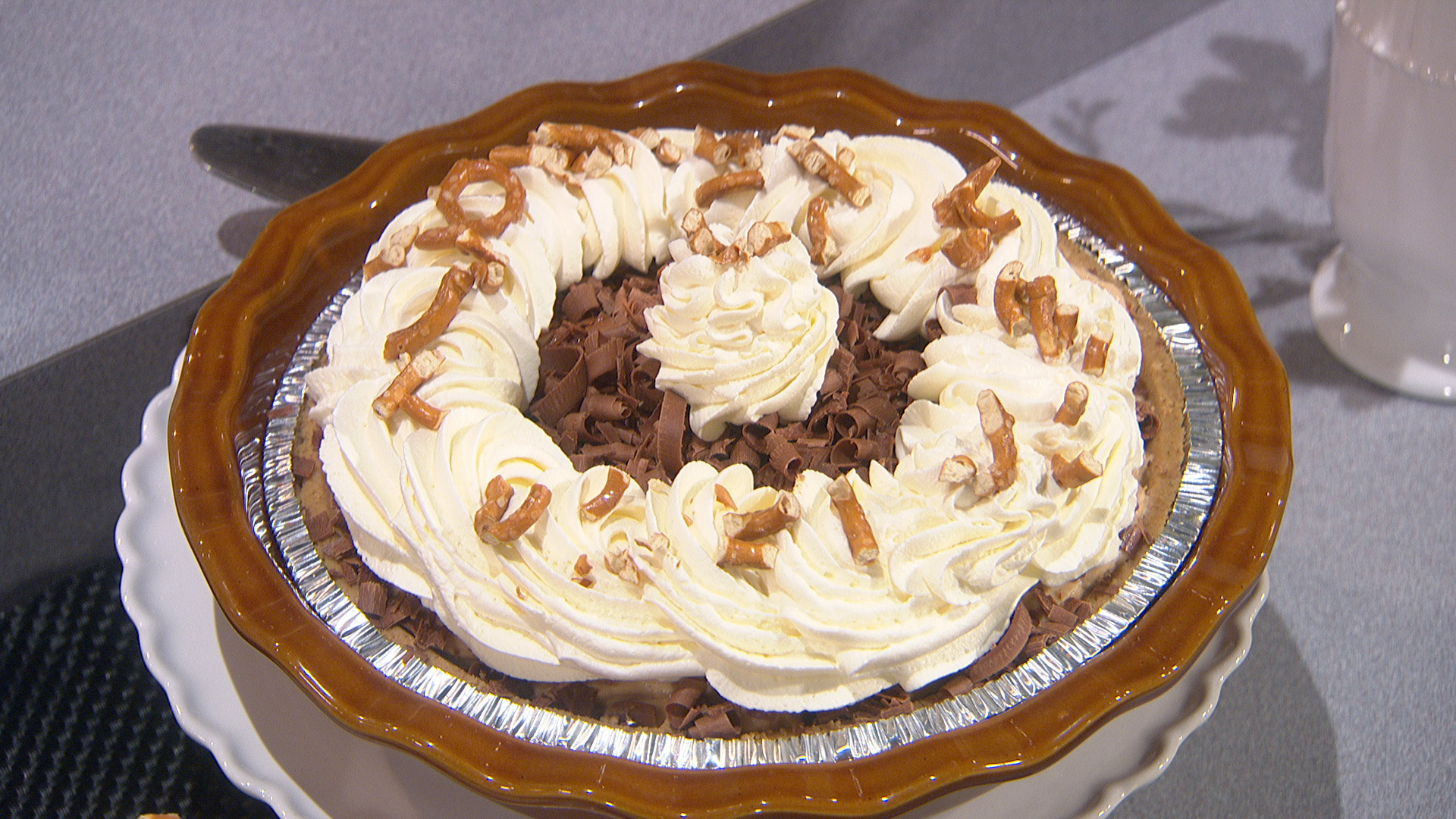 Ingredients
1 9-inch Pie Crust or Chocolate Cookie Crust
8 ounces Cream Cheese, at room temperature
¾ cup Confectioners' Sugar, plus 2 tablespoons, divided
¾ cup Creamy Peanut Butter, at room temperature
1 cup Heavy Whipping Cream
1 teaspoon Vanilla Extract
2 ounces shaved Milk Chocolate
Whipped Cream, for garnish
2 ounces Salted Pretzel Crumbs
Directions
In a large bowl combine the cream cheese, 3/4 cups confectioners' sugar and the peanut butter until the mixture is light and fluffy, about 3 minutes.
In a separate bowl, whip the heavy cream until thick and light. Add the remaining 2 tablespoons confectioners' sugar and vanilla extract. Continue to whip until stiff peaks form.
Carefully fold the whipped cream into the peanut butter mixture. Pour the batter into the pie shell, sprinkle with the shaved milk chocolate and freeze for 4 hours.
To serve, top with extra whipped cream and salted pretzel crumbs.
Recipes courtesy Chef Adrianne Calvo.