Cat Cora Recipes
Chef Cat Cora joined the ladies for THE TALK Food Festival. She cooked up an easy and delicious meal you could make for dinner tonight! Here are her recipes.
Recipes courtesy of Cat Cora's cookbook, "Cat Cora's Classics with a Twist."
Easy Chicken Curry with Peas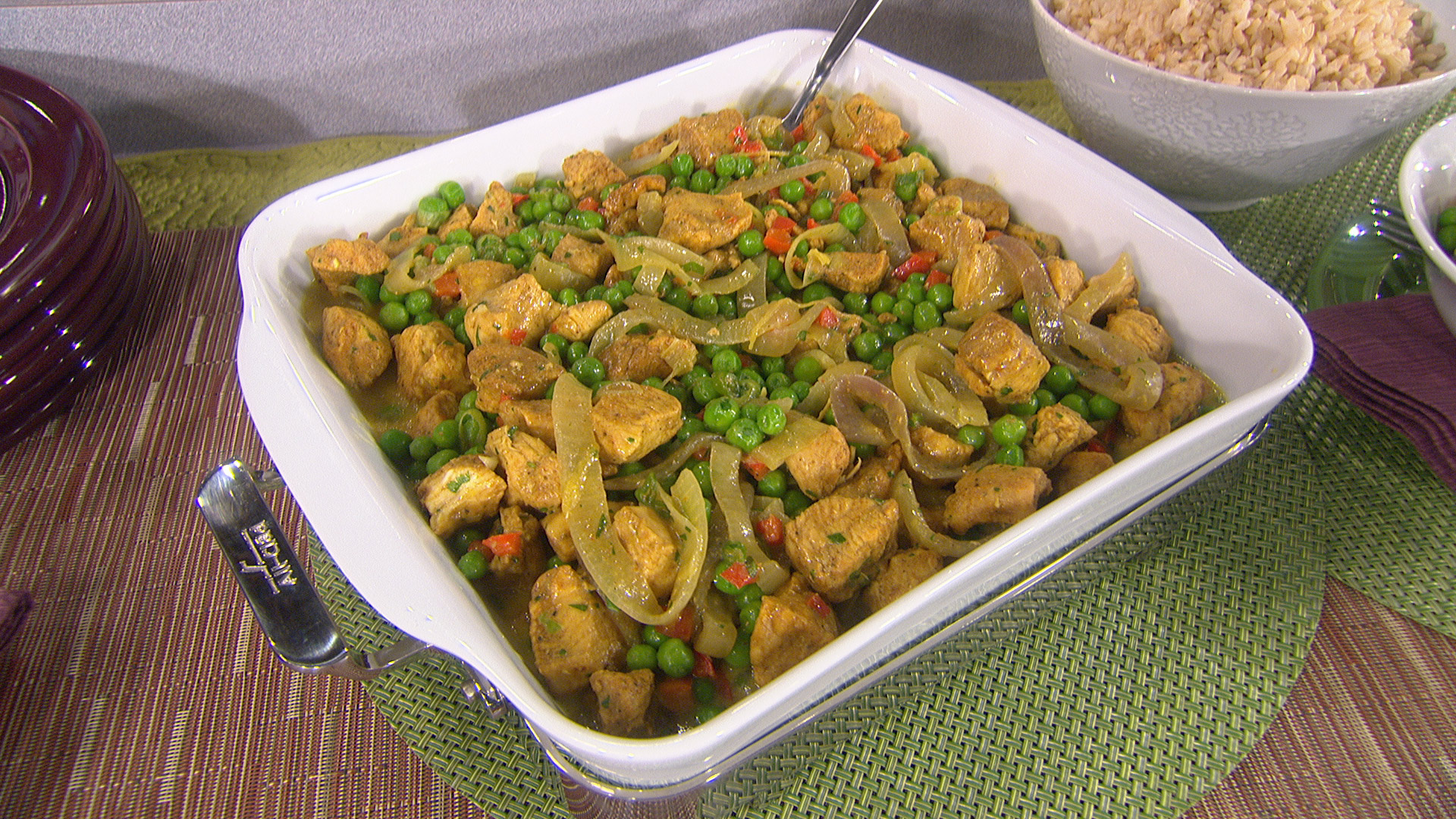 serves 6 to 8
4 boneless, skinless chicken breast halves (about 2 ¾ pounds)
2 teaspoons kosher salt
1 teaspoon freshly ground black pepper
3 tablespoons curry powder
1/ 4 cup extra-virgin olive oil, plus more if needed
1 red bell pepper, diced small
1 garlic clove, crushed or minced
2 medium red onions, sliced into 1/ 4-inch rings
1 14-ounce can unsweetened coconut milk
1/ 4 cup water, plus more if needed
2 cups peas, fresh or frozen, thawed
2 scallions, chopped
1 tablespoon chopped fresh cilantro
Cut the chicken breasts into 1-inch pieces. Sprinkle with the salt, pepper, and curry powder. Cover and refrigerate for at least 1 hour or overnight.
Heat the olive oil in a large skillet over high heat. When the oil is hot, carefully add half the chicken pieces and half the diced red pepper. Cook, stirring occasionally, until the chicken is lightly browned on all sides, about 5 minutes. Transfer the chicken and red pepper to a plate, drizzle more oil into the pan if necessary, and cook the remaining chicken and diced pepper, transferring it to the plate with the first batch.
Add a little more oil to the pan if necessary and add the garlic and the onions. Cook, stirring, until both are lightly browned, about 4 minutes. Return the chicken and red pepper to the pan, along with any juices on the plate. Stir in the coconut milk and the water. When it simmers, reduce the heat, cover, and cook for 20 minutes; stir in more water, ¼ cup at a time, if the sauce becomes too thick, letting the sauce cook for a few minutes before adding more.
When the chicken is tender and the sauce is velvety, toss in the peas, scallions, and cilantro, stir once or twice, and serve.
cat's note: Try different kinds of rice with this. Jasmine or basmati are both good, but I
also serve this with brown rice, because of its health benefits. Pour 2¼ cups cool water into a
medium saucepan. Bring to a boil, add a pinch of kosher salt, pour in 1 cup brown rice, stir,
cover, turn the heat to low, and simmer until it's done, about 20 minutes. You can lift the lid
to test for doneness, but don't stir or move the rice.
Chopped Vegetable Salad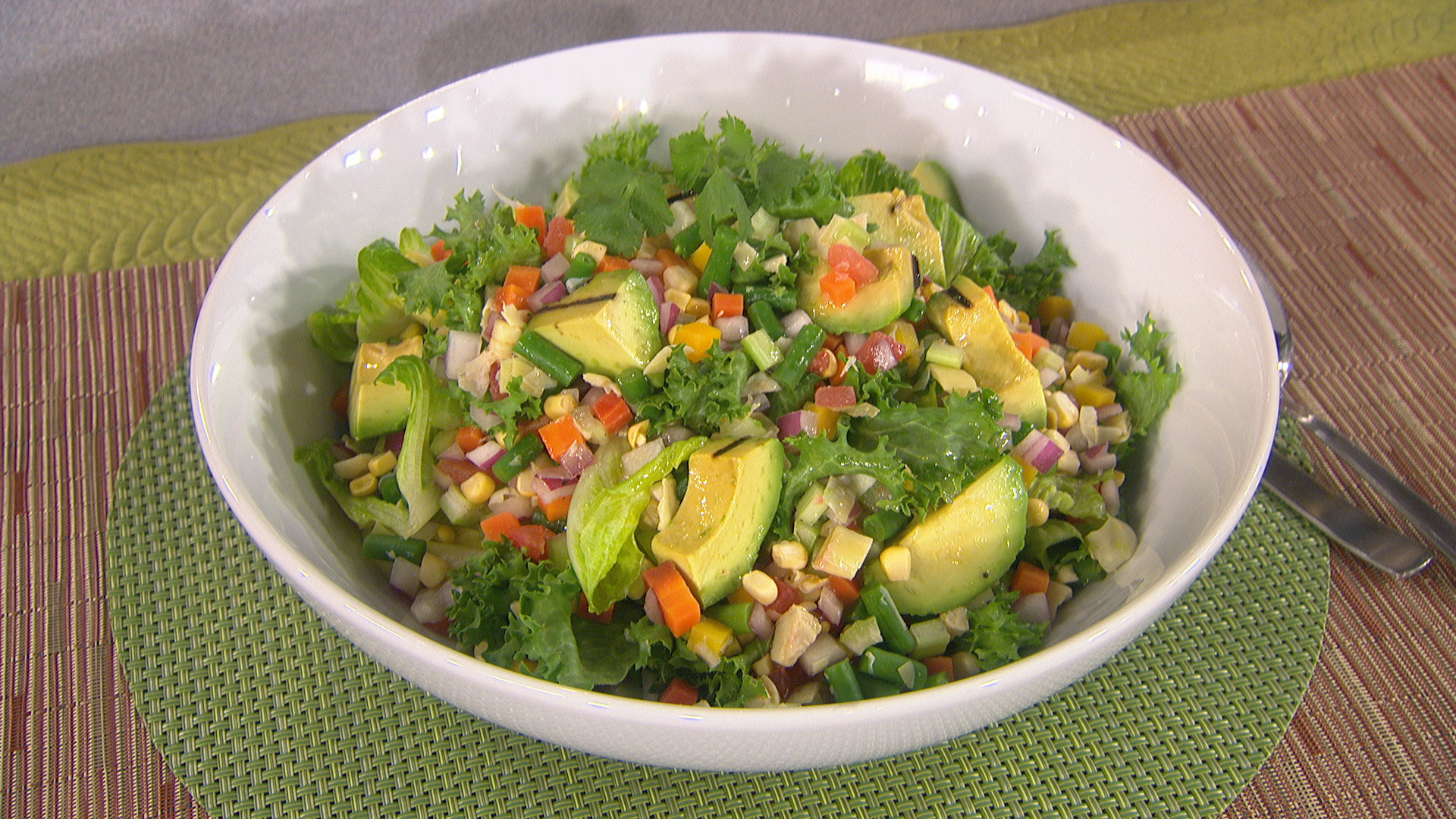 Serves 4
Mustard Vinaigrette
1 tablespoon Dijon mustard
3 tablespoons white wine vinegar
1/ 2 cup extra-virgin olive oil
1/ 2 cup almond oil or safflower oil
1/ 2 teaspoon kosher salt
1/ 4 teaspoon freshly ground black pepper
Chopped Salad
1/ 2 cup peeled and chopped carrot
1/ 2 cup trimmed and chopped green beans
1/ 2 cup chopped red onion
1/ 2 cup fresh corn kernels, raw or cooked (see note)
1/ 2 cup chopped celery
1/ 2 cup chopped jarred artichoke hearts
2 large avocados, chopped
1/ 4 cup peeled and chopped tomato
Kosher salt and freshly ground black pepper
4 teaspoons freshly grated
Parmesan cheese
1 cup mixed greens of choice (curly endive, chicory, or baby lettuce), cut or torn into bite-sized pieces
Fill a large pot or bowl with ice and water.
For the Vinaigrette: Whisk together the mustard and vinegar in a small bowl. Slowly drizzle in the oils, one at a time, whisking constantly, until the vinaigrette is thick and creamy. Add the salt and pepper and set aside. (The vinaigrette can be made 1 to 2 days ahead and kept, covered, at room temperature.
To Blanch the Vegetables: Using a fine-mesh basket or a slotted spoon, dip the carrots in a large saucepan of boiling salted water for 2 to 3 minutes, removing them while they're still crisp and bright. Cool them in the ice bath, then scoop them out, let them drain for a few seconds, and place in a large bowl. Add more ice to your ice bath and repeat the blanching process with the green beans, transferring them to the ice bath while they're still bright green, cooling and draining them in the same manner and adding them to the bowl with the carrots.
For the Salad: Add the onion, corn, celery, and artichokes to the bowl. Just before you're ready to serve, add the avocados and the tomato. Gently toss the vegetables with about half the vinaigrette until they're lightly coated. Season to taste with the salt and pepper. Sprinkle with the grated cheese and gently toss once more. Toss the greens with the remaining vinaigrette, but use a light hand. Taste the salad and add more salt and pepper if necessary. Divide the salad greens among four salad plates. Mound the chopped vegetables on the greens and serve.
Cat's Note: If your corn is not very fresh, cook the husked ears in a large pot of boiling salted water just until tender, about 3 minutes. Remove with tongs and cool before slicing off the kernels. (You don't need to cook very fresh corn.) Either way, use a sharp chef 's knife to slice the corn kernels off the cob, hugging the cob with the knife as much as you can. Stand the ear on a cutting board, holding the top with your hand. You can also add grilled avocado to this dish for little extra flavor!
Grapefruit Margaritas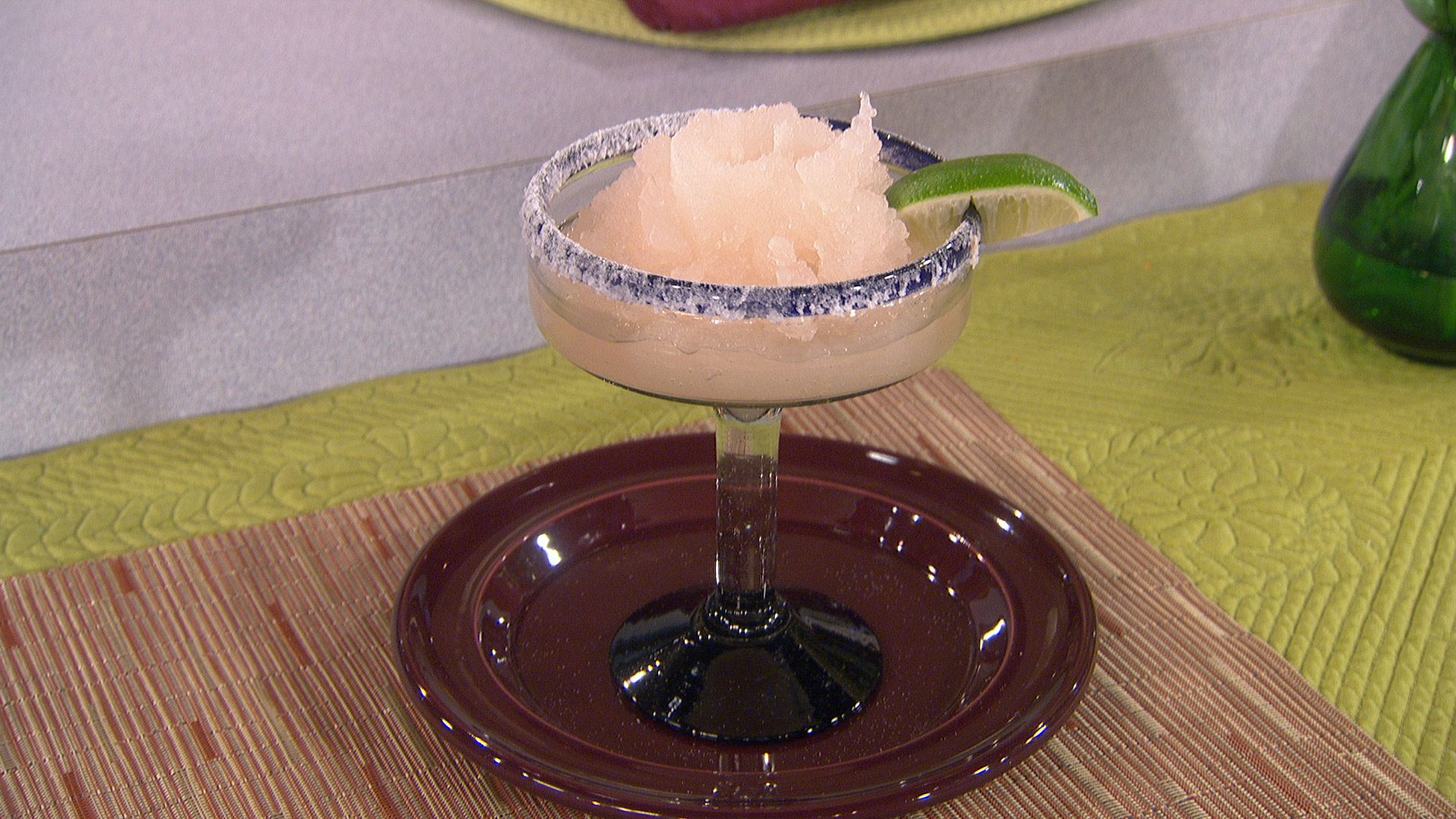 Makes 4 drinks
1 ½ cups sliced grapefruit (about 2 large grapefruit)
¾ cup tequila
½ cup Triple Sec
½ cup fresh-squeezed lime juice
2 TBS agave
4 cups crushed ice
In a blender, puree the grapefruit chunks. Pour in the remaining ingredients, and blend until smooth.
Run a lime wedge over the rim of each glass and dip in superfine sugar. Carefully divide the margarita mixture among four glasses and serve.