Pat & Gina Neely Recipes
Pat and Gina Neely, authors of "Back Home with the Neelys: Comfort Food from Our Southern Kitchen to Yours," stopped by to cook up some of their favorite Southern recipes that are perfect for your next weekend cookout!
Apple, Bacon, and Bourbon Stuffed Pork Chops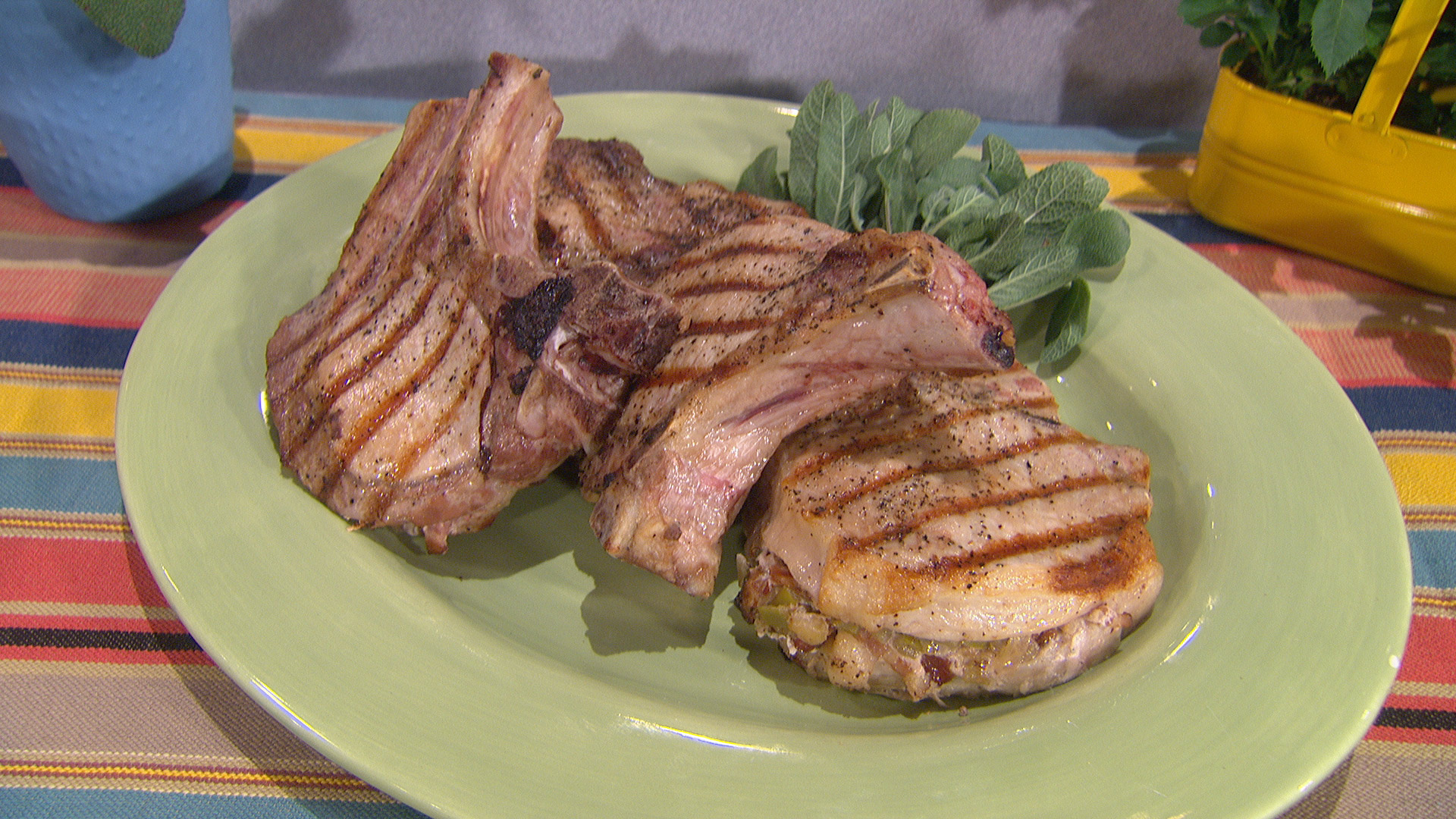 Serves 4
Ingredients
5 strips Bacon, sliced
½ Onion, chopped
1 Granny Smith Apple, diced
1 tablespoon Fresh Sage, chopped
Kosher Salt and Freshly Ground Black Pepper
2 tablespoons Bourbon
Four 1½-inch thick bone-in pork-loin chops (12 ounces each)
Directions
In a large skillet, cook the bacon over medium heat. After 3 minutes, remove some of the rendered fat and add the onion. Sauté until soft, 3 to 4 minutes. Add the apple and sage, and cook, stirring, until the mixture turns golden brown and is very soft, about 5 minutes. Season the mixture with salt and pepper. Carefully add the bourbon, and stir up any brown bits on the bottom of the pan. Cook and stir until the pan is dry, about 2 more minutes. Remove the mixture from the pan, and cool completely.
Using a chef's knife, carefully make a slit in the side of each pork chop, creating a pocket to stuff ingredients into.
Heat grill to medium-high heat.
Season the pork chops on both sides with salt and pepper. Fill them with the stuffing, and grill for 15 to 17 minutes, flipping every few minutes to keep them from getting too dark. Remove them from the heat, and allow them to rest for 5 minutes before serving.
Tip: For the stuffing, keep in mind that you will have to do a little outpatient surgery, so be sure to tell your butcher the chops must be at least 1½ inches thick. If you are afraid of having the stuffing fall out, pin the chops closed, using toothpicks.
Not Your Basic Sweet Potato Salad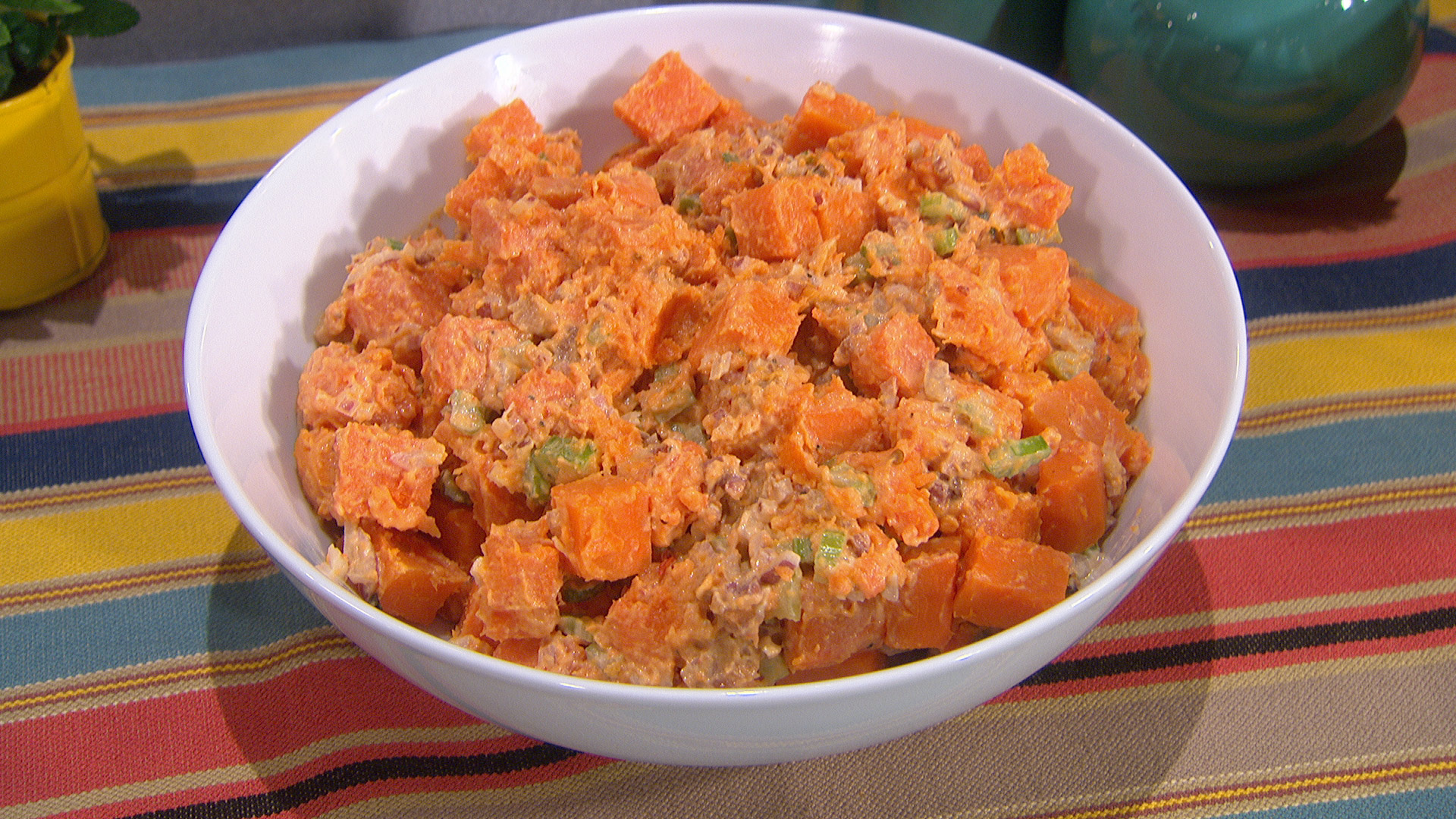 Serves 6
Ingredients
3 medium Sweet Potatoes (about 2 pounds), peeled and cut into 1-inch cubes
Kosher Salt and Freshly Ground Black Pepper
2 stalks Celery, chopped
½ small Red Onion, finely chopped
5 strips Bacon, cooked and crumbled
¾ cup Mayonnaise
2 tablespoons Orange Juice
1 tablespoon Orange Marmalade
1 canned Chipotle Pepper, minced, plus 1 teaspoon Adobo Sauce from can
Directions
Add the sweet potatoes to a large pot of cold salted water. Bring to a boil over medium-high heat. Reduce to a simmer, and cook until tender, about 12 minutes. Drain the potatoes well, and while they're still warm, add them to a large bowl with the celery, onion, and bacon.
In a medium bowl, while potatoes are cooking, whisk together the mayonnaise, orange juice, orange marmalade, chipotle pepper, and adobo sauce until smooth. Pour the dressing over potatoes while they're still warm, and toss well together. Cover the salad with plastic wrap, and chill for at least 1 hour before serving.
Kale Salad with Chopped Almonds, Feta, and Champagne Vinaigrette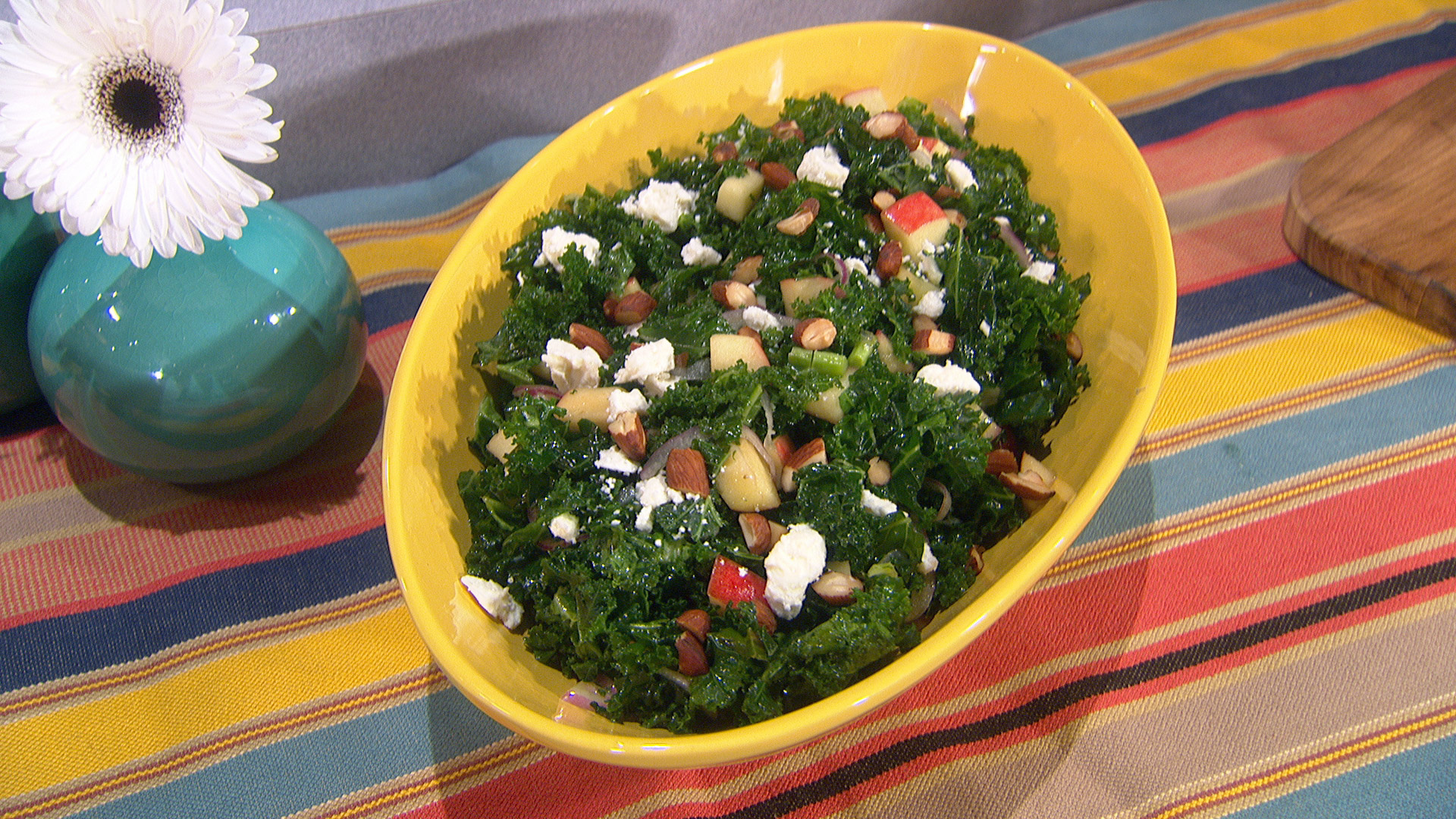 Serves 4 to 6
Ingredients
1 bunch Curly Kale (about 8 ounces), stemmed and chopped
1 Gala Apple, diced
⅓ cup Roasted Salted Almonds, chopped
¼ Red Onion, thinly sliced
½ cup crumbled Feta Cheese
For Champagne Vinaigrette
1 tablespoon Honey
2 tablespoons Champagne Vinegar
¼ cup Olive Oil
Kosher Salt and Freshly Ground Black Pepper
Directions
In a large bowl, combine the kale with the apple, almonds, and onion.
In a small bowl, whisk together the honey and vinegar until combined. Drizzle in the olive oil, and whisk until emulsified. Season with salt and pepper. Pour the dressing over the kale, and toss well for 2 minutes. Sprinkle in the feta, and toss again. Cover with plastic wrap, and let sit out at room temperature for at least 30 minutes, so the kale will soften.
Tip: This salad can be made up to a day ahead of time, since the kale will soften as it sits in the dressing and absorb more flavor. If you prefer a crisper salad, serve immediately.
Tupelo Sour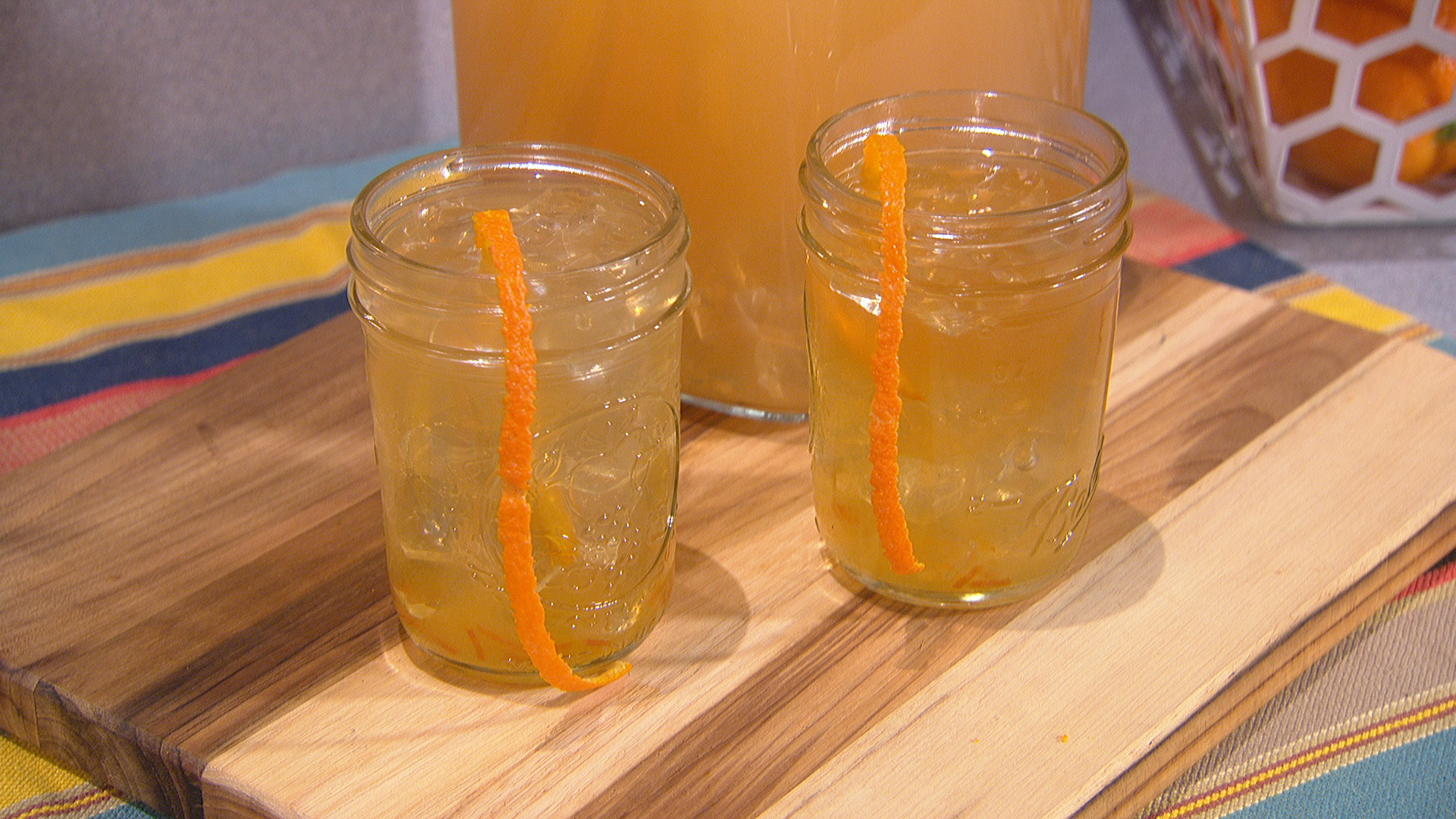 Makes 1 potent drink
Ingredients
2 ounces Honey Whiskey
1 heaping tablespoon Orange Marmalade
3 ounces Lemonade
Orange Zest, for garnish
Directions
Fill a cocktail shaker with ice. Add the honey whiskey, orange marmalade, and lemonade, and shake for 20 seconds. Strain into an ice-filled rocks glass, and put some orange zest on top to garnish.
Recipes courtesy Pat and Gina Neely, "Back Home with the Neelys: Comfort Food from Our Southern Kitchen to Yours"