Enzo Febbraro Recipes
Chef Enzo Febbraro shares Italian dishes that capture the fresh flavors of Italy! Here are all of his delicious recipes from today's show.
Scialatelli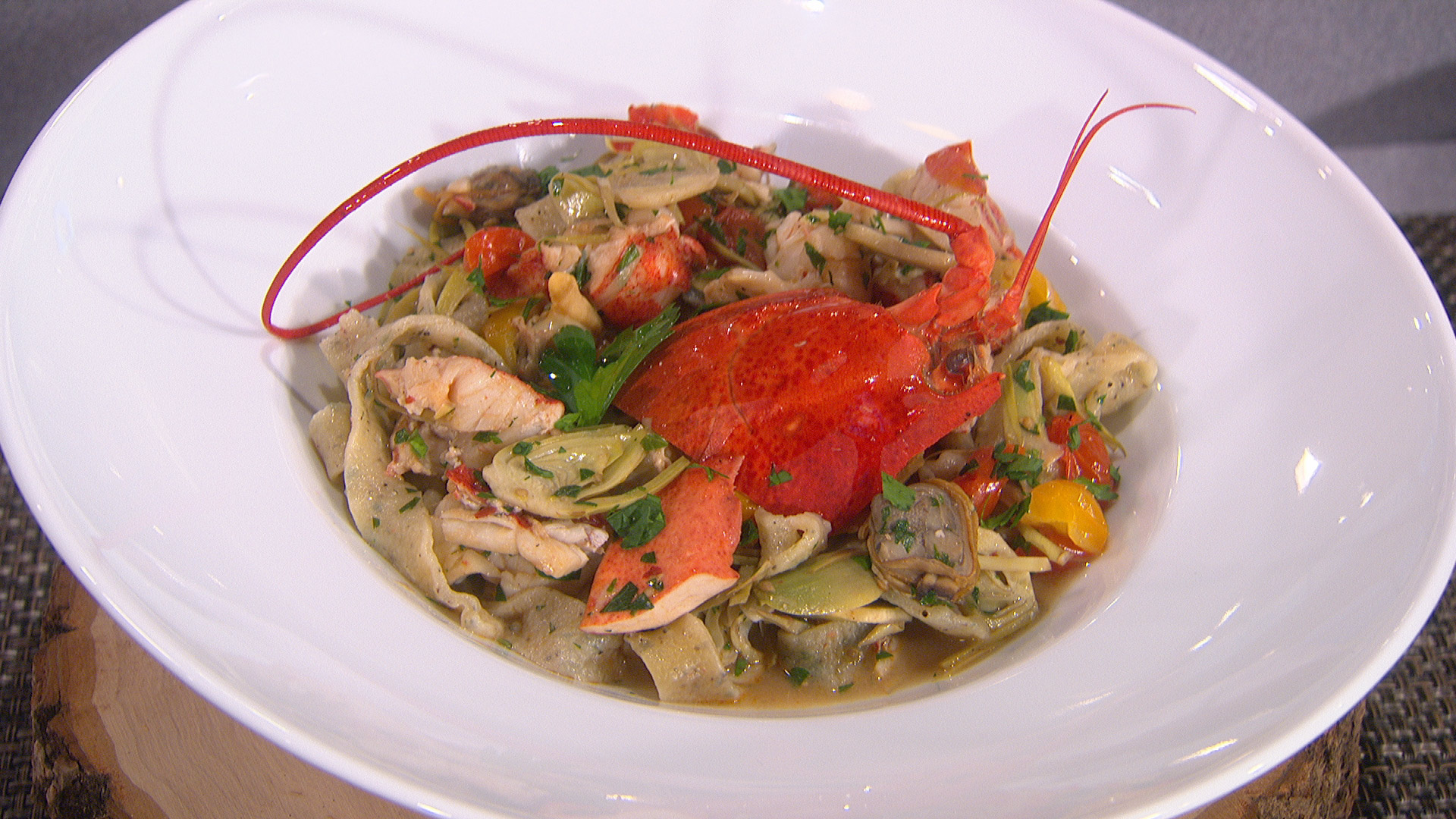 Serves 4-5
Ingredients:
2 cup 00 Flour
1¼ cup Semolina
5 Tbsp. Olive Oil
3 1/3 Tbsp. Parsley, chopped
1 ¼ Tbsp. Black Pepper, Cracked
1 2/3 Tbsp. Rosemary, Chopped
1 ¼ cup wine
Method:
Mix all ingredients in a mixer until it reaches desired consistency. Consistency should be similar to regular fresh pasta dough. Roll dough to 2mm thickness. (If a pasta machine is used, roll gradually).
Scialatelli Sauce

Serves 3-4
Ingredients:
2 cloves Garlic, sliced
1½ pound Clams, Manila, steamed open and shells removed, with liquor
1 each Lobster, 2 #, parcooked, head removed and kept whole, meat removed and large diced into approx. 16-20 pieces
6 each Baby Artichokes, halved, cleaned, and kept in acidulated water, thin sliced and drained right before use
15 each Yellow and Red Grape Tomato, halved
½ bunch Parsley, chopped
½ cup Wine, Pinot Grigio
¼ cup Olive Oil, Extra Virgin
To taste, Salt
To taste, Pepper
To taste, Red Chili Flake
Optional Parmesan Cheese
To taste, Parsley, Leaves kept whole
16 Scialatielli Pasta noodles, cooked (If par cooking is needed for noodles, add a small amount of oil and toss gently, spread on sheet pan and cool)
Method:
Heat oil in pan. Add garlic, sauté till translucent, add artichoke cook for 30 seconds, add clams, lobster, tomato, wine, salt, pepper, chili flake, and parsley. Cook for 30 seconds, or until hot add pasta, toss for a few more seconds. Check and adjust seasoning as needed. Add a sprinkle of parmesan if desired. Garnish with lobster head and parsley leaves.
Arugula Pesto
Serves 4-6
Ingredients:
¼ oz. Garlic
1 oz. Pine Nuts
1 oz. Parmesan Cheese, grated
¼ pound Arugula
1 1/3 cups Extra Virgin Olive Oil
¼ Tbsp. Citric Acid
1 oz. Parsley Leaves
Method:
Blend until desired consistency is reached.
Spinach with Pine Nuts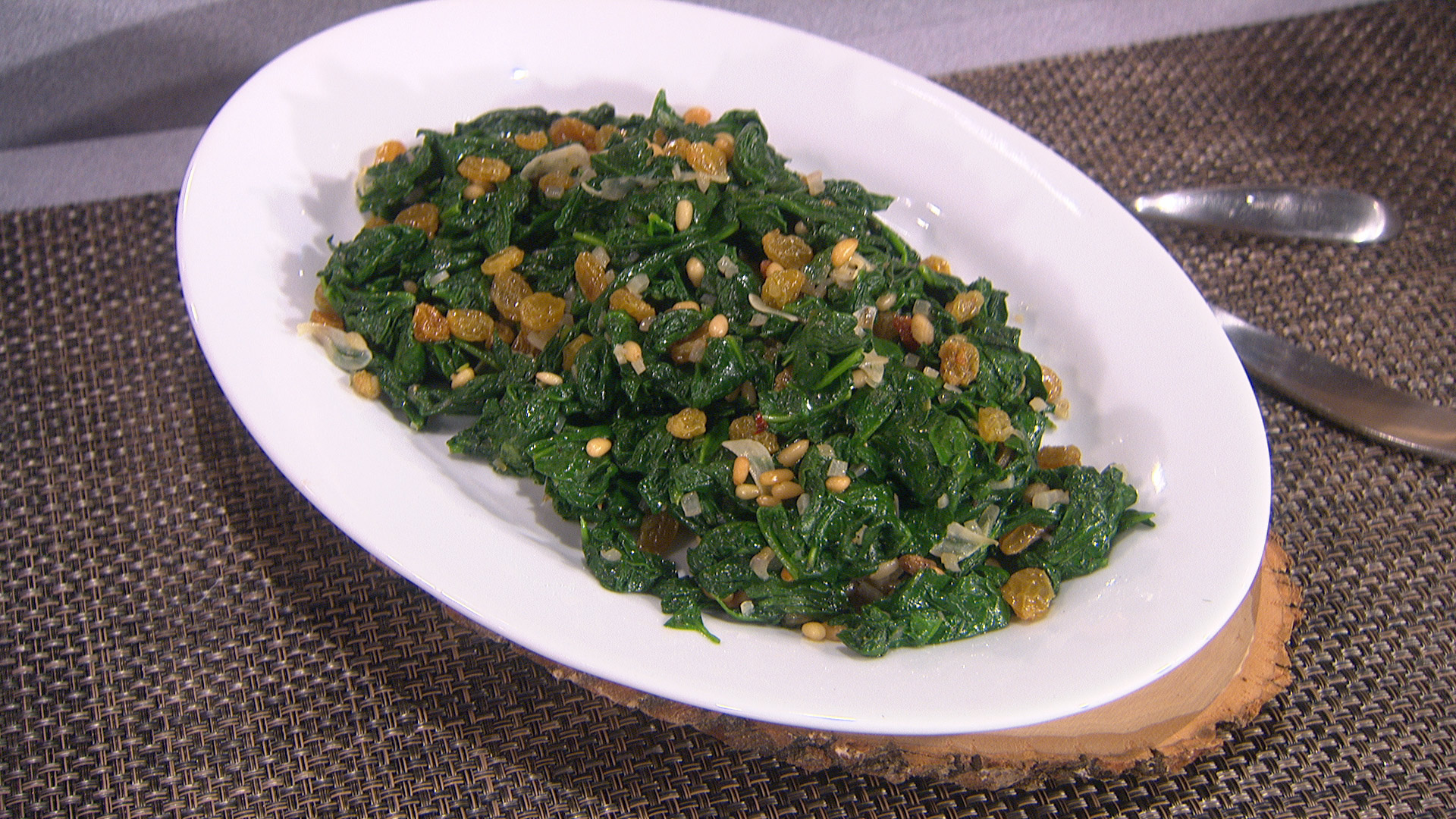 Serves 4
Ingredients:
1 pound Spinach
1 each Shallot, chopped
1 clove Garlic, sliced
3 Tbsp. Olive Oil, Extra Virgin
2 Tbsp. Pine Nuts, toasted
3 Tbsp. Raisins
To taste, Salt
To taste, Pepper
Method:
Heat oil, sauté shallot then add garlic and sauté until it begins to turn translucent. Add spinach and cook
until wilted. Add pine nuts and raisin then season to taste.
Dandelion
Serves 4
Ingredients:
1 pound Dandelion, washed, chopped rough and blanched
2 clove Garlic, sliced
3 Tbsp. Olive Oil, Extra Virgin
20 each Black Olives
1 Tbsp. capers
To taste, Salt
To taste, Pepper
To taste, Chili Flake
Method:
Heat oil, sauté garlic, add dandelion, cook until soft, add remaining ingredients, season to taste.
Lemon Tiramisu with Mixed Berries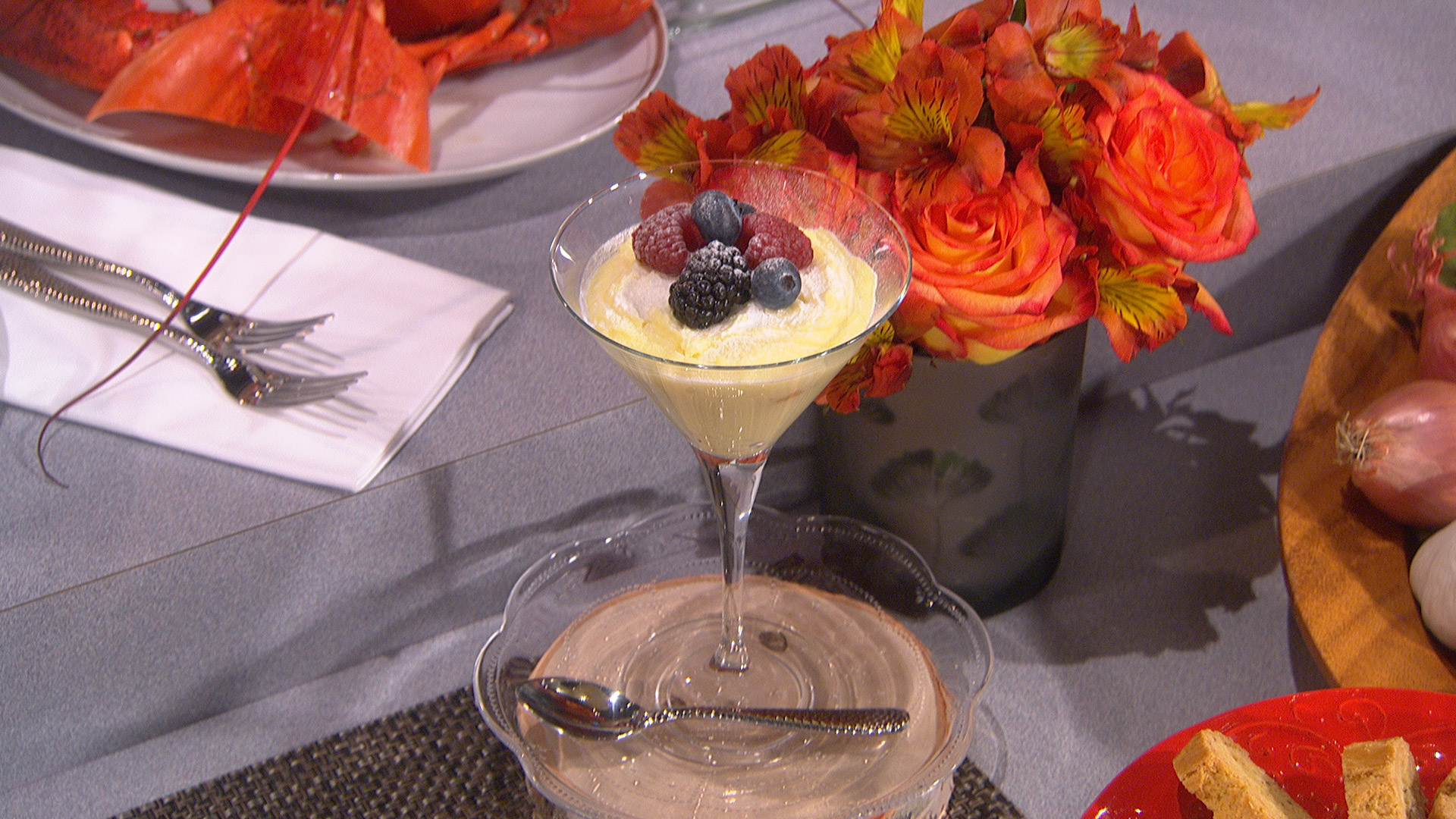 Serves 3-4
Ingredients:
4 each Egg Yolks
3 oz. Sugar, granulated
4 oz. Limoncello
1 Tbsp. Sugar, confectioners
3-4 each Lady Fingers
3 oz. Berries: Raspberry, Blueberry, Blackberry
16 oz. Mascarpone
Method:
Beat egg and granulated sugar, add half the limoncello, add Mascarpone. Whisk until all ingredients are thoroughly incorporated. Take 3-4 Martini cups, layer half of the mascarpone mixture on the bottom of the glasses. Soak the lady fingers with the remaining limoncello. Break lady fingers in half and layer in the glasses. Top with the remaining mascarpone. Garnish with confectioners sugar and berries.