Debbie Matenopoulos Recipes
Debbie Matenopoulos, TV personality and author of "It's All Greek to Me," shares some delicious, healthy food that can be traced back to her roots in Greece.


Prasopita Leek and Cheese Pie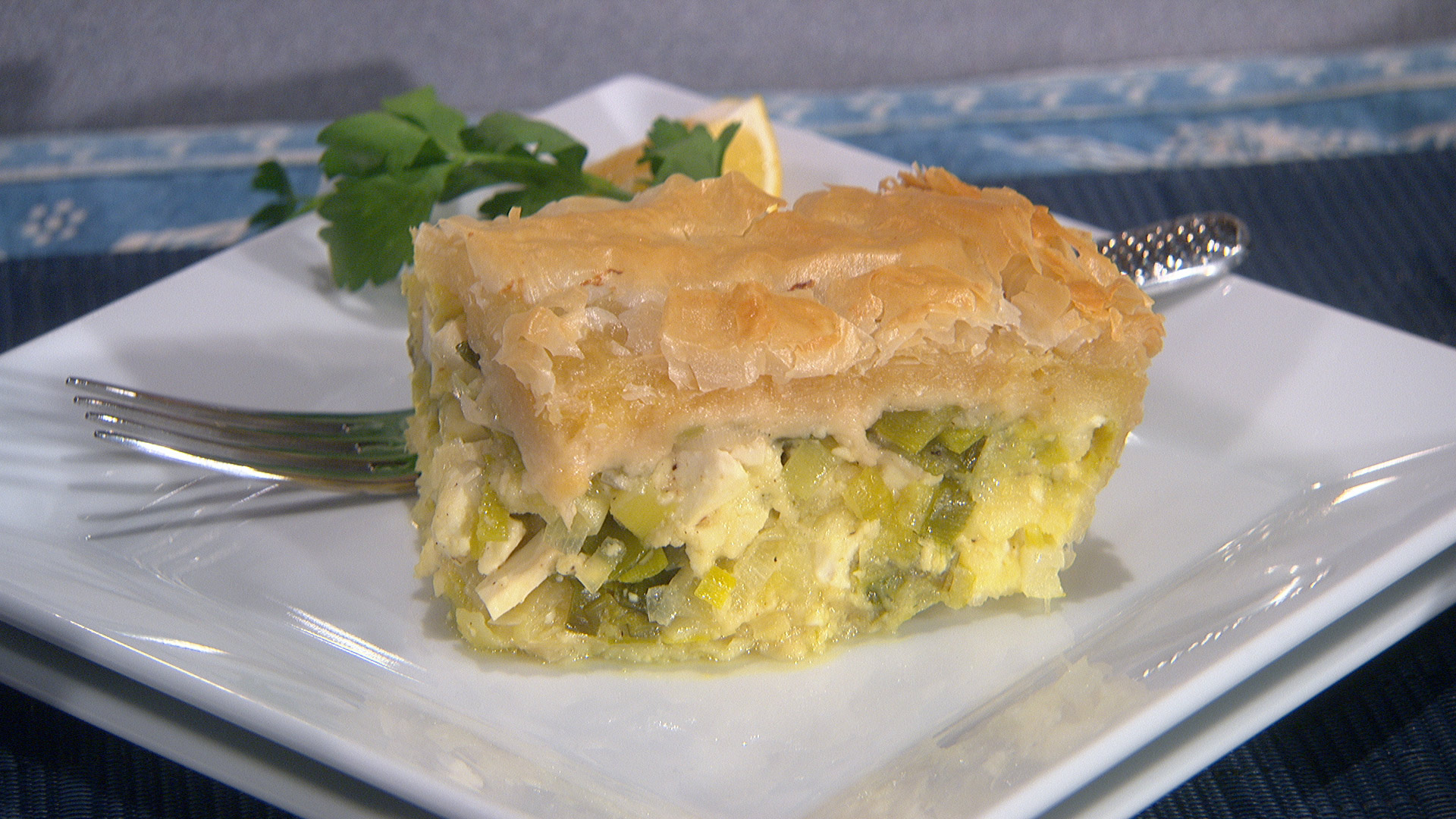 prah-SOH-pee-tah
Serves 8
Leeks are harvested and eaten in the wintertime in Greece, and so this pita is served during the colder months. If you've never had leeks before, they taste like very mildly flavored onions. They also have a prominent place in Greek mythology. It is said that leeks were included in ritual offerings to Leto, the mother of the twin Greek gods Apollo and Artemis, because she craved them during her pregnancy. Today, when the winter months roll around, I also crave this leek-stuffed phyllo pie. It has light and airy texture with a very sophisticated and delicate flavor.
1/2 cup plus 2 tablespoons extra-virgin olive oil, divided
2 pounds leeks, halved lengthwise, washed well and dried, white and soft green parts separated and thinly sliced (see tip below)
1/2 cup chopped fresh Italian flat-leaf parsley
2 tablespoons finely chopped fresh mint
4 large eggs
1/2 pound Greek mizithra or ricotta cheese
1/2 teaspoon sea salt
1/2 teaspoon freshly ground black pepper
1/2 pound brine-packed Greek feta, crumbled
1 (1-pound) package phyllo dough sheets (13x18 inches), thawed (see tip below)
Preheat oven to 350 degrees. Oil a 9x13-inch baking dish.
Set 2 large sauté pans over medium-high heat. Add 2 tablespoons of the olive oil to each pan. Add the white parts of the leeks to one pan and the green parts to the other pan, cooking the white parts for 6 minutes, or until translucent, and the green parts for 8 minutes, or until tender, stirring both frequently. After 6 minutes, add the parsley to the pan with the white parts of the leeks, and cook 1 minute more. Transfer both parts of the leeks to a large mixing bowl, and add the mint.
In a separate medium mixing bowl, whisk the eggs together with the mizithra or ricotta cheese. Add the egg and cheese mixture to the leeks, along with the salt and pepper, and stir to combine. Gently fold in the feta crumbles so that they keep a relatively chunky texture. Set aside.
Roll the phyllo dough out on a flat surface, working quickly and keeping it covered to prevent it from drying out. Place 2 phyllo sheets into the baking dish at a time, centering them and letting the edges hang over the sides. Brush the top sheet of each 2-sheet layer with a little of the remaining olive oil, but do not brush the overhanging edges. Continue in this manner until you have used 10 of the phyllo dough sheets. Spread the leek mixture evenly over the phyllo dough layers in the prepared dish. Fold the overhanging phyllo dough over the filling, then continue to layer the phyllo dough, brushing each 2-sheet layer with olive oil, until you have used all of the dough. Trim the top layers of phyllo to fit the baking dish. Slowly pour the remaining olive oil on top, and spread evenly.
Before baking, using a large knife, very carefully score the pie into 8 to 10 pieces, cutting through the top layers just until you reach the filling. Precutting makes it much easier to serve, as the phyllo dough becomes crisp and very fragile after baking.
Bake 50 to 60 minutes, or until the top is golden brown and flaky, watching carefully. Cool for 10 minutes, slice the precut pieces all the way through, and serve.
Tip for working with leeks: Leeks are grown in sandy soil; you must wash them carefully so that your finished dish won't be gritty. Run whole leeks under cold water to wash away visible dirt, then cut off the roots and trim the tough dark green parts (the top 2 to 4 inches) away from the tops. Cut the leeks lengthwise in half, and slice as the recipe directs. Submerge the slices in a bowl of cold water. Use your hands to swish them around, then lift them out and drain well.
Tips for working with phyllo dough: In the interest of heart health, I recommend brushing the layers of phyllo dough with extra-virgin olive oil instead of with melted butter. Using olive oil creates lighter, more healthful dishes. Phyllo pies in Greece traditionally are made with either olive oil or melted butter, but the recipe refers only to olive oil. If you wish to use melted butter to create a richer, heartier phyllo pie, simply use an equal amount of melted butter instead of olive oil. My mom always uses salted butter sticks. This is the only time I recommend using salted butter. If you do use salted butter, reduce the amount of salt in the filling by ¼ teaspoon.
Phyllo dough dries out very quickly. Once you roll it out, keep the unused portion covered with wax paper or plastic wrap. You can also put a slightly damp kitchen towel over the wax paper or plastic wrap, as long as it does not directly touch the phyllo.
Melitzanosalata Eggplant Dip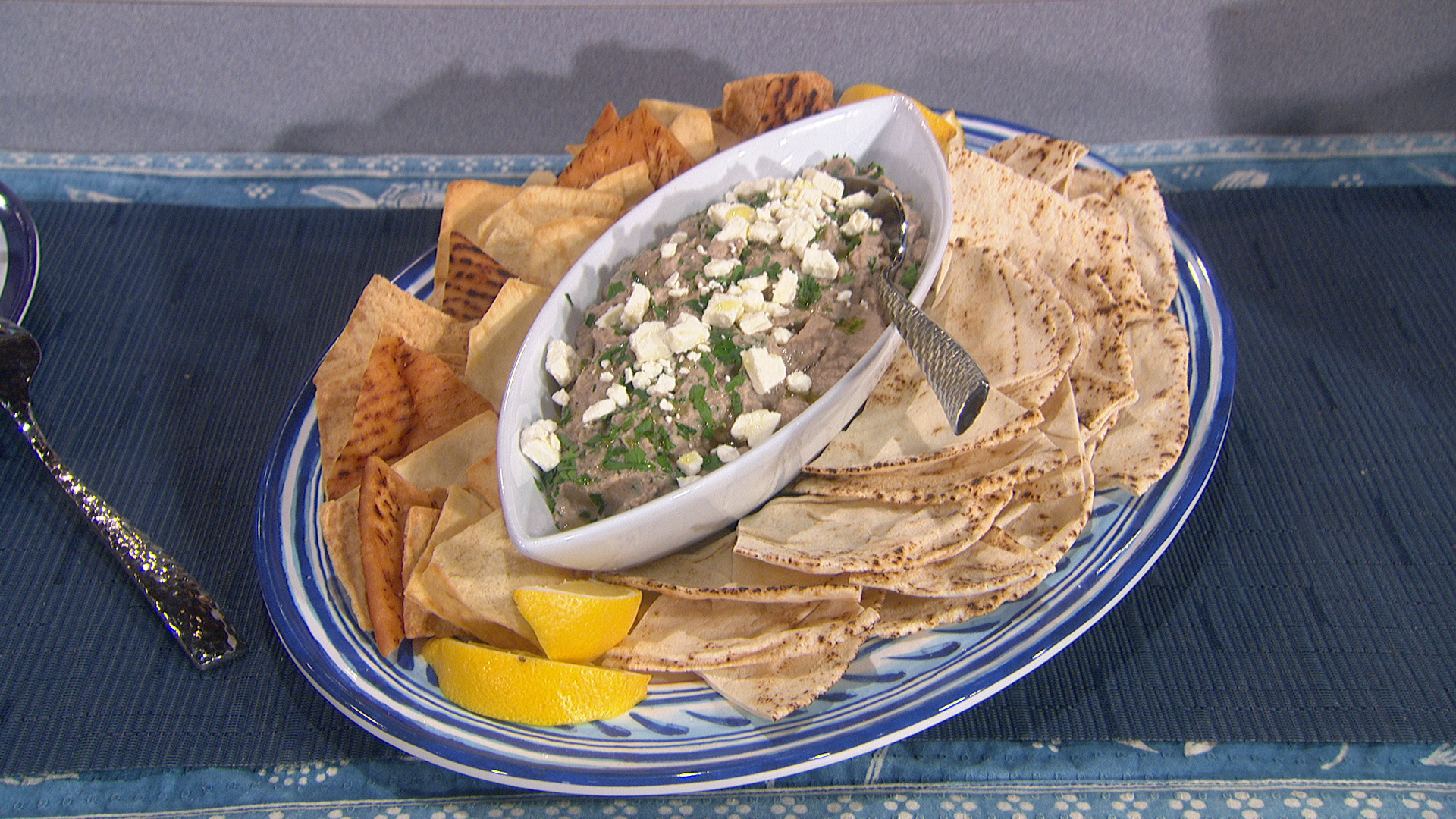 mel-tzah-NOH-sah-lah-TAH
Yields 2 1/2 cups
This is both my favorite way to eat eggplant and my very favorite Greek mezze dip. Even if you don't like eggplant, chances are you will like this recipe. It has an exquisite and unexpected flavor!
2 1/2 to 3 pounds eggplant (2 to 3 medium eggplant)
1/2 cup chopped yellow onion
2 to 3 cloves garlic (to taste), chopped
2 to 3 tablespoons freshly squeezed lemon juice (1 lemon)
1 teaspoon sea salt, plus more to taste
1/4 teaspoon freshly ground black pepper
6 Kalamata olives, pitted
1/4 cup extra-virgin olive oil, plus more as needed
3 tablespoons finely chopped fresh Italian flat-leaf parsley
1/4 cup brine-packed Greek feta, crumbled small (optional)
Preheat oven to 425 degrees. Line a sheet pan with aluminum foil or unbleached parchment paper.
Prick the eggplant with a fork in a few places all around to allow steam to escape while cooking. Put the eggplant on the lined sheet pan, and bake for 40 to 45 minutes, or until very tender. Remove from oven, and place the hot eggplant on a large plate lined with paper towels to cool and drain.
When cool enough to handle, remove the stems and slice each eggplant in half. Peel the eggplant, and use a spoon to scrape any remaining pulp from the skins. Discard the skins, and scrape away as many seeds as possible from the pulp. Transfer the pulp to the bowl of a food processor or high-performance blender. Add the onion, garlic, lemon juice, salt, pepper, and olives. Blend together until just combined. Then, with the motor running, slowly drizzle the olive oil into the mixture, blending until it resembles cream of wheat or hummus. Eggplant tends to have a naturally creamy consistency, so you may not need to add all the olive oil. Alternatively, if you wish to have a looser consistency, you may add more oil, 1 tablespoon at a time, to reach the desired consistency.
Transfer the eggplant mixture to a large bowl, and fold in the parsley. Cover and refrigerate for 2 hours or up to a full day, so that the flavors can come together. Just before serving, sprinkle the crumbled feta cheese, if using, on top as a garnish. Serve with oven-warmed or grilled pita bread or a selection of fresh vegetables for dipping.
Debbie's Tip: Omit the feta cheese for a vegan Melitzanosalata.
Kolokithakia Tiganita Lightly Fried Zucchini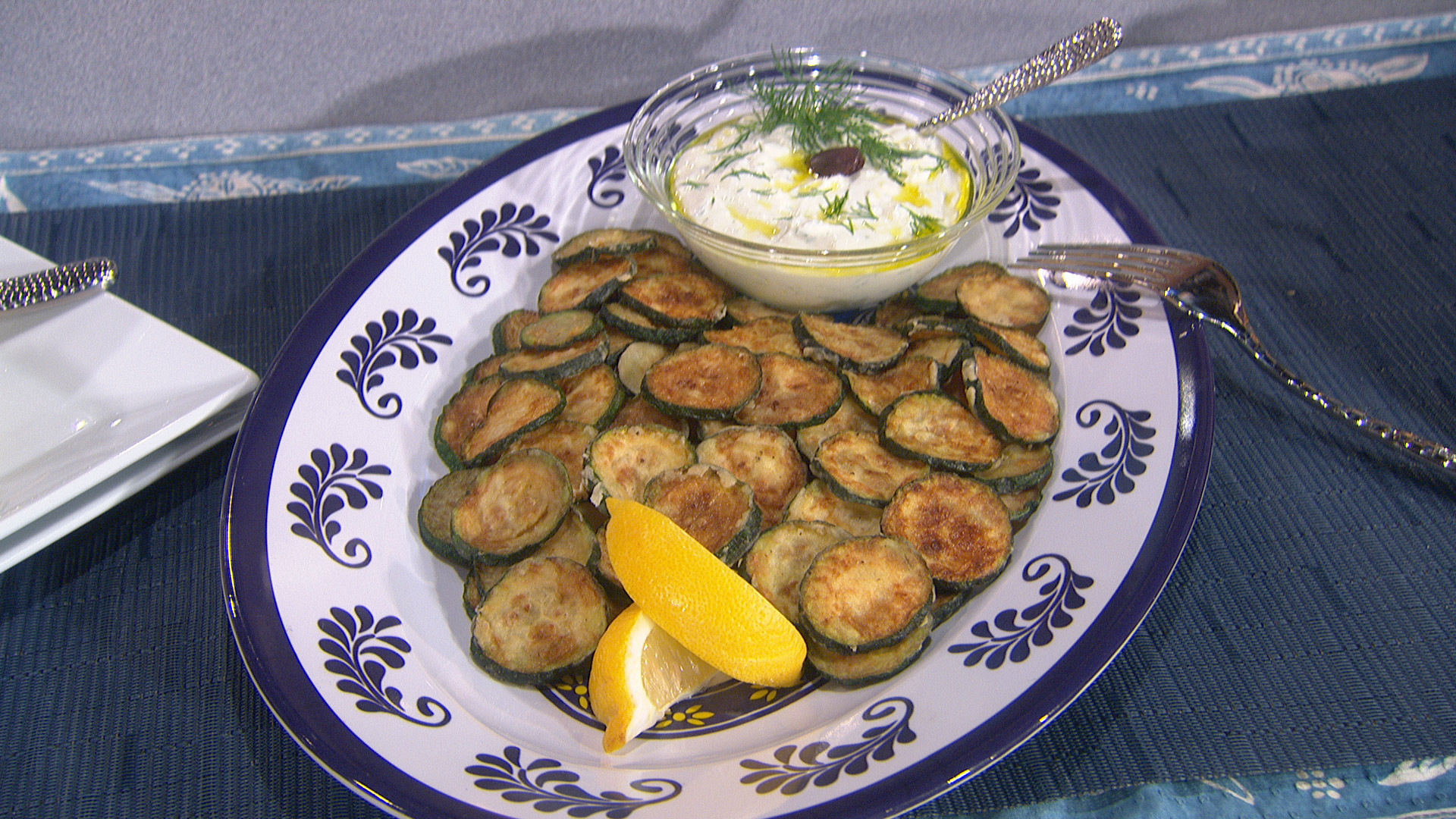 koh-loh-kee-THAH-kee-ah tee-gha-nee-TAH
Serves 4 to 6
Fried zucchini is a staple on nearly every menu in Greece. When it's prepared well, I am sure nothing on the planet tastes better. I don't trust anyone who does not like fried zucchini.
4 medium zucchini, sliced into 1/8- to 1/4-inch rounds
1 1/2 teaspoons sea salt, plus more as needed
1/2 teaspoon freshly ground pepper
1 cup all-purpose flour
1/2 cup olive or vegetable oil for frying, plus more as needed
1 lemon cut into large wedges
1 recipe Tzatziki (recipe follows), optional
Gently squeeze the zucchini rounds over the sink to drain the excess water. Lightly season both sides of the zucchini slices with the salt and pepper. Spread the flour out on a large plate or baking dish. Dredge the zucchini in the flour, and shake off any excess.
Heat the oil in a large sauté pan over medium heat until it shimmers, adding more if necessary to come 1/2-inch up the sides of the pan. Test the temperature of the oil by gently placing 1 zucchini round into it. The oil should bubble pretty vigorously around the zucchini. Working in small batches, carefully slip the zucchini into the hot oil, and cook briefly, until crunchy and golden, about 4 to 5 minutes per side, watching carefully and turning to prevent burning.
Using a slotted metal spoon, transfer the fried zucchini to a large plate lined with paper towels to drain. Sprinkle again with a little more of the salt while piping hot, if desired. Serve immediately with the lemon wedges and with Tzatziki or Skorthalia Made with Potatoes, if desired. For a traditional treat, offer a shot of ouzo over ice.
Tzatziki Garlic Yogurt Cucumber Sauce
dza-DZEE-kee
Yield 2 1/2 cups
Tzatziki is one of the best-known Greek culinary exports. Although you could potentially kill a vampire after eating it, I strongly believe that the more garlicky kick it has, the better it tastes. Still, I would not recommend partaking of this spicy spread before a business meeting or a hot date. When I was a teen spending my summers in Greece, my cousins and I would never eat tzatziki before going out to the clubs . . . especially if we were trying to impress the boys!
Like ketchup on an American hamburger, tzatziki is ubiquitous on a gyro. Try it as a sauce for fish, or enjoy it as an appetizer or a snack with chunks of country bread. Whichever way you choose to enjoy it, if you like garlic, you'll love this recipe.
1/2 seedless English cucumber, peeled
1 teaspoon sea salt, divided, plus more to taste
2 cups plain Greek yogurt
3 cloves garlic, peeled and mashed into a paste
1/3 cup extra-virgin olive oil
1 tablespoon red or white wine vinegar
1 tablespoon minced fresh dill
Coarsely grate the cucumber using a box grater or food processor, and toss with 1/2 teaspoon of the salt. Place the grated cucumber in a fine-mesh sieve set over a bowl, and drain for 10 minutes. Working in batches, a handful at a time, squeeze as much remaining water from the cucumber as possible, transferring the drained cucumber to a medium mixing bowl.
Add the rest of the ingredients along with the remaining 1/2 teaspoon of salt, and mix well. You can serve the Tzatziki immediately, but I prefer to let it sit in refrigerator for 2 to 3 hours so that all of the flavors blend and come alive. Tzatziki will keep for up to 5 days in the refrigerator, but be warned: the garlicky flavor intensifies as time passes!
Baklava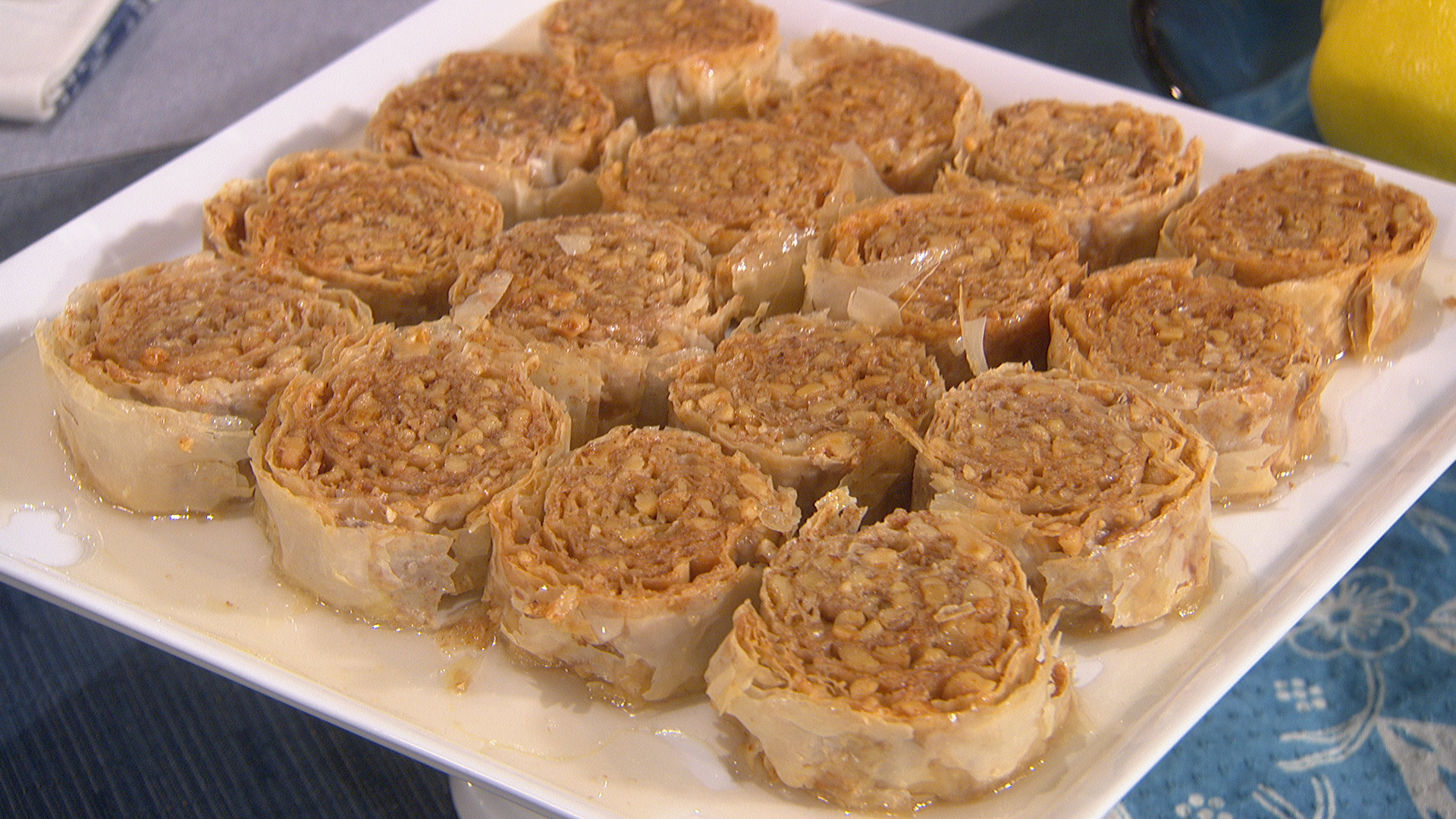 bah-klah-VAH
Yields approximately 39 pieces
Here is my family's secret recipe for the best Baklava ever. Rolling it this way, as opposed to baking it in a flat pan, ensures a light flakiness and just the right amount of the honey syrup running throughout. Around the holiday season, when I was growing up, my mom would make big batches of this so that my sister, my brother, and I could give platters of it to our teachers. Needless to say, every new school year, teachers were very excited to see one of the Matenopoulos kids on their class rosters!
For the baklava:
1 1/4 pound walnuts (about 5 cups), finely chopped
2 tablespoons granulated sugar
2 teaspoons ground cinnamon
1 (1-pound) package phyllo dough sheets (13´18 inches), thawed (see tip for phyllo dough, above) (18 sheets)
1 cup (2 sticks) unsalted butter, melted
For the syrup:
2 cups sugar
2 cups water
1 cup honey
2 tablespoons freshly squeezed lemon juice (1 lemon)
1 (2-inch-wide) piece fresh lemon peel
Preheat oven to 325 degrees.
In a medium mixing bowl, stir together the walnuts, sugar, and cinnamon, and set aside.
Working quickly, and keeping the unused phyllo sheets covered, lay out 1 sheet of phyllo on a clean flat surface. Lightly brush the phyllo sheet with the melted butter. Cover with a second phyllo sheet, and butter. Sprinkle about 1/2 cup of the nut mixture over the top sheet. Repeat this process with 2 more sheets of phyllo and another 1/2 cup of the nut mixture, then again with last 2 phyllo sheets and a final 1/2 cup of the nut mixture. You will have used 6 sheets of phyllo and 1 1/2 cups of the nut mixture (3 layers). Starting at the long end (the 18-inch side), gently roll the layered phyllo sheets up into a tight, fat roll. Brush the seam with butter to seal. Repeat the entire process twice more. One package will make 3 rolls.
Using a large, very sharp knife, cut the rolls into 1-inch pieces. Lay the pieces cut side down on 2 large ungreased rimmed baking sheets. Bake for 20 minutes, remove from oven, and, using a large spatula or tongs, quickly flip the baklava over. Return to the oven, and bake 20 minutes more, or until cooked through, golden and flaky.
While the baklava is baking, make the syrup. Combine all of the syrup ingredients except the lemon juice in a medium, nonreactive saucepan. Set it over medium-high heat, bring to a boil, reduce heat, and simmer for 12 minutes, stirring occasionally. After 12 minutes, stir in the lemon juice, and cook 3 more minutes. Remove from heat, and carefully remove and discard the lemon peel. Let the syrup cool slightly.
Remove the baklava from the oven, and slowly pour the warm syrup over pieces on the baking sheets. Let stand 1 hour to soak up the syrup.
Transfer to individual cupcake wrappers, if desired, and serve. The baklava will keep, covered loosely, at room temperature for up to 1 week.
Debbie's Tip: To make a vegan baklava, substitute a vegan butter (like Earth Balance Vegan Buttery Sticks) for the dairy butter, use maple sugar or organic (vegan) sugar, and omit the honey, if desired.
Recipes from "It's All Greek to Me" by Debbie Matenopoulos
All recipes Copyright 2014 by Debbie Matenopoulos and Peter Capozzi
Read Recipes