Combine all the ingredients in a medium saucepan. Bring to a boil, reduce to a simmer, and cook, uncovered, for 20 minutes. The liquid should be reduced by 1/3, and the tomato skins should be falling off. Set aside to cool.
Pour the mixture into a blender and puree until smooth. Strain and chill until serving time. This salsa can be stored in the refrigerator up to 5 days or frozen as long as a month.
1 pound tomatillos, husked, washed and cut into quarters
2 to 4 large jalapeno chiles, stemmed, seeded if desired and roughly chopped
1/2 cup cold water
1/2 medium onion, cut in half
2 bunches cilantro, stems and leaves
2 teaspoons salt
Place the tomatillos, jalapenos and water in a blender or food processor fitted with the metal blade. Puree just until chunky. Then add the remaining ingredients and puree about 2 minutes more, or until no large chunks remain. This salsa keeps in the refrigerator, in a covered container, about 3 days.
Roasted Arbol Salsa
Makes about 2 1/2 cups
1 pound Roma tomatoes, about 4
1 pound tomatillos, husked and washed, about 6
10 to 15 dried arbol chiles, stemmed
1/2 bunch cilantro, roughly chopped
1/2 lime, juiced
1 1/2 teaspoons salt, to taste
Freshly ground black pepper, to taste
Preheat broiler. Place tomatoes and tomatillos on a baking sheet and broil turning occasionally, until lightly charred, about 10 to 12 minutes.
Meanwhile, in a small dry skillet, toast chiles over moderate heat, shaking constantly.
Combine tomatoes, tomatillos, and chiles with cilantro, lime juice, salt, and pepper in a blender or food processor. Puree until smooth. Taste and adjust seasonings as necessary.
Skillet Chilaquiles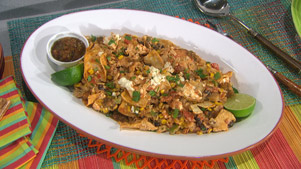 Serves 4
1 cup chipotle salsa
2 cups chicken or vegetable broth
1/2 cup half and half or heavy cream
2 cups of your favorite vegetable combination:
sautéed zucchini and/or zucchini blossoms

roasted yams and caramelized onions

roasted poblano chiles and red, yellow, and green bell peppers

sautéed mixed mushrooms and fresh oregano or epazote

sautéed greens, such as collard greens, red chard, and/or green chard

grilled corn and black beans
6 to 8 cups corn tortilla chips
4 eggs
Olive oil, to cook the eggs
8 strips bacon, cut into 1/4 inch cubes and cooked until crisp and brown
1 cup panela cheese cut into 1/2-inch dice
1 ripe California avocado, halved, seeded, peeled, and cut into 1/2-inch dice
1/2 small red onion, finely diced
1 to 2 jalapeño or serrano chiles, stemmed, seeded if desired, and minced
1/2 bunch cilantro, chopped
1 lime, cut into wedges, for serving
1/4 cup sour cream, for serving, optional
In a wide skillet, bring salsa, broth, and half and half or cream to a boil.
Meanwhile, in a separate pan, gently scramble the eggs. Once cooked add eggs, vegetables, bacon cubes, and tortilla chips to salsa mixture, mixing gently to coat each chip while simmering.
In 1 to 2 minutes, when some of the chips have moistened and begun to break up, but others are still holding their shape, add panela cheese. Continue stirring gently for another minute to distribute cheese evenly.
Add avocado, onion, chiles, and cilantro and stir well to distribute. Cook for 1 minute, just to heat through, and then remove from stovetop and divide among 4 warmed plates. Top with a squeeze of lime and a dollop of sour cream and serve immediately.
Crispy California Avocado Tacos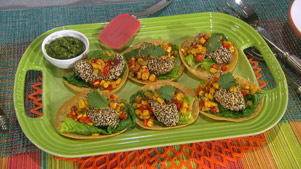 Serves: 4
2 1/2 Tbsp. all-purpose flour or rice flour
1/3 cup water
1/2 tsp. ground cumin
1/2 tsp. salt
1/2 tsp. freshly ground black pepper
1/3 cup quinoa
1/3 cup poppy seeds
1/3 cup sesame seeds
All-purpose flour or rice flour, for dusting
1 ripe, firm, fresh California avocado*, seeded,
peeled and cut into 1-inch slices
Salt, to taste
Vegetable oil, for frying
8 (4-inch) corn tortillas, warmed
4 romaine lettuce leaves, torn in half
1 cup Corn Salsa** (see make-ahead recipe below)
8 cilantro sprigs, for garnish
Combine flour, water, cumin, salt and pepper to make a batter.

In a separate bowl, combine quinoa, poppy seeds and sesame seeds.

Place flour for dusting into a third bowl.

Season avocado liberally with salt.

To coat avocado, dust wedges with flour, shaking off all excess. Dip floured wedges into batter to coat lightly and then roll each wedge in the seed mixture, pressing gently to form a complete crust.

Heat 1 to 2 inches of vegetable oil to 375°F in a small pot. In batches, fry the coated avocado wedges in the hot oil until seeds are golden and crispy, about 2 to 3 minutes, and then transfer to a rack to drain.

To assemble the tacos, place a piece of lettuce in the center of each warm tortilla and top with a crispy avocado wedge, a generous spoonful of Corn Salsa and a cilantro sprig. Serve immediately.
Corn Salsa
4 Tbsp. extra virgin olive oil
2 cups fresh corn kernels
Sea salt and freshly ground black pepper, to taste
1 red bell pepper, cored, seeded and cut into 1/4-inch dice
3 green onions, white and light green parts only, thinly sliced
1 canned chipotle chile, seeded, if desired, and minced
1/2 bunch cilantro, chopped
3 Tbsp. red wine vinegar
Heat half of the olive oil in a large skillet over medium heat. Sauté corn with salt and pepper, about 5 minutes. Transfer to a mixing bowl.

Add remaining ingredients and let sit 5 minutes to blend the flavors.
* Large avocados are recommended for these recipes. A large avocado averages about 8 ounces. If using smaller or larger size avocados adjust the quantity accordingly.
** Don't have time to make your own corn salsa? Use your favorite store-bought salsa and make it special by stirring in a little freshly squeezed lime juice, some chipotle chile, and/or a dollop of sour cream.
Carne Asada Quesadilla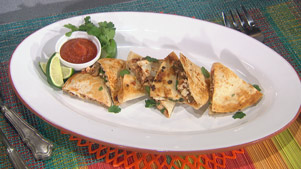 Serves 6
1 cup grated Mexican manchego cheese
1 cup grated panela cheese
1 cup grated cotija cheese
6 flour tortillas
1/3 cup Diablo Salsa (see recipe below), to taste
1 recipe Carne Asada (see recipe below)
2 tablespoons unsalted butter, melted
In a bowl, mix together cheeses.
Lay the flour tortillas on a counter. Divide the cheese mix into 6 equal portions and spread over half of each tortilla. Sprinkle salsa to taste over each. Arrange the Carne Asada evenly over the cheese. Fold the tortillas over to enclose the filling and brush the tops with butter.
Place a cast-iron skillet, sauté pan or griddle over medium-high heat. One at a time, cook the tortillas buttered side down in the pan until lightly golden, about 3 to 4 minutes. Then brush the uncoated side with butter and flip over. Continue to cook until the other side of the tortilla is lightly golden and the cheese begins to ooze. Serve hot, whole or cut into wedges, with your favorite salsa, guacamole, and sour cream.
Carne Asada
2 to 3 tablespoons cumin seeds
3 jalapeño chiles, stemmed, cut in half, and seeded if desired
2 cloves garlic
1 teaspoon salt
1 tablespoon freshly ground black pepper
1/4 cup freshly squeezed lime juice
1 1/2 bunches cilantro
3/4 cup extra virgin olive oil
1 1/2 pounds skirt steak, trimmed of excess fat
Lightly toast cumin seeds in a dry medium skillet over low heat just until aroma is released, about 3 or 4 minutes. Transfer seeds to a blender. Add jalapeños, garlic, salt, pepper, and lime juice and puree until cumin seeds are finely ground. Add cilantro and olive oil and puree until smooth.
Using hands, generously cover meat all over with marinade. Place in a shallow pan and pour on remaining marinade. Cover and marinate in the refrigerator a few hours.
About 30 minutes before cooking, remove meat from refrigerator. Heat the grill or broiler to very hot.
Cook steak just until seared on both sides, 3 to 4 minutes per side for medium rare. (Or pan fry in a hot cast-iron skillet lightly coated with oil.) Transfer cooked steak to a cutting board and let rest for 3 to 5 minutes. Then slice across the grain into diagonal strips. (Tough, yet flavorful steaks like this should always be cut across the grain so that no one bite will contain too long a muscle fiber.) Cut strips into a 1/2-inch dice and use for carne asada quesadillas or tacos.
Tangerine Mint Sparkling Margarita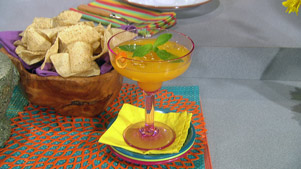 Makes 1 cocktail
2 ounces freshly squeezed tangerine juice
1 pinch tangerine zest
1 squeeze lime
5 fresh mint leaves
1 splash simple syrup, to taste
Ice, for cocktail shaker
1 1/2 ounces reposado tequila
1 ounce sparkling water
1 mint sprig, for garnish
1 tangerine peel twist, for garnish
In a cocktail shaker, combine tangerine juice, zest, lime juice, mint, and simple syrup. Using a muddler or the back of a spoon, mash the mint to release flavor. Add ice and tequila. Shake thoroughly, pour into a chilled glass, and top with sparkling water. Stir lightly. Garnish with mint sprig and tangerine peel twist and serve immediately.