Buttermilk Fried Chicken with mesquite caramel, corn salad, queso fresco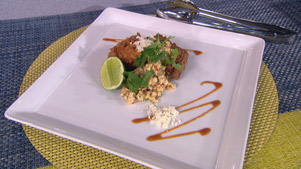 Serves 4
Ingredients:
4 chicken thighs, boneless & skinless, slightly pounded for faster cooking
1 cup buttermilk
1 tbl. hot sauce
Directions:
Mix together. Soak chicken for minimum 1 hour.
Ingredients for the chicken dredge:
1 tbl lemon pepper
1 tbl granulated garlic
1 teaspoons Old Bay seasoning
½ teaspoon crushed red pepper flakes
½ teaspoon dried oregano
2 cups masa harina flour
2 cups all purpose flour
2 teaspoons salt
1 teaspoon freshly ground black pepper
1/4 teaspoon cayenne pepper
Directions for the chicken dredge:
Mix it all together. Shake chicken of excess buttermilk mixture then dredge chicken and fry at 350 degrees for 5-6 minutes. Season with salt and pepper.
Mesquite Caramel
Ingredients:
4 tbl. butter
1/4# brown sugar
1 tsp. smoked paprika
½ tsp. garlic powder
1/2 tsp. mesquite liquid or liquid smoke will do
½ cups maple syrup
1/2 cups heavy cream
smoked salt TT
Corn Salad
4 large ears of corn, grilled then cut off the cob
4 tbl. aioli or mayonnaise
2 tbl. fresh lime juice
¼ cup chopped cilantro
1 small canned chipotle chile, minced
¼ cup queso fresco, crumbled
s&p
Mix and season with salt and pepper.
Plating:
Place corn salad in the middle of the plate. Place fried chicken on top. Drizzle with mesquite caramel and garnish with some queso fresco, fresh cilantro & lime
Crispy Soft Boiled Egg with crème fraiche Caesar, pickled onions, gem leaves
Ingredients:
sweet gem lettuce leaves
pickled onions (see below)
brioche croutons
shaved parmesan
crispy egg (see below)
caesar dressing (see below)
Directions:
toss sweet gem leaves in caesar dressing, season with s&p, top with pickled onions, shaved parmesan, crotuons. Served alongside crispy egg
Crispy Soft Boiled Egg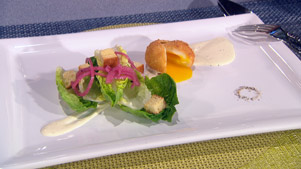 Ingredients:
4 eggs
1 cup flour
2 eggs
1 cup panko bread crumbs, pureed to fine
Directions:
Drop egg in boiling water and cook precisely for 5 minutes 30 seconds then plunge into ice water. Peel and roll in flour then egg then panko crumbs. Fry crispy in 350F oil until golden brown (be careful not to overcook, yolk should still be runny)
Pickled Onions
Ingredients:
1/2# sliced thin red onions
1 cup red wine vinegar
1/2 cups water
1/2 cups sugar
1 tsp. salt
Directions:
Boil vinegar, water, salt and sugar and pour over onions. Let sit s minimum 2 hours, but best overnight.
Crème Fraiche Caesar Dressing
Makes about 3 cups
Ingredients:
2 cups mayo
1 garlic clove, minced
4 anchovies, minced
1 tbl. lemon juice
1 tbl. Worcestershire
1 tbl. red wine vinegar
1 tbl. Dijon mustard
4 tbl. Romano cheese
4 tbl. crème fraiche
2 tbl. water
s&p
Directions:
Mix all together, season with salt and pepper.
Pineapple Express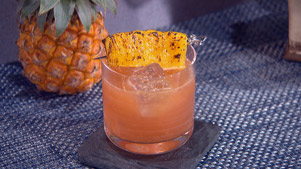 Ingredients:
8 chunks chilled roasted pineapple
½ oz. orgeat syrup
½ oz. fresh lime
Directions:
Muddle ingredients together until pineapple is completely smashed then add:
2 oz. triple 8 pineapple jalapeno vodka
½ oz. botanical spirit
Add ice and shake vigorously, strain into rocks glass over fresh ice leaving some pineapple pulp and garnish with skewered roasted pineapple.
All recipes courtesy of Chef Jason Santos.