Debi Mazar & Gabriele Corcos Recipes
Debi Mazar and Gabriele Corcos, hosts of "Extra Virgin" on The Cooking Channel, share a delicious Italian meal from their new cookbook, "Extra Virgin: Recipes and Love from our Tuscan Kitchen."
Bucatini All'Amatriciana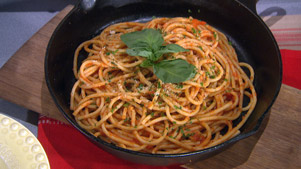 Serves 4-6
This warming, subtly piquant pasta from the village of Amatrice is a direct evolution of the Gricia, in that you're essentially just adding tomatoes to make this classic. You can give this dish a more summery feel by using heirloom cherry tomatoes cut into quarters rather than pureed canned tomatoes, but remember it should still be served hot, never cold or at room temperature.

Ingredients:
Kosher Salt and Freshly Ground Pepper
2 tablespoons Extra-Virgin Olive Oil, plus more for serving
¼ pound Guanciale or Pancetta, diced
3 Garlic Cloves, chopped
1 teaspoon Hot Red Pepper Flakes
1 (28-ounce) can whole peeled Tomatoes (pelati), pureed in a blender
6 fresh Basil Leaves, torn
1 pound Bucatini or thick Spaghetti
1 tablespoon finely chopped fresh Italian Parsley
Freshly grated Parmigiano-Reggiano or aged Pecorino Cheese, for serving

Directions:
In an 8- to 12-quart pot, bring 6 quarts of salted water to a rolling boil.
In a large skillet, heat the olive oil over medium-high heat until hot. Add the guanciale and sauté for 5 to 7 minutes, until golden brown.
Add the garlic and red pepper flakes and sauté for 1 minute. Add the pureed tomatoes, basil, and salt and pepper to taste. Reduce the heat to medium-low and stir well. Cook, uncovered, for 15 minutes, or until the sauce darkens and thickens.
Add the pasta to the boiling water and use a wooden fork to stir the pasta so it won't stick together. Cook until al dente. Drain and add the pasta to the sauce. Increase the heat to high and toss the pasta with the sauce for 1 minute, to make sure the sauce is evenly distributed.
Serve with a sprinkling of parsley and cheese and a drizzle of olive oil.

Grilled Asparagus Wrapped with Lardo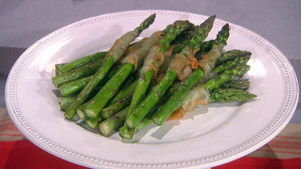 Involtini Grigliati di Asparagi e Lardo
Serves 6
Gabriele: I love wrapping vegetables in cold cuts – involtini are roll-ups in Italian cuisine – but you can't grill items like prosciutto or speck, because it turns the meat into something that resembles a big salty cracker. Lardo is different, because lardo can melt. Now before you start thinking, "Lard? Isn't that fat?" Yes, but lard is liquid fat and lardo is cured fat-back, infused with herbs like rosemary, so it has texture, taste, and silkiness. You should be able to find lardo at your higher end, more gourmet-inclined grocery stores. The reason I like it with asparagus on the grill is because the cold, thin-sliced lardo crisps in the same time as it takes to grill the vegetable. You're left with a nicely seasoned, thin, crisp, buttery creamy wrap around a crunchy salted spear.

Ingredients:
1 bunch medium Asparagus (about 24 spears), woody bottom ends removed
24 thin slices Lardo (get extras as they tear easily)
Extra-Virgin Olive Oil, for drizzling
Kosher Salt and Freshly Ground Black Pepper

Directions:
Preheat a grill to medium-high heat.
Carefully wrap 2 asparagus with 1 or 2 pieces of lardo, overlapping as you go. (if your lardo is cut paper-thin, then 2 will be easier to work with; if thick, 1 slice should be sufficient.)
Lay the asparagus diagonally across the grill to keep it from falling through the grates, or use a grill basket if you have one. Grill, turning occasionally, for 8 to 10 minutes, until the asparagus is just tender and charred and the lardo has rendered and started to become crispy. Remove from the grill and set aside. Drizzle with the olive oil before serving. Season with salt and pepper to taste.
Importante! It may look like the lardo is melting off the asparagus as you cook it . . . be patient! It will eventually crisp up and stay put. You may want to make extras because these will go fast!

Blood Orange Salad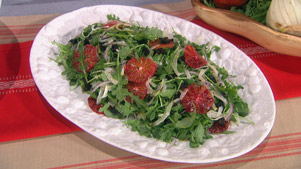 Insalata Siciliana
Serves 4-6
Gabriele: We made this for actor Joe Mantegna and his wife one night as part of a unique themed dinner. Joe is of Sicilian heritage, and I wanted to help channel flavor memories for him of the food that comes from his homeland. This zestful Sicilian specialty that mixes oranges, fennel, and olives was a nostalgic hit for Joe. At one point, Joe even teared up. Nothing feels better than going that extra mile to make a guest feel special.

Ingredients:
3 Blood Oranges, peeled and sliced into thin rings
¼ Red Onion, very thinly sliced
1 bulb Fennel, thinly sliced
4 cups Baby Arugula
¼ cup Oil-Cured Olives, pitted and roughly chopped
¼ cup Extra-Virgin Olive Oil
Juice of 1 Lemon
Kosher Salt and Freshly Ground Black Pepper

Directions:
In a large bowl, combine the oranges, red onion, and fennel slices. Add the arugula and olives and toss lightly.
Just before serving, add the olive oil and lemon juice and toss. Season with salt and pepper to taste, and serve on individual plates.

Negroni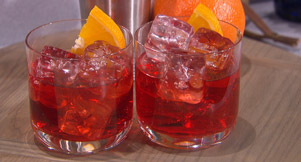 Serves 1
Debi: Strong, vivacious, and emboldening, the Negroni is a swanky bar classic. We've always believed that when we see someone at a party drinking a Negroni that he or she has character, and is probably worth getting to know. And it's a drink you can see from across the room: a brilliant dark red, with that unmistakably orange zest!

Ingredients:
1 ounce Campari
1 ounce Sweet Vermouth
1 ounce Gin
½ slice of Orange

Directions:
Fill a cocktail shaker with ice. Add the Campari, sweet vermouth, and gin. Shake well. Serve in a heavy-bottomed cocktail glass filled with ice. Garnish with the orange slice.
Recipes courtesy Debi Mazar & Gabriele Corcos, "Extra Virgin: Recipes and Love from our Tuscan Kitchen"