Chi McBride Recipe
Actor Chi McBride of "Hawaii Five-0" made a special visit to The Talk to show the ladies how to make his delicious Lamb Meatballs with Basil Cream Sauce Over Rigatoni with Fried Sage.
Lamb Meatballs with Basil Cream Sauce Over Rigatoni with Fried Sage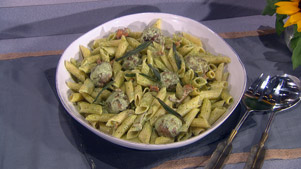 Serves 4-6 people
Sauce Ingredients:
2 cups fresh basil
1 – 1 ½ oz. pine nuts (optional)
To taste, garlic
Olive oil or truffle oil
½ cup fresh grated parmesan
1 pint heavy cream
Instructions:
In a food processor, add basil and garlic and blend. Keep the processor going and slowly add oil. After about 40 seconds of processing, add pine nuts and parmesan. In a pan, heat heavy cream until it simmers. Take half of the cream and add to the food processor and pulse until mixed together. Then take the mixture in the food processor and add to the remaining cream and simmer for 5 minutes.
Meatball Ingredients:
1 ½ pounds ground lamb
½ cup freshly grated parmesan
Fresh sage
Fresh mint
Fresh marjoram
Fresh basil
Two peeled cloves of garlic
Large brown egg, beaten
1 ½ tsp. of cracked brown pepper
¾ cups breadcrumbs
1/3 cup black truffle oil
1-2 cups chanterelle mushrooms (optional)
Instructions:
Combine all the ingredients, except the oil and mushrooms, in the food processor and mix until it gets to be like an airy paste (like pate). Oil hands with olive oil or truffle oil and form meatballs the size of golf ball. On a skillet brown the meatballs for about five minutes on medium heat. When the meatballs are browned, drain the oil and add the cream sauce to the meatballs in the skillet. Simmer and cover for 15 minutes. Rinse the mushrooms. Add the mushrooms when you simmer the cream sauce.
Pasta:
Store bought penne (500 grams)
Instructions:
Cook the pasta as instructed.
Fried Sage:
For garnish, put olive oil in pan. Add sage. Don't rinse the sage.