Lidia Bastianich Recipes
Lidia Bastianich is the owner of several New York restaurants including Felidia and Becco and the author of many cookbooks like her latest cookbook, "Lidia's Commonsense Italian Cooking." She shows the ladies how to make a quick and easy Italian meal the whole family will love!

Penne "Al Brucio"
Serves 6
Ingredients:
1 pound Penne "Rigate" or another pasta of your choice
4 tablespoons Extra-Virgin Olive Oil
2 cups of canned San Marzano Plum Tomatoes, with juices
2 cloves of Garlic
3 Rosemary Sprigs
6 tablespoons of Fresh Ricotta
1 teaspoon of Pepperoncino or Red Pepper Flakes
½ cup of Ricotta Salata, Pecorino, Grana Padano, or Parmigiano Reggiano (grated)
Directions:
Bring a large pot of salted water to a boil for the pasta.
Heat 2 tablespoons of the olive oil in a sauté pan. Add the garlic and rosemary and allow the garlic to become golden. Add the tomatoes and cook for about 5 minutes, adding the pepperoncino at the end.
Meanwhile, you should be cooking the pasta, according to the cooking instructions on the package. Just before the pasta is "al dente," remove with a slotted spoon and add to the sauté pan with the sauce. Mix together for about 1 minute. Turn off the heat and add the remaining olive oil and grated cheese. Spoon the pasta into individual shallow bowls and spoon a fresh dollop of ricotta on top of each plate.
Scallops, Mushrooms, and Scallions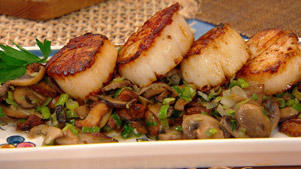 Capesante Salate al Funghi
Serves 6
Ingredients:
¼ cup Extra-Virgin Olive Oil
6 Garlic Cloves, peeled and sliced
8 cups sliced Mixed Mushrooms (Button, Shiitake, Cremini, and Chantrelles)
1 teaspoon Kosher Salt
2 bunches of Scallions, trimmed and roughly chopped (about 2 cups)
6 fresh Thyme Sprigs
2 tablespoons Unsalted Butter
1¼ pounds Sea Scallops, foot or side muscle removed
Good-quality Balsamic Vinegar; Tradizionale Balsamic Vinegar is best for drizzling
Directions:
In a large nonstick skillet, over medium-high heat, heat 3 tablespoons of olive oil. Add the garlic, and once the garlic begins to sizzle, add the mushrooms and season with ½ teaspoon salt. Cook until the mushrooms wilt, about 6 to 7 minutes.
Add the scallions, thyme, and butter, and cook until the mushrooms are tender, another 3 or 4 minutes. Transfer to a serving platter, and keep warm.
Wipe out the skillet, return it to medium-high heat, and add the remaining tablespoon of olive oil. Season the scallops with remaining ½ teaspoon of salt, and cook, turning once, until just cooked through, about 1 to 2 minutes per side. Serve on mushrooms, drizzled with balsamic vinegar if desired.
Tomato and Mint Salad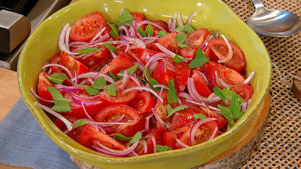 Insalata di Pomodori e Menta
Serves 6
You are most likely accustomed to the tomato-and-basil combination, but try this refreshing tomato-and-mint salad, a new twist to an old classic.
Ingredients:
¼ cup loosely packed Fresh Mint Leaves
2 pounds ripe Tomatoes, cored, cut into 1-inch wedges
1 cup thinly sliced Red Onion
3 tablespoons Extra-Virgin Olive Oil
2 tablespoons Red-Wine Vinegar
½ teaspoon Kosher Salt
Freshly Ground Black Pepper, to taste
Directions:
Shred the mint. Put the tomatoes in a salad bowl with the onion and mint. Toss with the olive oil and vinegar. Season with salt and pepper.
Oranges in Marsala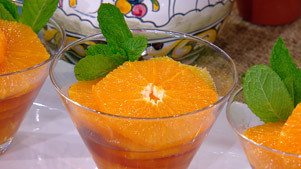 Arance al Marsala
Serves 4 to 6
Sicily produces the best oranges in the world, bar none, as well as the delicious sweet wine Marsala, a wine created in the late eighteenth century by J. Woodhouse, and English merchant who wanted to import it from Sicily to England. So that the wine would survive the long hot trip, he fortified the local Marsala, like sherry or port. His first shipment reached England in 1783 and was a huge success. Marsala is 16 to 17 percent alcohol, and can be either dry or sweet. In this case, I'd go with the sweeter one.
Ingredients:
6 Navel Oranges
½ cup Sugar
1 cup Marsala Wine
Fresh Mint sprigs, for garnish
Directions:
With a paring knife, cut the peel from the oranges, removing the white pith as well. Cut the oranges crosswise into ½-inch slices.
Layer a third of the orange slices in a glass serving bowl. Sprinkle with half of the sugar and a third of the Marsala wine. Layer another third of the oranges, then the remaining sugar, and another third of the Marsala. Top with the remaining oranges, and pour over them the remaining Marsala.
Cover, and refrigerate until well chilled, at least 2 hours. Serve garnished with mint.

Recipes courtesy Lidia Bastianich.