Sautéed Soft Shell Crabs with Capers and Lemon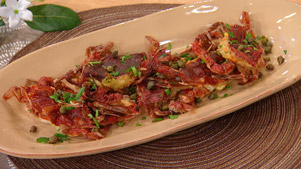 Yield: 4 servings
Ingredients:
8 small soft shell crabs
Salt and pepper
½ cup super fine flour
¼ cup oil
3 tablespoons unsalted butter
2 tablespoons capers
3 tablespoons fresh lemon juice
2 tablespoons finely chopped parsley
Directions:
Clean crabs by rinsing in cold water as you remove the gills, apron, and mouth. Dust the crabs with flour and season with salt and pepper.
In a sauté pan over medium heat, heat oil and 2 tablespoons of butter. Add the crabs to the hot pan, back side down and sauté over medium heat. Turn them with a spatula to cook the other side when they are crisp and browned. When they are completely cooked, about 3 minutes each side, remove to a warm platter.
Add the capers and remaining butter to the pan and brown 1 minute. Add the lemon juice and parsley to the hot pan and pour the sauce over the crabs on the platter or on individual plates. Serve on a bed of Asparagus Milanese with lots of fresh chopped parsley and drizzle of olive oil.
Asparagus Fritti Milanese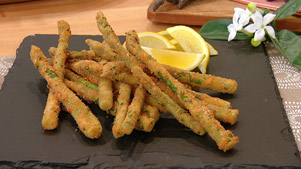 Yield: 4-6
Ingredients:
1 pound fresh medium asparagus, lightly peeled and stem snapped
1 cup flour
3 eggs
¼ cup milk
1 cup bread crumbs
¼ cup chopped Italian parsley
¼ cup grated parmesan cheese
½ cup extra virgin olive oil
Sea salt
Freshly ground black pepper
Lemon wedges
Directions:
Put the flour on a dish large enough to dredge the asparagus in.
Beat together eggs and milk in a bowl, pour in a dish with sides high enough to hold the liquid and dredge the asparagus in.
Combine the bread crumbs, parsley and parmesan cheese in a large flat casserole dish, so that the process of breading may be kept neat and tidy.
Bread the asparagus by dipping first in flour, next in the egg mix and finally in the seasoned bread crumbs. Allow to rest for a few minutes and let the breading dry a bit.
Heat the olive oil in a large sauté pan over medium heat, adding asparagus in batches, cooking and turning them to evenly brown all sides. Remove the asparagus as they are cooked, and place them on a serving platter until you've cooked them all.
Serve with lemon wedges on the side.
Crisp Jicama, Grape and Lettuce Salad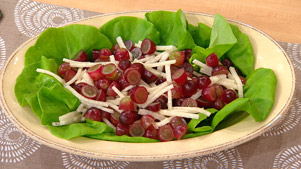 Serves 4
Ingredients:
2 tablespoons lemon juice
1 tablespoon honey
¼ cup extra virgin olive oil
8 ounces jicama, peeled and julienned
1 pound globe grapes, washed and cut in half
1 small head Boston lettuce, washed and separated into leaves
Freshly ground black pepper
Directions:
Whisk together the lemon juice, honey and olive oil to make a creamy vinaigrette.
Toss the jicama and grapes together with 1 tablespoon of the dressing. Place the clean lettuce leaves in a large bowl. Mount the jicama and the grapes in the center, drizzle with vinaigrette and serve.

Strawberry Bellini

Ingredients:
1 pint fresh strawberries, plus additional strawberries for garnish
4 tablespoons chopped ginger
1 cup water
1 cup sugar
4-5 oz. Prosecco (Italian sparkling wine)
Directions:
Juice strawberries in a vegetable-fruit juice machine or blender. Strain through a fine sieve. Chill.
In a sauce pan on medium heat, steep chopped ginger, water, and sugar. Remove the syrup from the heat when the liquid boils and allow mixture to cool completely before straining through a fine sieve. Chill thoroughly.
In a champagne flute or coup glass stir 1½ ounces strawberry juice along with 1½ ounces ginger syrup. Top with Prosecco to fill the glass and garnish with a sliced strawberry.
Recipes courtesy Michael Lomonaco, Porter House New York