Stuffed Burgers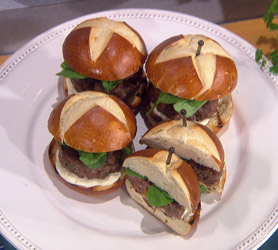 Ingredients:
1 lb. ground beef
Your favorite dried herbs and spices, to taste (such as cayenne pepper, garlic salt, dried parsley, etc)
Freshly grated cheese (such as provolone, Swiss, or American)
Pretzel buns
Arugula, torn
Garlic aioli
Instructions:
Pre-heat your grill. Form the ground beef into patties about the same size as the palm of your hand and then create a small but deep divot in the center. Fill the hole with the freshly grated cheese and form the sides of the meat back over it to cover completely. Grill your burgers to your liking, about 3-4 minutes per side for medium rare. While your burgers are grilling, lightly toast your pretzel buns on the grill beside them. Assemble your burgers by spreading a layer of garlic aioli or another favorite condiment on the bottom bun, placing the burger on top and finishing with a handful of torn arugula or another peppery lettuce.
Cool Summer Pasta Salad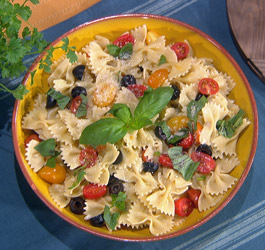 Ingredients:
Bowtie pasta
Black olives, halved
Cherry tomatoes, halved
Fresh basil, chopped
Garlic, finely chopped
Olive oil
Red wine vinegar
Freshly grated Parmesan cheese
Salt and pepper to taste
Instructions:
Prepare bowtie pasta as you would normally and allow it to cool to room temperature. Toss in the halved olives, halved cherry tomatoes, basil, and garlic, mixing well. Season generously with salt and pepper and about 3 parts olive oil to 1 part red wine vinegar, to taste. Top with freshly grated Parmesan cheese just before serving.
Modern Ambrosia Salad Ice Cream Sundaes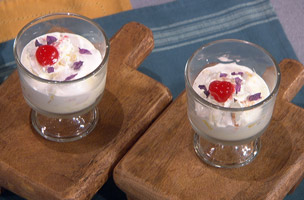 Ingredients:
Coconut sorbet
Marshmallow fluff
Pineapple, cut into small segments
Mandarin orange segments, drained of their canning juices
2 cups heavy cream
¼ cup sour cream
2 tablespoons sugar
Maraschino cherries
Instructions:
Pour heavy cream, sour cream, and sugar into the bowl or your stand mixer (or a regular mixing bowl if using a hand mixer). Whip on high until firm and stiff peaks form. Meanwhile, warm marshmallow fluff in a microwave safe bowl for about 10-20 seconds, just until warm and slightly viscous. Mix in pineapple and mandarin orange segments. Scoop coconut sorbet into an ice cream dish and spoon on the warmed marshmallow mixture and a dollop of the sour cream-whipped cream. Top with a maraschino cherry and serve immediately.
Basil Pomegranate Martini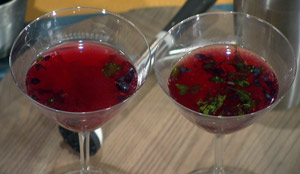 Recipe courtesy of Paradise Bar.
Ingredients:
1¼ oz. vodka
1 oz. simple syrup
2 oz. Pomegranate
1 Basil leaf
3 Fresh blueberries
Instructions:
Muddle basil (break up into small pieces) and blueberries at the bottom of your cocktail shaker. Add the simple syrup, vodka, and pomegranate juice and shake hard. Strain into a martini glass with fresh blueberries and an additional basil leaf skewered together.