Jet Tila Recipes
Our good friend Jet Tila, judge of Food Network's Cutthroat Kitchen and chef and partner of Pakpao Thai Restaurant in Dallas, was back in our kitchen. He cooked up a delicious Asian-inspired summer meal! Here are all his recipes from today's show.
Recipes courtesy of Chef Jet Tila
Korean BBQ Short Rib for Tacos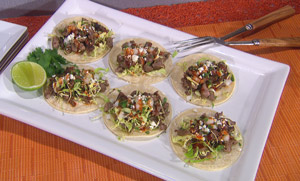 Ingredients:
1.5 Lbs. Rib Eye beef thin sliced
1/4 Cup Soy sauce
1/2 Tbsp Sesame oil
1/2 Tbsp Sesame seed, toasted
3 Garlic cloves, minced
1/2 Tbsp Ginger, grated
1.5 Tbsp Granulated sugar, brown sugar, or honey
½ Cup Brussels sprouts shaved thin
10-12 4" corn tortillas
Garnishes:
1/2 white onion, chopped
1/4 cup chopped fresh cilantro
2 Limes, cut into 8 wedges
1/2 cup grated cotija cheese (optional)
Directions:
Slice Beef (in raw form) ¼" thin slices, and then cut into little bite size pieces.
Place all the ingredients (except the Brussels sprouts and tortillas) in a large bowl and mix until sugar is dissolved.
Add a 1/8 a cup of water to your mix, stir and marinate for about an hour.
Add marinated meat into sauté pan to cook. Add Brussels sprouts.
Fold into tortillas with garnishes.
Korean Taco Sauce

Ingredients:
2 oz Korean fermented hot pepper paste (gochujang)
3 oz sugar
2 oz soy sauce
2 teaspoon rice wine vinegar
1 Tbsp sesame oil

Directions:
Whisk all ingredients together until sugar has dissolved and mixture is smooth. You can make this a few days in advance and store tightly covered in the refrigerator.
Edamame Salad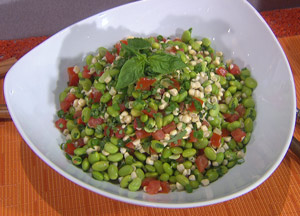 Ingredients:
12 ounces fresh or frozen shelled edamame, about 2 cups
1/2 cup fresh corn kernels, about 2 ears of corn
1/4 cup finely diced scallion
1 clove garlic, minced
3/4 teaspoon kosher salt
1/4 teaspoon freshly ground black pepper
1 cup chopped fresh tomato
1/4 cup chopped fresh basil leaves
1 tablespoon red wine vinegar

Directions:

Combine the edamame, corn, scallion, garlic, salt and pepper into a large bowl and stir to combine. Add the tomato, basil and vinegar to the edamame mixture and toss to combine. Taste and adjust seasoning, as desired. Serve chilled or at room temperature.
Kingston Colada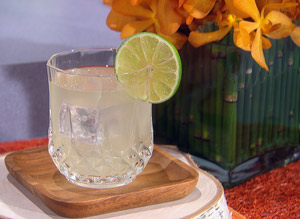 Ingredients:
1.5 oz White Rum
1.5 oz Coconut water
1.5 oz Pineapple juice
3 dashes Angostura Bitters
Squeeze of lime

Directions:
Add all the ingredients into a shaker filled with ice. Shake well and then strain into a rocks glass filled with ice. Stir, and garnish with a lime wheel.