Kim Wayans Recipe
The hilarious actress/comedian Kim Wayans was on the show to talk about her new CBS comedy, "Reckless." She also shared with us her family recipe for banana pudding. Here is the recipe!
BANANA PUDDING (Wayans Style)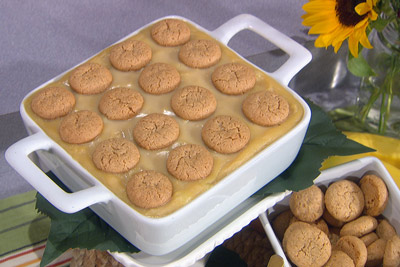 Note: This is a gluten and dairy free variation of traditional Banana Pudding
Ingredients:
4 Boxes of Vanilla Pudding (the kind that needs to be cooked)
5 Ripe bananas
2 Quarts of Organic Soymilk
1 Box of Gluten Free Vanilla Wafers
Instructions:
Prepare pudding in a pot as directed on the back of the pudding box.
Line the bottom of a baking pan with Vanilla wafers.
Layer with 3 sliced bananas.
Pour half of the cooked pudding into the baking pan.
Layer again with Vanilla wafers and the remaining 2 bananas sliced.
Pour the remaining pudding on top.
Layer more Vanilla wafers on top.
Bake in oven at 350 degrees for 30 minutes.
Let cool for 10 minutes, then serve while it's still warm.