Jason Santos Recipes
Chef Jason Santos was here for The Talk Food Festival. He made delicious Chinese Style Baby Back Ribs. Here are all of his appetizing recipes from today's show!
All recipes courtesy of Chef Jason Santos.
Lamb Sausage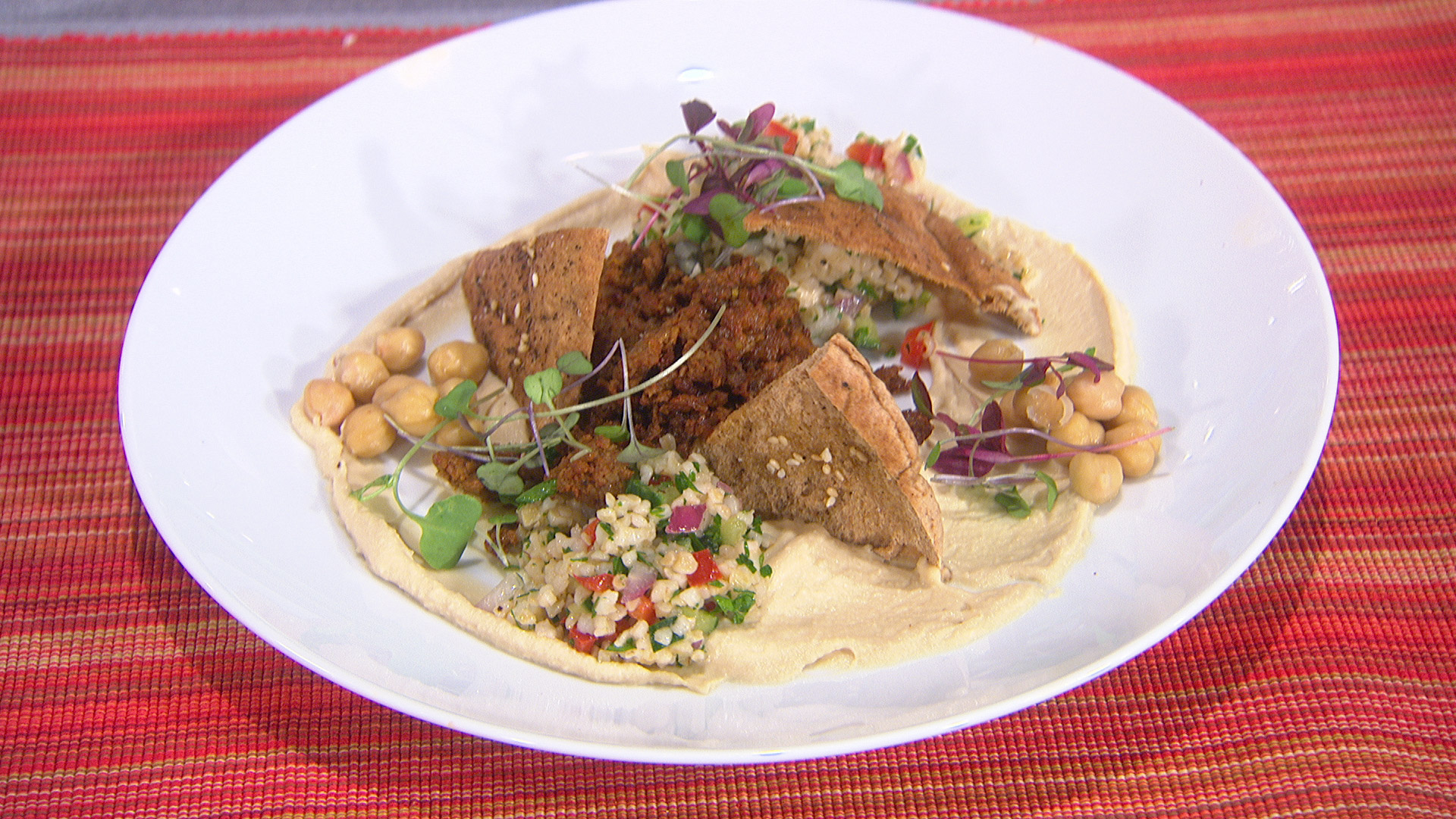 roasted garlic hummus, red pepper tabouleh, zatar spiced pita chips
Serves 4-6
Lamb Sausage
½# ground lamb
2 tsp. of grated ginger
3 cloves of garlic, grated
1 tsp. shaoxing wine (or any Chinese cooking wine)
1/2 tsp. of soy sauce
1/2 tsp. of salt
1 tsp. red sichuan peppercorn
2 tsp. ground annatto seed
2 tsp. Korean red pepper
¾ tsp of ground cumin
1/2 tsp. ground fennel seed
1/2 tsp. ground white pepper
1/8 tsp. curry powder
2 tsp. sugar
Mix together. Crumble and sauté. Season with salt and pepper
Roasted Garlic Hummus
4 cups canned chic peas
2 tbl. roasted garlic
1 cup tahini
1 tbl. chili flakes
1/2 cup extra virgin olive oil
Lemon juice, to taste
Salt and pepper, to taste
Puree smooth and season.
Red Pepper Tabouleh
2 cups cooked bulgar wheat
½ cup red onion, small diced
½ cup tomato, small diced
½ cup red bell pepper, small diced
½ cup cucumber, small diced
1 tbl. chopped mint
¼ bu parsley, rough chopped
¼ cup extra virgin olive oil
2 tbl. lemon juice
Salt and pepper, to taste
Mix and season.
Zaatar Spiced Pita Chips
2 small pita breads, cut into 8
2 tbl. extra virgin olive oil
1 tbl. zaatar spice
Salt and pepper
Mix and season then place in a 200'f oven until crispy, approximately 10-15 minutes.
Plating
Garnished with micro rainbow mix.
Chinese Style Baby Back Ribs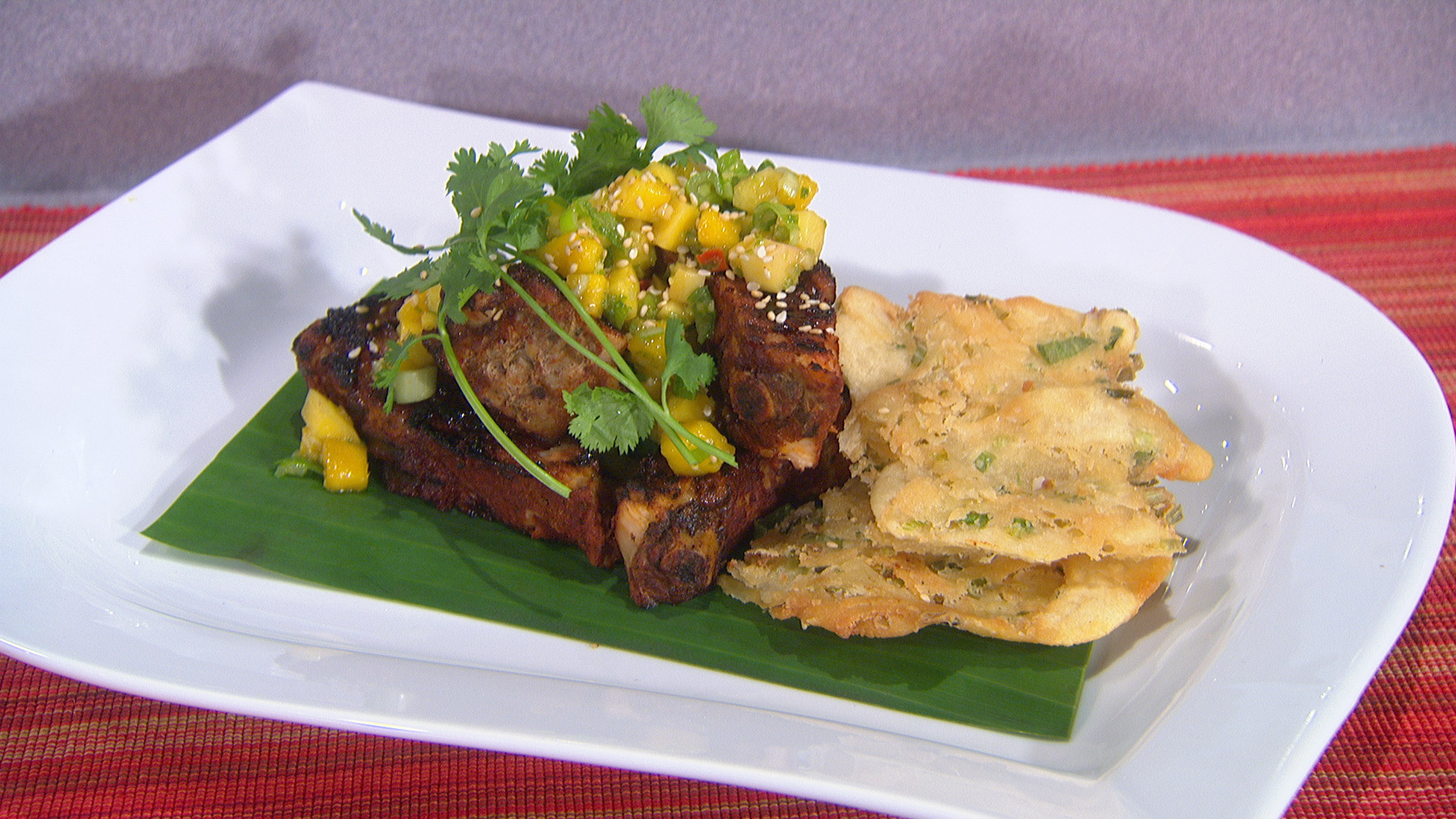 mango-green onion relish, scallion pancake
Serves 4
Baby Back Ribs
2 racks baby back ribs
Asian rib rub
Liberally rub baby back ribs. Wrap in plastic wrap then aluminum foil and bake at 300F for 2+ hours., check for tenderness, should be tender but not falling off the bone. Grill and glaze with Chinese BBQ sauce.
Asian Rib Rub
1/2 cup paprika
2 tbl. dry mustard
2 tbl. ground star anise
2 tbl. ground ginger
1 tsp. ground black pepper
1 tsp.. ground allspice
1 tbl. kosher salt
1 tsp. red pepper flakes
Mix together.
Chinese BBQ pork (Char siu)
3/4 cup hoisin sauce
1/2 cup soy sauce
1/2 cup sherry
1/3 cup honey

1 tbl. sugar
2 tbl. salt
1.5 cups brown sugar
red food coloring
Bring to simmer then add red food coloring to give that familiar blood red color.
Mango-Green Onion Relish
2 cups fresh mango, small diced
¼ cup sesame dressing
¼ cup scallion, minced
Sesame Dressing
2 tbl. minced scallion
1 tbl. minced ginger
1 tbl. minced onion
1 tbl. minced jalapeno
1 tbl. minced garlic
2 tbl. soy sauce
2 tbl. rice wine vinegar
2 tbl. sesame oil
2 tbl. olive oil
½ tsp. chile flakes
½ tsp. sugar
Scallion Pancake
4 cups flour
1 cup boiling water
1/3 cup cold water
Add boiling water to flour, mix and cover for 3 minutes. Add cold water and knead for 5 minutes then rest for 15 minutes. Then add:
6 tbl. animal fat (duck, chicken or bacon fat)
2 cups scallions, chopped
3 tsp salt
1 cup blended oil
Let rest for 10 minutes. Break off dough into walnut size balls. On a floured surface, roll out until thin pancake forms. Lightly fry until just golden brown and season with salt and pepper.
Plating:
Banana leaf
Cilantro
Toasted sesame seeds
3-Minute Cinnamon Doughnuts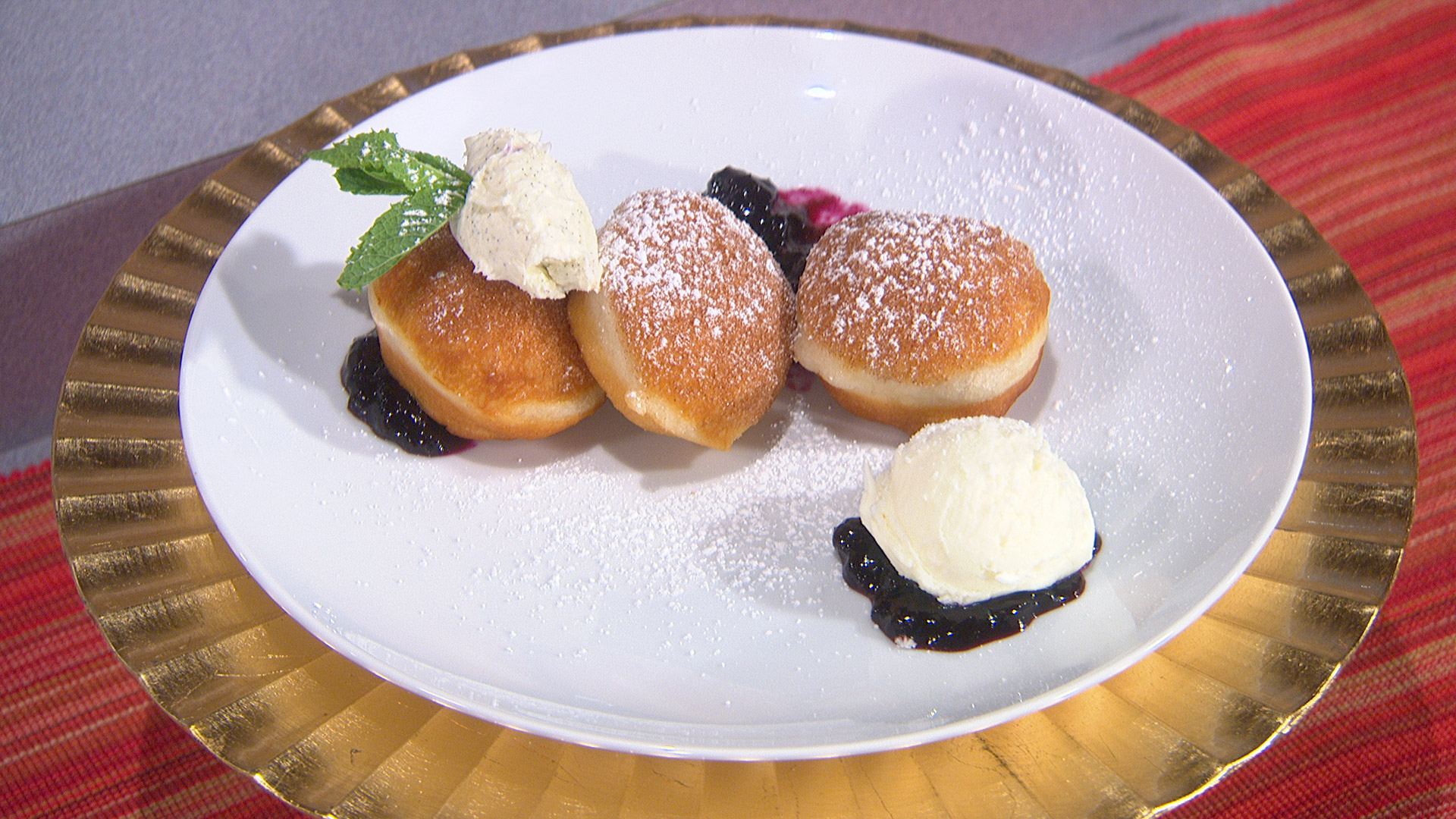 vanilla bean mascarpone, blueberry preserves, honey ice cream
Serves 2
Doughnuts
1 can Pillsbury canned small buttermilk biscuits
2 tbl. cinnamon sugar
canola oil for frying
Fry until golden brown, about 1-2 minutes on each side, drain then toss with cinnamon sugar.
Vanilla bean mascarpone
1 cup mascarpone
1 vanilla bean, scraped
1 tbl sugar
2 tbl. heavy cream
Mix all ingredients until smooth and creamy.
Blueberry preserves
1 pt. blueberries
2 tsp. lemon juice
Seeds of 1 vanilla bean
1 cup powdered sugar
Simmer on medium heat until jam consistency forms.
Honey ice cream
1 cup heavy cream
½ cup milk
2 egg yolks
¼ - ½ cup honey
In a large, heavy saucepan, bring the cream and milk to a boil.
In a large, stainless steel bowl, whisk the egg yolks. Gradually pour the heated liquid into the bowl, whisking all the while. Return to the saucepan and cook over medium heat, stirring with a wooden spoon, until the mixture coats the back of a spoon.
Remove from the heat and stir in the honey, to taste. Transfer to a clean bowl and chill over ice cubes and cold water. Strain.
Freeze in an ice cream maker according to manufacturer's instructions.
Plating
Mint and powdered sugar for garnish.