Susan Feniger Recipes
Susan Feniger, chef and owner of Border Grill and Mud Hen Tavern stopped by to cook up classic barbeque favorites with international flavors.
Recipes copyright © 2013, Mary Sue Milliken and Susan Feniger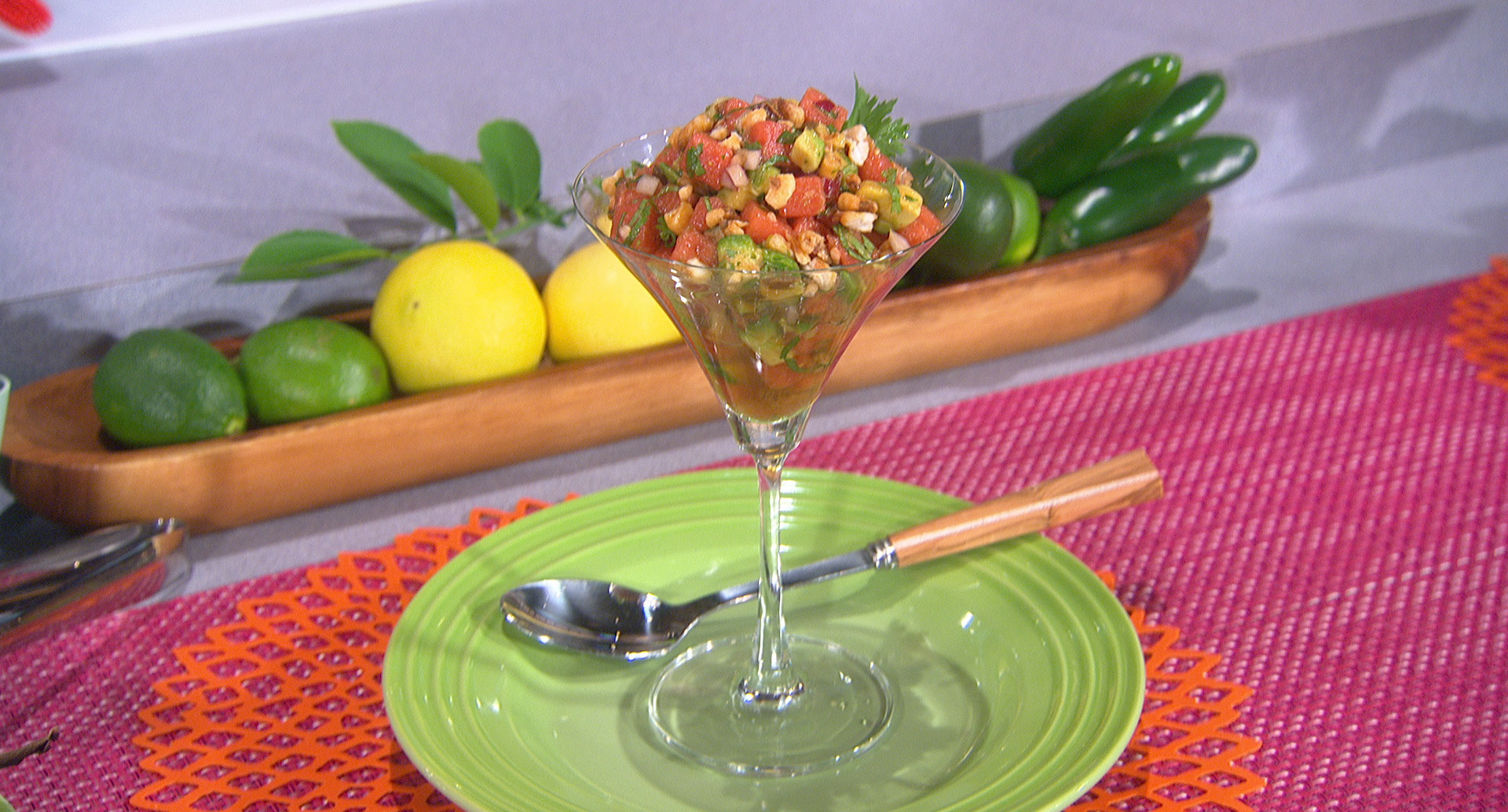 Watermelon Ceviche
Ingredients
½ cup watermelon, diced
3 tbsp. avocado, diced
1 tbsp. red onion, diced
1 tsp. soaked pickled chipotle
1 tbsp. corn nuts, rough chopped
1½ tbsp. dressing (recipe below)
Salt to taste
1 tbsp. cilantro
Directions
Toss all ingredients together. Season with salt to taste.
Dressing:
Ingredients
½ cup tangerine juice
1 cup extra virgin olive oil
¾ cup chipotle vinegar (1 cup red wine vinegar, 2 dried chipotle chiles seeds removed)
½ tsp. salt
Directions
Wisk all ingredients together until combined.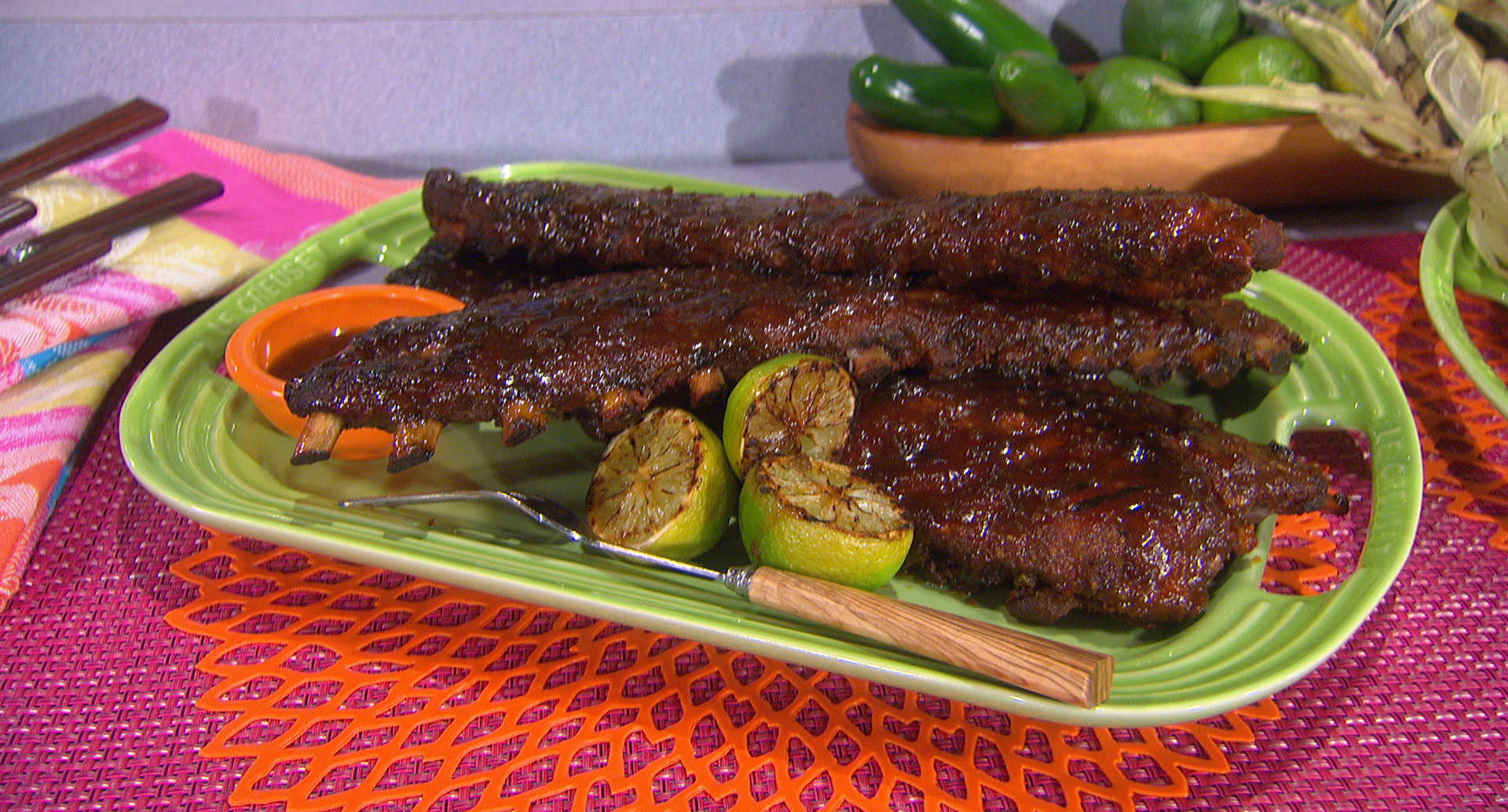 Cumin Glazed Baby Back Ribs
Serves 4
Our method for tenderizing ribs and other tough cuts involves two techniques. First the ribs are baked in a small amount of water to steam and soften. Then they are briefly crisped on the grill before serving. The results are tender, sweet, spicy, wonderfully sticky ribs.
Dry Rub:
¼ cup paprika
¼ cup ground ancho chiles or ancho chile powder
¼ cup ground cumin
2 tablespoons salt
4½ pounds pork baby back ribs
Honey Glaze:
¼ cup chopped garlic (about 15 cloves)
3 large jalapeño chiles, stemmed, seeded if desired
1 tablespoon ground cumin
3 tablespoons tabasco pepper sauce
1 cup freshly squeezed lime juice
1 teaspoon salt
1 cup honey
Directions
Combine paprika, chile powder, cumin, and salt in a small bowl. Pat spice mixture all over ribs. Cover with plastic wrap and refrigerate 2 to 4 hours or overnight.
Preheat oven or grill to 350ºF.
Place ribs in a single layer in a baking pan and pour in water to a depth of about ¼-inch. Bake, uncovered, for 45 minutes in the oven or on the grill with the lid closed. Cover with foil and bake for an additional 30 minutes.
Meanwhile, make the Honey Glaze. Combine garlic, jalapeños, cumin, tabasco, lime juice, and salt in a food processor or blender and puree. Pour into a small saucepan and stir in the honey. Cook over low heat for 20 minutes, stirring constantly and being careful not to burn.
Turn the oven or grill heat up to 450ºF.
If finishing the ribs in the oven, brush generously with the honey glaze and bake another 10 minutes per side, basting with the honey glaze every 5 minutes. To grill, generously glaze the ribs and grill 5 minutes per side, frequently brushing with additional glaze. Cut the ribs apart and serve hot.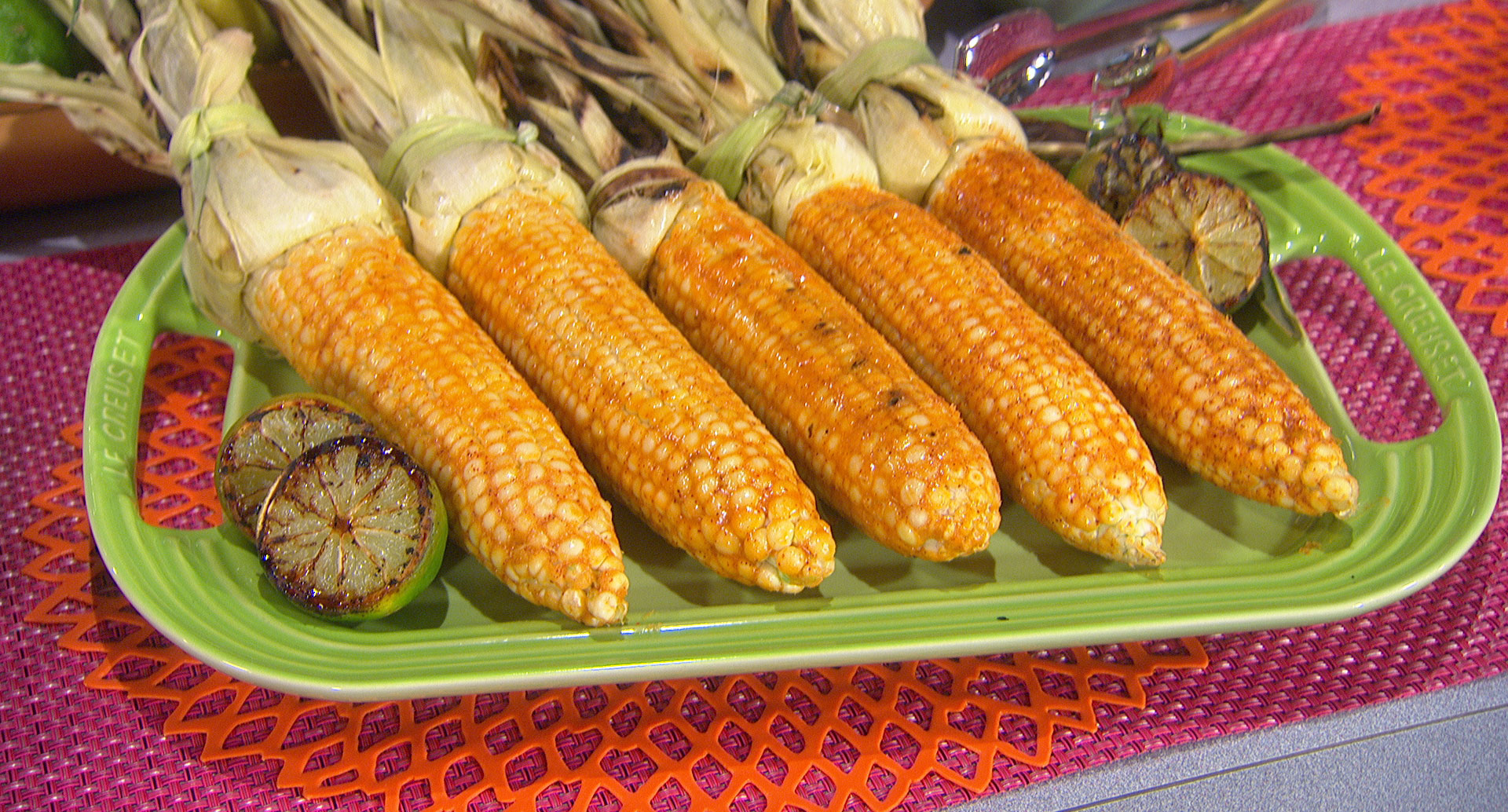 Corn on the Cob with Cayenne and Lime
Serves 6
Ingredients
6 ears fresh sweet corn, in the husk
6 tablespoons unsalted butter
1 to 2 teaspoons cayenne pepper
Juice of 2 limes (about 2 tablespoons)
1 teaspoon salt
Directions
Preheat the grill to medium high.
Carefully remove the corn silks, leaving the husks attached. Soak the ears of corn in their husks in a large bowl or sink of cold water for 10 minutes.
Drain the corn well and place each husk-enclosed ear on the hot grill. Cook for about 12 minutes, turning frequently. The corn is steamed when it loses it raw crunch. Remove each cob from the grill and set aside to cool slightly.
Meanwhile, melt the butter with the cayenne and add the lime juice and salt.
When corn is cool enough to handle, pull back the husks, leaving them attached to the end of the corncobs for decoration and to use as handles. Brush the corn generously with the cayenne lime butter and serve immediately.
Authentic Mexican Variation: Substitute mayonnaise for the butter. Brush the cayenne lime mayonnaise mixture onto the hot corn then sprinkle with grated cotija cheese.
Another Variation: Brush corn with Cumin Vinaigrette (see recipe below) instead of cayenne lime butter.
Cumin Vinaigrette:
2 tablespoons cumin seeds
½ cup extra virgin olive oil
¼ cup red wine vinegar
1 tablespoon honey, warm
1½ teaspoons kosher salt
½ teaspoon freshly ground black pepper
Toast the cumin seeds in a small, dry frying pan over medium heat for 1 to 2 minutes, shaking frequently. Transfer to a blender along with other vinaigrette ingredients. Puree until smooth.
Watermelon Lemonade
Serves 3
What could be cooler than a nice, tall glass of iced watermelon lemonade for your next barbecue? Serve sandia (Spanish for watermelon) in a clear pitcher to highlight its brilliant color. A garnish of thin lemon slices looks nice against the pink of the juice.
Ingredients
4 cups watermelon chunks, seeded or seedless
Juice of 1 to 2 lemons, to taste
½ cup cold water
¼ cup Ginger Simple Syrup, or to taste
5 ice cubes, plus more for serving
Ginger Simple Syrup:
1½ cups water
1 cup granulated sugar
1 3-inch "thumb" of young ginger, peeled and thinly sliced
Directions
Combine all the ingredients in a blender and puree until smooth. Serve over additional ice.
For the adult version: Add some vodka, tequila, or sparkling wine! It's perfect with this light summer refresher.