Jet Tila Recipes
Chef Jet Tila, judge of Food Network's Cutthroat Kitchen and chef/partner of Pakpao Thai Restaurant in Dallas, shares a simple gourmet seafood dish that's light and healthy. Here are all his recipes from today's show! Recipes courtesy of Chef Jet Tila.
Seared Sea Scallops with Fresh Fava Bean Purée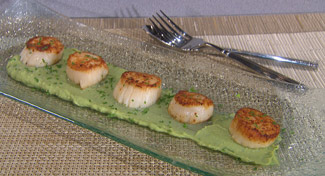 Ingredients:
2.5 pounds fresh fava beans, shelled
1/4 cup chicken broth, homemade or low-sodium canned
1/3 cup heavy cream
1.75 teaspoons kosher salt, plus more to taste
Freshly ground pepper to taste
2 teaspoons olive oil
1 1/2 pounds sea scallops
1 tablespoon fresh lemon juice
4 teaspoons coarsely chopped Italian parsley
Preparation:
Blanch the fava beans in boiling water until soft, about 8 minutes. Drain and cool. Slip the skins off the beans and place in a food processor. Purée. Add the broth, cream, salt and pepper. Process until smooth. Scrape into a saucepan and warm gently over low heat.
Brush the remaining 2 teaspoons of oil over a large cast-iron skillet and place over medium-high heat. Pat the scallops dry with a paper towel. Place in the skillet and sear until browned and just cooked through, about 1 minute a side. Sprinkle with lemon juice and salt and pepper to taste.
Mound about 1/3 cup of fava bean puree onto the centers of 8 plates. Scatter the mushrooms over the scallops and sprinkle with parsley. Serve immediately.
White Asparagus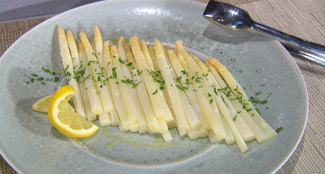 Ingredients:
6 cups water
2 tbsp. salt
4 tbsp. fresh lemon juice
3 tbsp. butter
1-2 lbs. fresh white asparagus
Preparation:
1. Bring water, salt, lemon juice, and butter to a simmer in a large pot over medium heat.
2. Meanwhile, trim about 1/2'' from the ends of white asparagus. Lay spears on a work surface, then peel thin skin from each with a sharp swivel-blade vegetable peeler, starting 1 1/2'' from the top and running the length of the spear. (Spears are brittle and can snap when peeled in midair.)
3. Gather spears into 2-4 bundles, tie loosely with kitchen string, and lower into simmering water. Cook, increasing heat to medium-high to maintain a simmer if necessary, until tender when pierced with the tip of a knife, 8-30 minutes, depending on thickness of asparagus. Lift bundles from simmering water with kitchen tongs and drain on paper towels.
Cardamom Yogurt with Fruit Parfait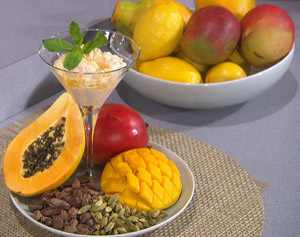 Serves 20
Ingredients:
3 pounds plain yogurt
3 cups powdered sugar
3/4 teaspoon cardamom seeds (removed from green or white pods), ground
3 medium ripe mango, peeled, seeded, and finely chopped
3 medium ripe papaya, peeled, seeded, and finely chopped
Preparation:
Line a large colander with cheesecloth; place in a large bowl or an unused, clean sink. Transfer the yogurt to the cheesecloth; drain for an hour.
Refrigerate lined colander and bowl, loosely covered, 6 to 8 hours, until texture of yogurt cheese is smooth and silky.
Discard whey and transfer cheese from cheesecloth to large bowl. Fold in powdered sugar, few tablespoons at a time until well incorporated; stir in cardamom.
Fold in mango and papaya; cover and refrigerate about 2 hours, or until chilled. Will keep for up to a week in refrigerator or for up to a month in freezer.