David Myers Recipes
For THE TALK'S Food Festival, Chef David Myers showed us simple one dish dinners that you can make tonight! Here are all of his delicious recipes. For more information on David Myers, click here.
Recipes courtesy of David Myers.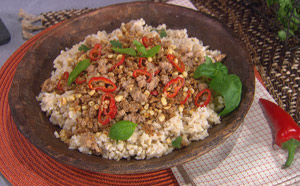 BROWN RICE & PORK BOWL
1 lb ground pork
2 ears corn, removed from cob
1 Fresno chili, sliced
1 sprig mint
1 sprig basil
1 sprig cilantro
1 Tbsp fish sauce
1 Tbsp lime juice
1/2 Tbsp canola oil
1 tsp coconut oil
Sauté pork until browned with oil. If pork is fatty, drain and discard oil as desired. Add corn to pan, continue to sauté. Add Fresno chili, fish sauce, lime juice. Place brown rice at bottom of bowl, pour pork corn mixture over, garnish with herbs.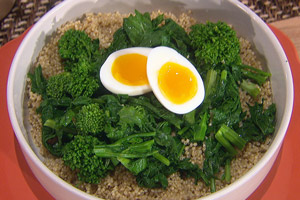 QUINOA EGG BOWL
2 cups quinoa
1 bunch broccoli rabe, chopped
1 Tbsp soy
1/2 Tbsp grated ginger
1/2 Tbsp olive oil
Cook quinoa as directed. Steam broccoli rabe whole, remove and chop. Layer quinoa in bowl, place broccoli on top. In a mixing bowl mix together soy, ginger and olive oil, then drizzle over broccoli and quinoa. Cook 4 eggs for 6 minutes in boiling water, deshell gently and place atop quinoa. Serve.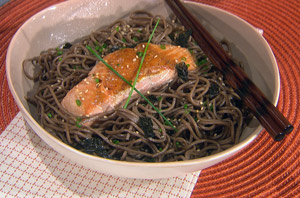 SALMON SOBA NOODLE
4 3oz filets
2 bunches buckwheat noodles
1 tsp toasted sesame seeds
2 stalks chives, chopped
Seaweed sheets to garnish
For the ponzu:
1/2 cup rice wine vinegar
1/2 cup lemon juice
1 cup soy sauce
Pan sear salmon over medium high heat for about 3-4 minutes each side. Set aside. Cook noodles as directed, drain and wash well in cold water. Divide by 4 and place in bowls. Mix vinegar, lemon and soy together in a bowl, pour desired amount directly over noodles in each bowl. Sprinkle sesame seeds and chives. Place salmon on top. Garnish with seaweed ripped into shreds.