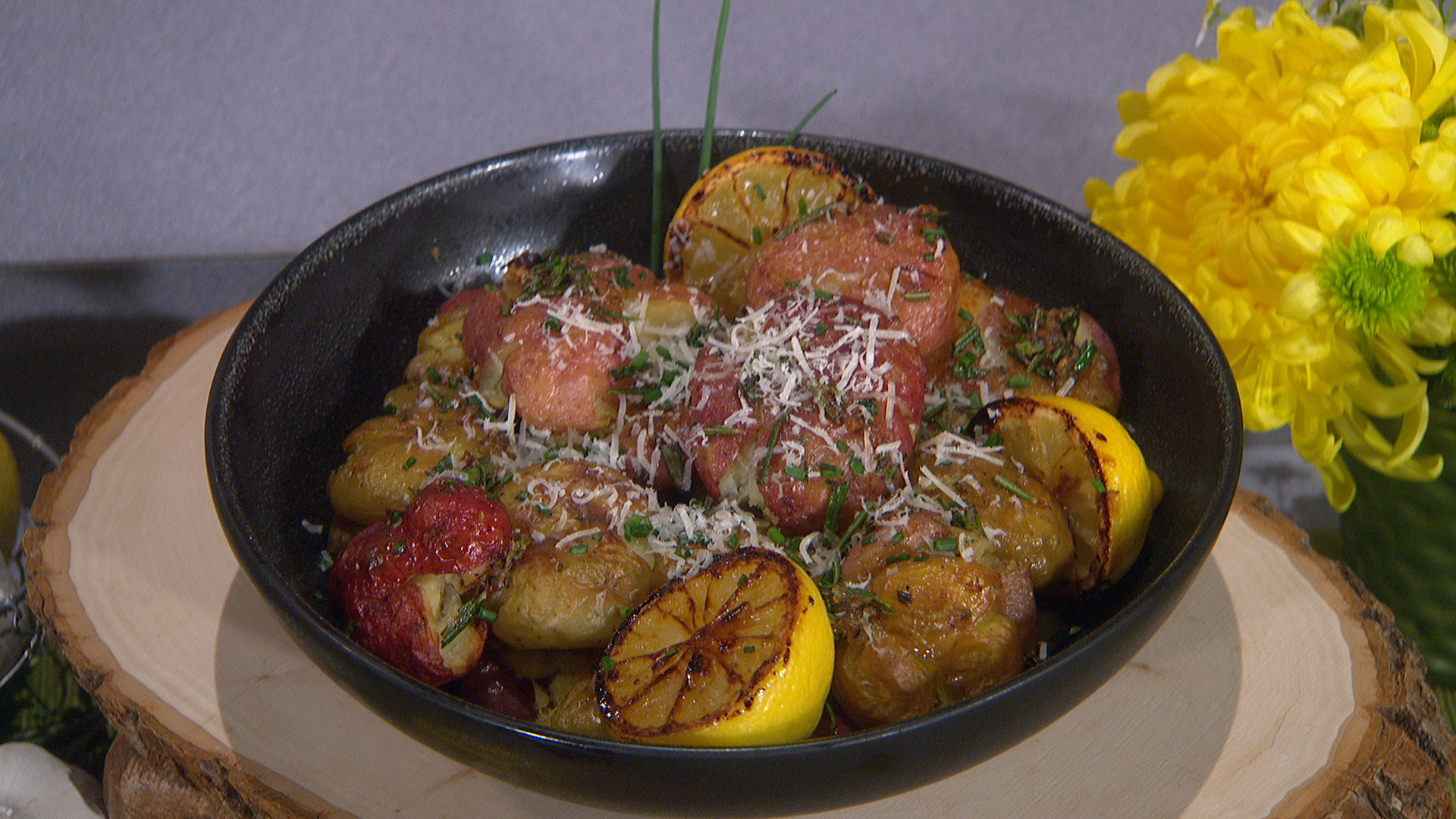 BROKEN POTATOES WITH BURNT LEMON AND PARMESAN
Serves 6
2 tbsp. olive oil
2 lb. baby potatoes, boiled in water for 5 minutes then shocked in ice water and patted dry 1⁄2 cup fresh rosemary, roughly chopped
2 cloves garlic, minced
1 good pinch of salt
Lots of pepper
1 cup Parmesan cheese, grated
A handful of chives, chopped
4 halves Roasted Lemons (see recipe below)
Put the oil in a large sauté pan over medium heat.
With the palm of your hands, crush the potatoes enough for the skins to burst but not enough to make them fall apart. Put the potatoes into the oil and cook until crisp on one side.
Add the rosemary and the garlic and turn the potatoes over to crisp the other side. Total cooking time for crisping both sides will be about 15 minutes. (Remember: The skin needs to be crisp but not burnt. There is a difference between brown and black, right?)
Once crisped, put the potatoes in a bowl and toss them with the rest of the ingredients except the lemons.
To serve, put the potatoes on a platter and squeeze the lemons on top.
Roasted Lemons
Makes 10 lemons
10 lemons, cut in half crosswise 2 tbsp. fresh thyme, chopped Salt and pepper
2 tbsp. olive oil
Butter or olive oil for roasting (if using a pan rather than a grill)
Mix all the ingredients together in a bowl. Place the lemons open‐face down on a really hot grill or in a hot sauté pan with a touch of olive oil or butter over medium to high heat.
Grill for about 10 minutes, moving the lemons around, until the open side is caramelized.