Susan Feniger Recipes
Chef Susan Feniger, owner of Border Grill and Mud Hen Tavern, shares a unique way to grill salmon, plus grilled vegetable recipes that are perfect for your family's next BBQ. Here are all of the recipes from today's show!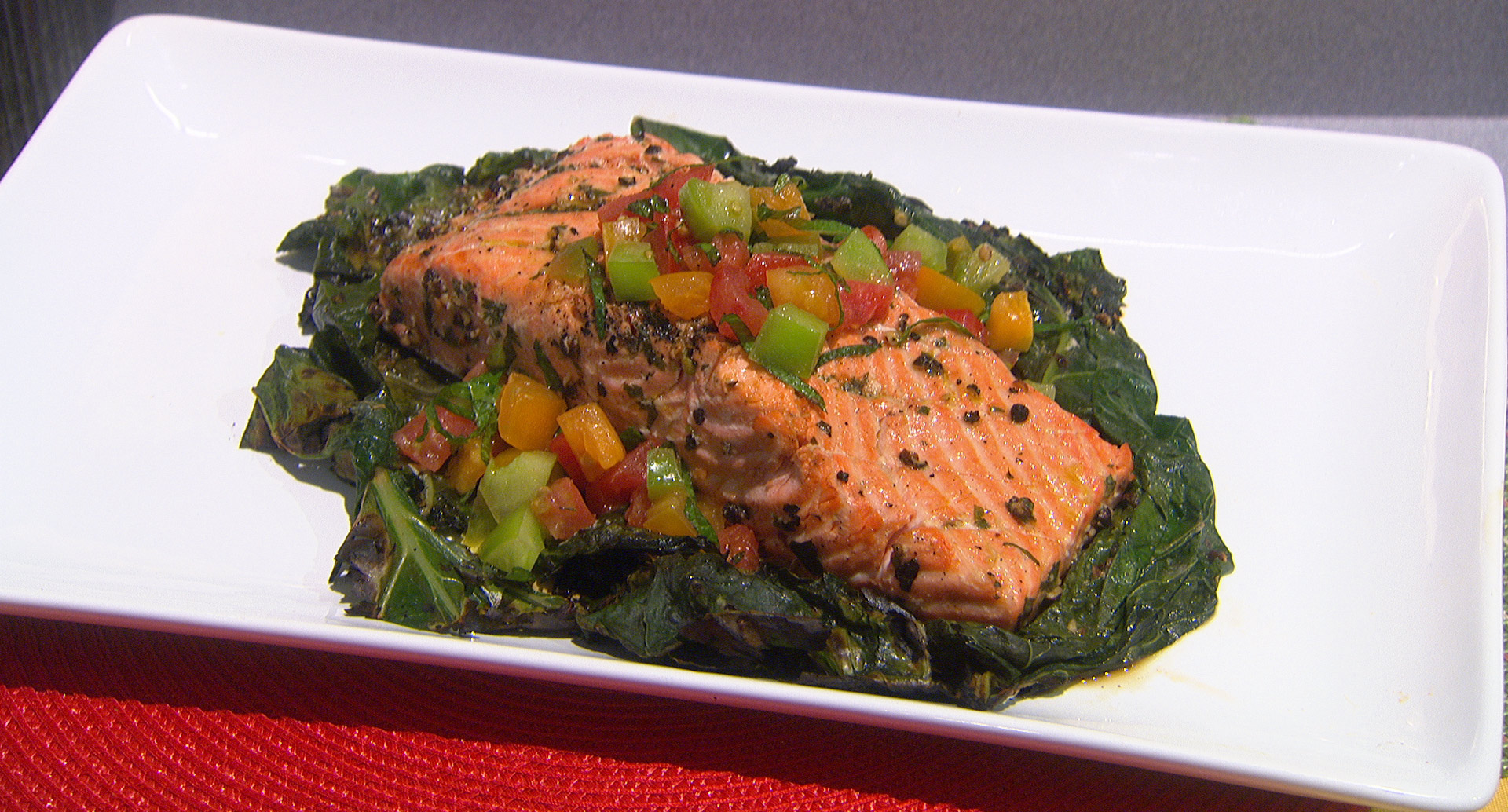 Wrapped and Grilled Fish with Tomato Mint Salsa
Serves 4 to 6
1/2 cup cracked black peppercorns
1/2 cup freshly squeezed lime juice
1 bunch cilantro leaves, chopped
1/2 cup olive oil
Salmon fillets
2 bunches collard greens, washed, stemmed
Tomato Mint Salsa, (see recipe) for serving
Combine marinade ingredients in a glass or ceramic baking dish. Whisk to combine.
Using a sharp knife, score several diagonal lines along the length of the fish. Marinate 1 hour in the refrigerator.
Shave stems of each collard leaf down to a pliable thickness. Blanch greens in a large pot of boiling, salted water, just until the water returns to a boil. Refresh with iced water and drain.
On a large baking sheet, arrange greens, overlapping to form a rectangle as long as the fish and more than twice as wide. Place the fish in the middle of the rectangle and wrap with greens. Tie butcher string around the collard greens. The dampness will make them cling.
Transfer fish to grill, reserving marinade. Cook 4 to 5 minutes per side, until greens, head and tail blacken. It will take 2 spatulas, one at the head and one at the tail, to turn fish. Don't be concerned about greens sticking.
To serve, place whole fish on a serving platter. Using a dull knife and soup spoon, scrape off any remaining skin.
Tomato Mint Salsa
1 bunch mint, leaves only, finely chopped
6 medium tomatoes, seeded and diced
1/2 cup extra virgin olive oil
Juice of 1/2 lemon
Salt and freshly ground black pepper, to taste
Mix all ingredients in a small bowl and reserve in refrigerator.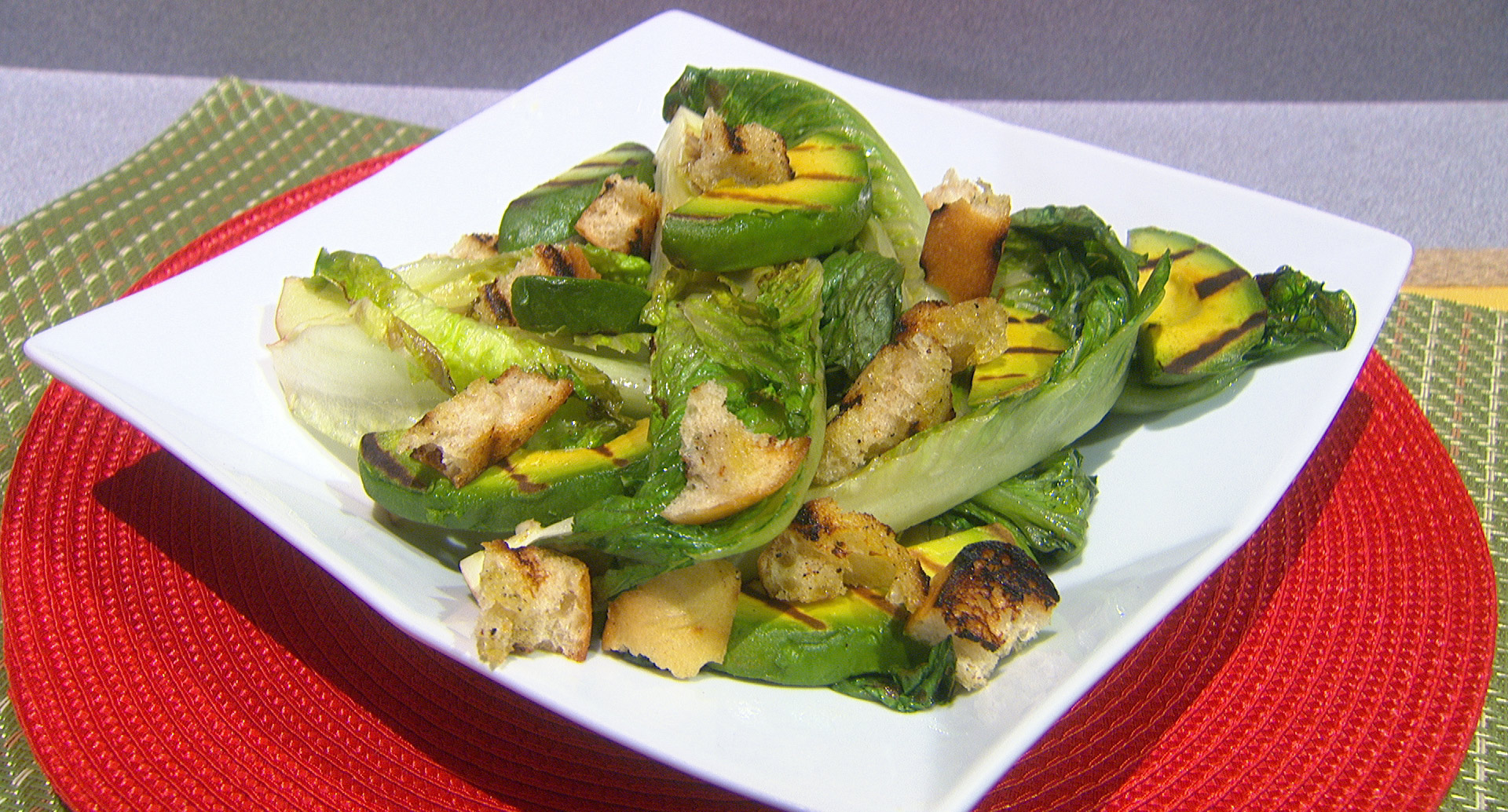 Grilled Romaine and Avocados with Spicy Caesar Dressing, Torn Bread Croutons
Serves 4
3 to 4 romaine hearts, cut into quarters, cored intact to hold leaves together
2 barely ripe California avocados, halved, pitted, peeled and sliced into 1/2-inch slices
1 cup Spicy Caesar Dressing (see recipe below), for serving
Torn Grilled Bread Croutons (see recipe below), for serving
Preheat grill to high heat. Over a large bowl, drizzle each romaine quarter with a few tablespoons Spicy Caesar Dressing, massaging to evenly distribute dressing between the leaves. Grill the hearts, turning every minute or two until lightly browned on all sides. Meanwhile, season avocado slices with sea salt and freshly ground black pepper and place on the hottest part of the grill. When char marks appear flip then remove when grilled on both sides. To serve, toss grilled hearts in a bowl with the grilled avocado and Torn Grilled Bread Croutons adding any extra dressing needed to season the salad to your liking. Serve immediately.
Spicy Caesar Dressing
5-7 garlic cloves
1 chipotle in adobo, canned
1 1/2 tablespoons Dijon mustard
1 1/2 tablespoons red wine vinegar
1/3 cup freshly squeezed lime juice
1/2 cup mayonnaise
1 bunch cilantro, chopped
3 ounces aged cotija* cheese
1 cup mild, extra virgin olive oil
2 teaspoons Worcestershire sauce
2 teaspoons tabasco
Salt and freshly ground black pepper, to taste
In a blender, place garlic, chipotle, Dijon mustard, Worcestershire sauce, tabasco, lime juice, crumbled cotija, red wine vinegar and puree until smooth. Add the mayonnaise to the mixture and blend until smooth.
Then add the olive oil slowly to the mixture while it is running on medium speed. At the last minute, add the cilantro. Adjust seasoning with salt and pepper.
*Cotija cheese is a popular Mexican cheese that can be found in most super markets. If you can't find it, you can substitute with shredded parmesan cheese.
Torn Grilled Bread Croutons
One loaf of rustic bread, cut into thick slices
1/2 cup olive oil
Salt and freshly ground black pepper, to taste
Place bread on counter, drizzle lightly with olive oil, season with salt and pepper. Place on a medium hot grill. Grill for about 2-3 minutes per side, or just flip when bread it well-marked. You want it to be charred on the outside, yet still a bit soft and chewy on the inside. Tear the bread into crouton size pieces.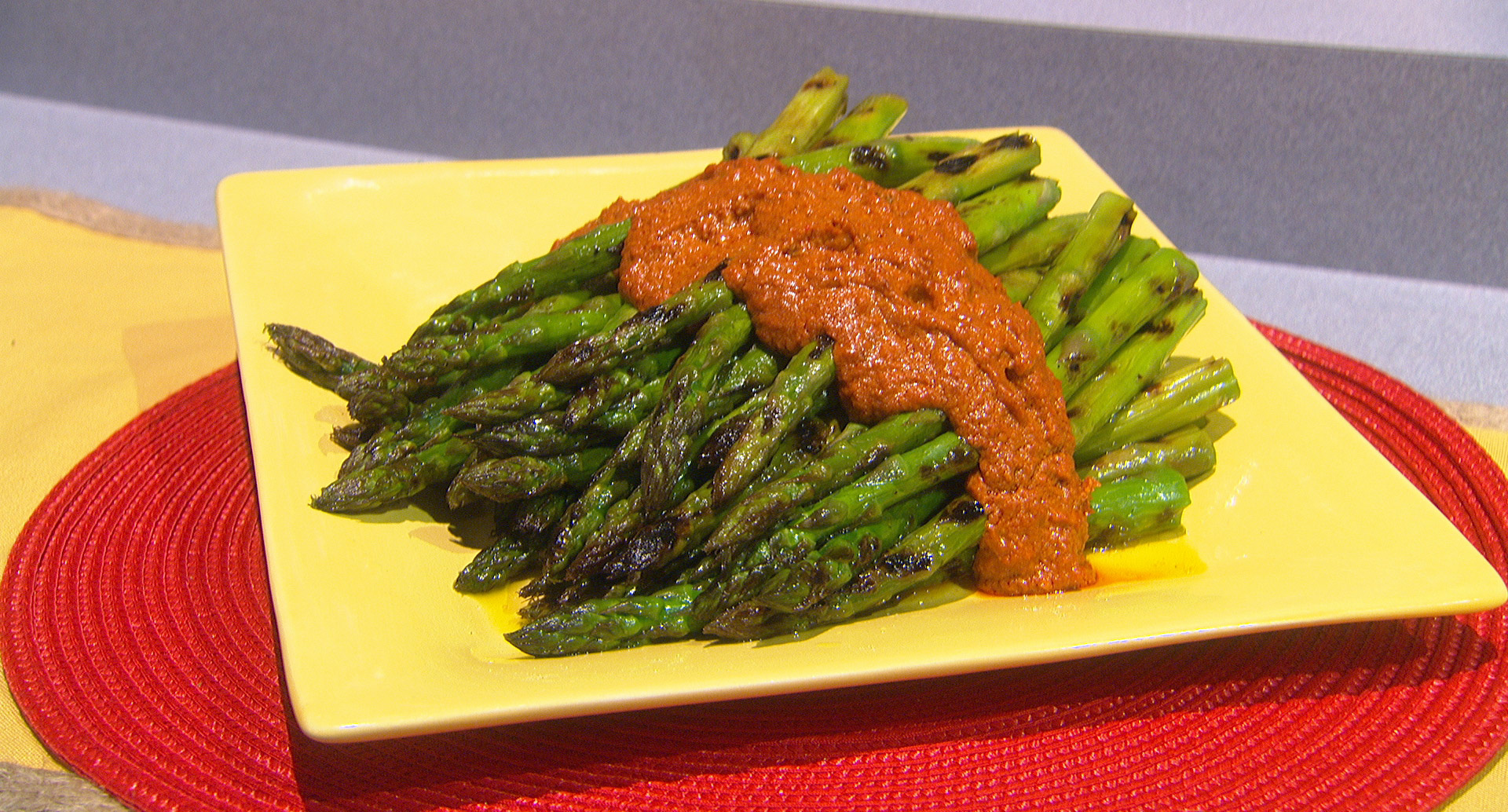 Grilled Asparagus with Romesco Sauce
2 bunches asparagus, trimmed
Extra virgin olive oil, to taste
Salt, to taste
Freshly ground black pepper, to taste
1 recipe Lemon Vinaigrette (see below), to taste
1 recipe Romesco Sauce (see below)
Preheat grill or stovetop grill pan to medium high.
Toss asparagus with olive oil, salt, and pepper and grill until tender-crisp, about 3 to 6 minutes depending on the thickness of the asparagus stalks. Remove from heat to a large plate or shallow bowl. Toss with Lemon Vinaigrette to taste. Arrange asparagus all in one direction on a platter and top with a large dollop of Romesco Sauce. Serve immediately.
Lemon Vinaigrette
1/4 cup freshly squeezed lemon juice
1 teaspoon Dijon mustard
1/3 cup extra virgin olive oil
1/2 teaspoon salt
Combine ingredients in a blender and puree until emulsified.
Romesco Sauce
4 piquillo peppers, from a can or jar
1 red bell pepper, roasted, cored, and seeded*
1 ancho chile, seeded and rehydrated in simmering water
1 tablespoon smoked paprika
3 tablespoons sherry vinegar
1/2 cup roasted almonds
1/4 cup bread crumbs
4 cloves garlic
1 1/2 teaspoons salt, to taste
1/2 cup extra virgin olive oil, to taste
Add piquillo peppers, bell pepper, ancho chile, paprika and vinegar to a food processor and pulse to combine. Add almonds, bread crumbs, garlic, salt, and olive oil and continue to pulse until a thick sauce forms. Taste and adjust seasoning as necessary. Serve at room temperature.
* Fresh bell peppers and chiles can be roasted over a gas flame or under the broiler. Keep turning so skin is evenly charred, without burning the flesh. Transfer charred chiles to a closed plastic bag and steam 10 to 15 minutes. Pull off charred skin by hand and dip briefly in water to remove blackened bits. Once peeled, cut away stems, seeds, and veins.
Tzatziki
Makes 2 1/2 cups
2 cups plain, full fat yogurt (high quality, without gums and thickeners)
2 teaspoons very fresh garlic, creamed
1 teaspoon sea salt
2 cucumbers, peeled, seeded, and grated on large holes of grater
1/2 teaspoon freshly ground black pepper
2 teaspoons extra virgin olive oil
Fresh mint leaves, for garnish
Drain yogurt for 1 hour in a cheesecloth-lined strainer to remove some of its water.
In a bowl, combine the yogurt, garlic, and 1/2 teaspoon salt.
Place grated cucumber in a colander and place colander in the sink or over a bowl. Sprinkle the remaining 1/2 teaspoon salt over the cucumber and allow to sit for 10 to 15 minutes while the salt extracts the excess water from the cucumber and the water drains.
Add drained cucumber to yogurt, along with the pepper, and mix well. Cover and refrigerate until chilled, about 1 hour. Drizzle with olive oil and garnish with mint leaves. Serve with pita triangles.