Sergio Perera Recipes
Sergio Perera is a private chef and an owner/partner of The Amalur Project, a Los Angeles-based group that stages pop-up restaurants and focuses on the intersection of gastronomy, art and science. This will be Sergio's first appearance on THE TALK; he will be joining us to make a meal featuring beef tenderloin. Sergio hails from Zaragoza, a major city in the Aragon region of Spain. He would go on to cook throughout Spain before moving to Japan and later New York where he spent two years at Jean Georges, and also cooked at wd~50 and Momofuku. Upon moving to Los Angeles, Sergio worked alongside chef Greg Bernhardt and Ludo.
Recipes by Sergio Perera.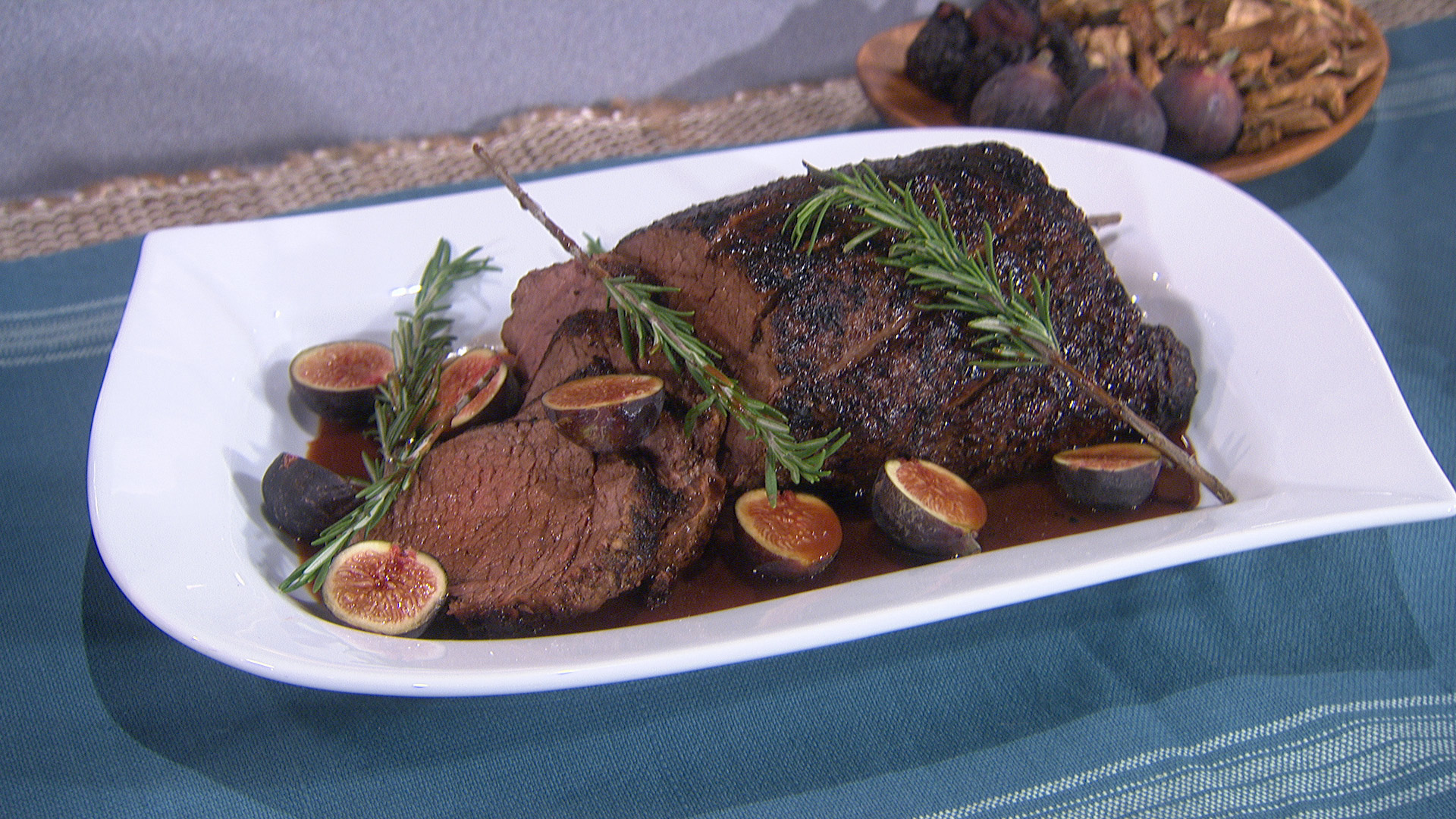 Roast Beef Tenderloin with Porcini, Figs and Thyme
Ingredients for the Beef Tenderloin:
1 center-cut beef tenderloin, 3 pounds
1 ounce dried porcini mushrooms or any dried mushroom of your choice
2 tablespoons fresh thyme and rosemary, finely chopped
Olive oil
Salt
Directions:
1. Season the tenderloin all over with salt and pepper. Refrigerate 4 hours or up to 24 hours. Thirty minutes before roasting remove beef from refrigerator to get to room temperature.
2. Preheat oven to 400 F. Combine mushrooms, thyme and rosemary in spice grinder
3. Grind to a coarse powder. Rub beef with olive oil. Coat all over with rub.
4. Heat 1 tablespoon olive oil in a wide skillet over medium-high heat until shimmering. Add beef and brown on all sides, about 8 minutes. Transfer to a roasting pan. Roast in oven until thermometer inserted in thickest part reads 125 F., about 30 minutes, for medium rare. 155 F for well done. Remove from oven and transfer to a cutting board. Tent with foil and let stand for 15 minutes.
5. Carve beef in 1/4 inch slices. Serve with Port Wine Sauce.
Ingredients for the Fig Sauce:
½ ounce dried porcini mushrooms, reconstituted in 3/4 cup water, liquid reserved
3 tablespoons unsalted butter, divided
1 medium shallot, finely chopped
1 cup port wine
2 tablespoons of chopped fresh rosemary
1 cup heavy bodied red wine
8 dried black mission figs cut in half
½ teaspoon salt, or to taste
Directions:
1. Strain the porcini water through an un-bleached paper towel into a small bowl. Reserve strained liquid. Coarsely chop porcini.
2. Using the same skillet from browning the meat, add 1 tablespoon butter, shallots, chopped porcini and figs. Sauté over medium heat until shallots are translucent, about 2 minutes.
3. Add port wine, scraping up any brown bits in the pan. Add red wine, mushroom stock and rosemary. Bring to a boil and cook uncovered until sauce is reduced by about half to approximately 1 1/2 cups. Add salt and taste for seasoning. Strain through a fine-meshed sieve into a small saucepan, pressing firmly on solids. Discard solids.
4. Heat sauce over medium heat. Whisk in 2 tablespoons butter, 1 tablespoon at a time. Keep warm until serving.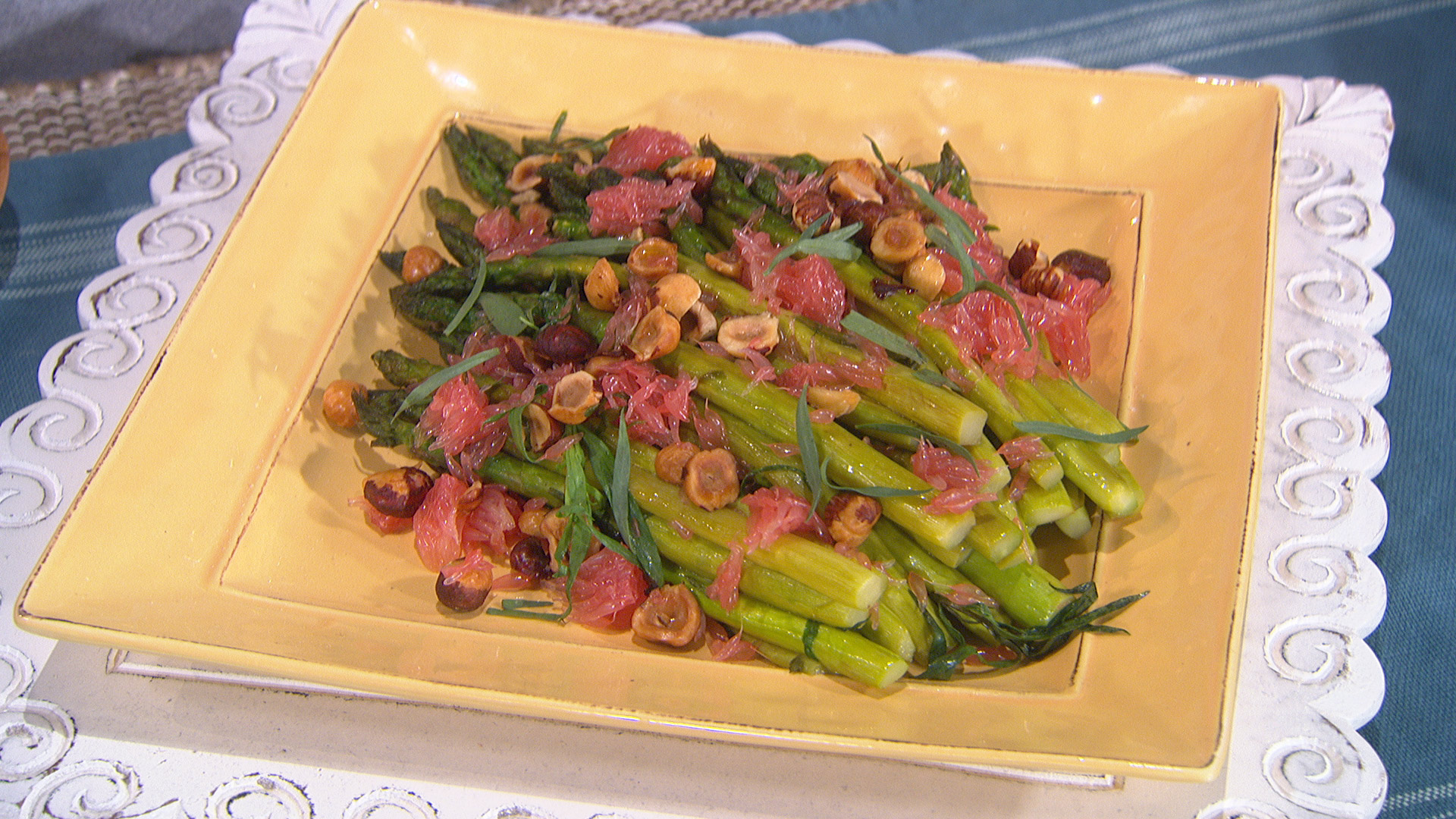 Pan-Seared Green Asparagus, Citrus, Hazelnut and Tarragon
Ingredients:
2 large bunches of large green asparagus
1 large grapefruit or pomelo fruit with segments removed and any seeds discarded
3 tablespoons of fresh tarragon
1/2 a cup of roasted hazelnuts cut in half
1 tablespoon of unsalted butter
2 tablespoons of extra virgin olive oil
Directions:
1. Peel stalks of the large asparagus from the bottom of the spear and down to remove the fiber and cut the dried bottoms. (If asparagus are really thin, there is no need to peel, as the thinner ones are not as fibrous.)
2. Put on a large pot of boiling water big enough to fit asparagus and fill another big bowl with ice and water for asparagus.
3. Add 2 tablespoons of salt to the water and once the water is boiling, add the peeled asparagus and blanch for 30 seconds.
4. Remove the asparagus from the water and immediately put in ice bath to stop cooking process.
5. Once cold, remove and dry on a clean towel.
6. Heat up a medium sauté pan and the asparagus to the dry pan, and let the heat further dry the asparagus while slightly toasting it. After a minute, add the butter and move around to fully coat the asparagus.
7. As the asparagus begin to caramelize, add the fresh tarragon leaves and grapefruit segments and move around to disperse flavors.
8. Once everything is mixed and heated through, finish by sprinkling half the hazelnuts, olive oil and sea salt to taste.
9. Put on a plate and add remainder of the hazelnuts, olive oil and a squeeze of fresh lemon for acid.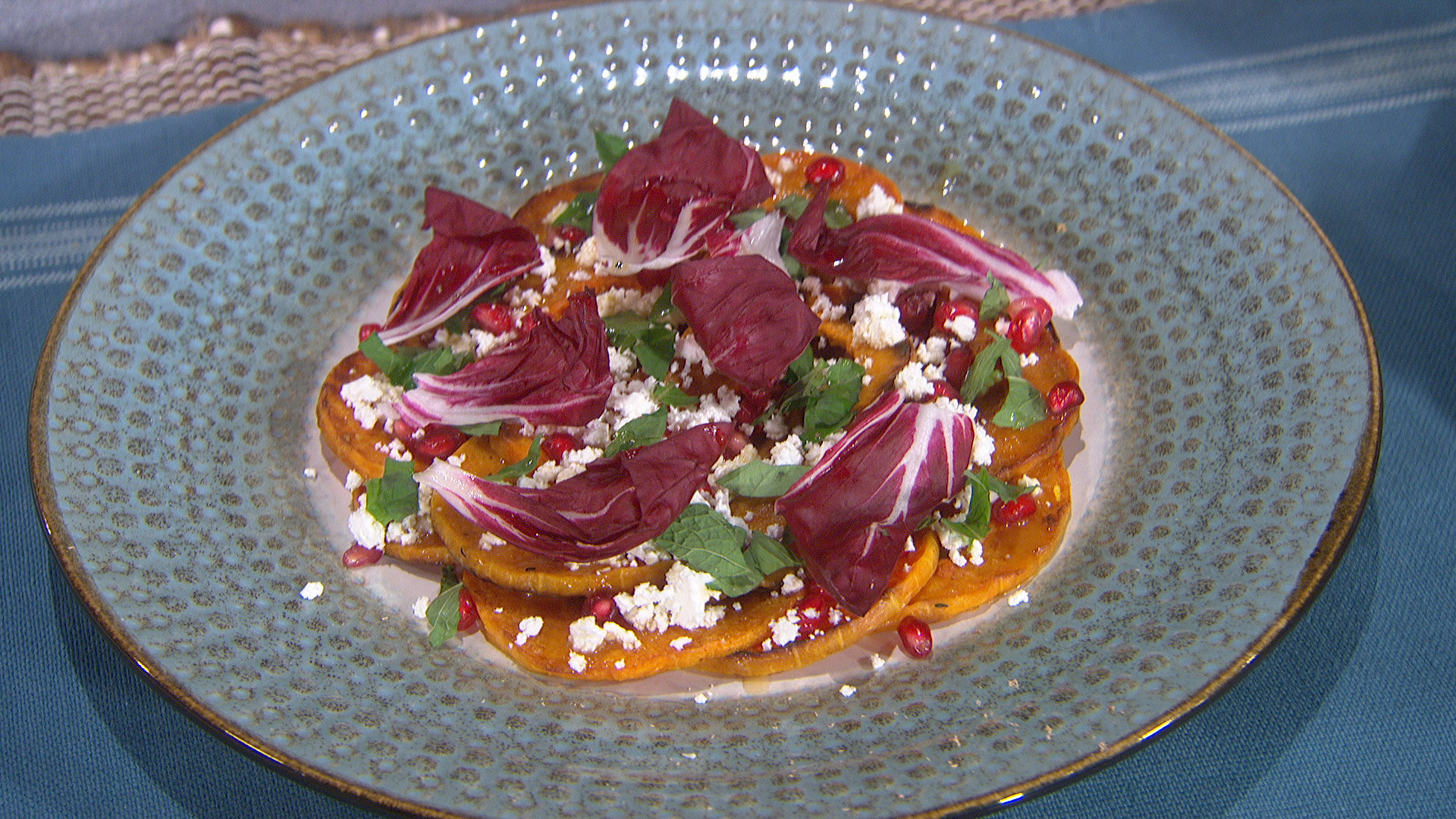 Caramelized Butternut Squash Salad with Feta and Basil
Ingredients:
1 medium sized butternut squash, peeled and cut into half rings
4 tablespoons of unsalted butter
3 sprigs of fresh basil
3 sprigs of fresh thyme
2 tablespoons of fresh chopped mint
Half cup of sheep's milk feta, crumbled
3 tablespoons of pomegranate seeds
3 whole red radicchio, washed, dried and leaves separated
Half a lemon
For vinaigrette:
1 tablespoon of light agave
2 tablespoons of sherry vinegar
1 tablespoon of walnut oil or extra virgin olive oil
Salt and pepper to taste
Directions:
1. Mix all of the vinaigrette ingredients adding salt and pepper to taste with a few drops of fresh lemon and set aside.
2. In a large sauté pan on med heat, add butter. Once melted, add peeled butternut squash, sprigs of thyme and slowly caramelize squash until golden brown and pierces through with a fork.
3. Once squash cools down, place on a large plate and sprinkle with pomegranate seeds, fresh mint and crumbled feta.
4. With your hands, tear the fresh basil all over the squash to release scent and flavor.
5. Add the leaves of the red radicchio and finish with vinaigrette.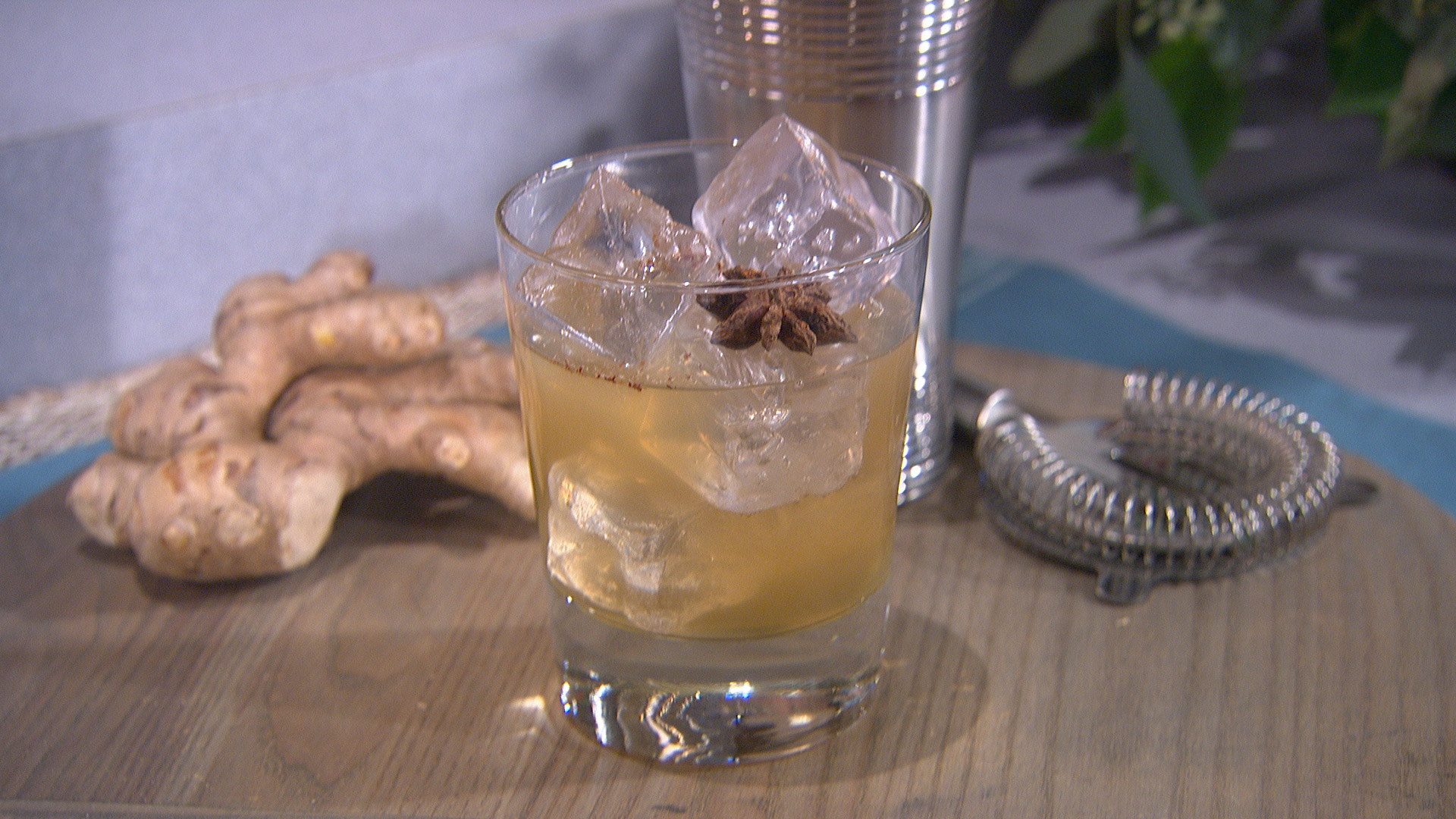 Ginger Spice Cocktail
Ingredients:
Ginger syrup
1/2 cup sugar
1/2 cup water
3 tablespoons chopped and peeled ginger
Directions:
1. Slowly heat all ingredients until sugar is dissolved. Move around with a wooden spoon so that the sugar doesn't burn on the bottom and the ginger gets dispersed throughout the mixture. Once dissolved, turn off heat and leave to infuse for 30 min. or a day before.
To Make Drink:
1 1/2 oz. apple brandy
3/4 oz. apple cider vinegar
1/2 oz. cointreau or any orange liquor
1 tablespoon of honey
1 egg white
Grated nutmeg for garnish
Star anise for garnish
Directions:
1. Put all ingredients in a shaker and mix vigorously. Strain into a rocks glass with ice. Grate fresh nutmeg over it and garnish with star anise.