Lamon Archey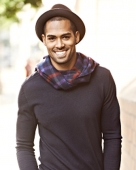 Lamon Archey joined the cast of THE YOUNG AND THE RESTLESS in December, 2012. He plays Mason Wilder, Sarge's (Darnell Williams) nephew.

Archey was raised in San Mateo, Calif. He moved to Los Angeles to pursue a career in modeling 10 years ago and has been working as a veterinary technician for nine years.

He was a print and runway model for many of the top fashion designers and clothing lines including Macy's, Kohl's, Giorgio Armani and Dolce & Gabbana.

Archey also appeared in numerous commercials ranging from McDonald's to Gap. He was scouted by his agent/manager a few years ago, began acting classes, and appeared in short films and webisodes. His television credits include "Days of Our Lives."

An avid boxer, in his spare time he enjoys playing baseball, lifting weights and watching movies.