Marco Dapper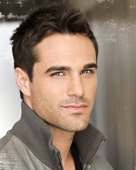 Marco Dapper joined the cast of THE YOUNG AND THE RESTLESS in April, 2012. He plays the role of fun loving troublemaker Carmine Basco.

Dapper is from Hayward, California. He started acting as a child in plays and appeared in community theater productions after graduating high school. He moved to Los Angeles in 2003.

Dapper has worked as both an actor and a model. He has guest-starred in various television series including "The Client List," "Mistresses," "Dirty Sexy Money," "90210," and "Veronica Mars," and has also appeared in national commercials for Absolut Vodka, United Airlines, Sears and XBox. As a model, Dapper has appeared in Men's Health and in ads for Levi's.

In addition to acting, Dapper worked for UPS, as a fitness trainer, and he sold shoes at a sporting goods store. He still has his day job as a waiter.

In his spare time, Dapper enjoys going to the gym, painting, and playing video games.