Ignacio Serricchio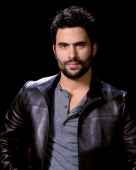 Ignacio Serricchio joined the cast of THE YOUNG AND THE RESTLESS in November, 2012, as Alex Chavez, a streetwise undercover officer who came to Genoa City from New York City with a big secret.

The actor first appeared on the daytime serial "General Hospital" as Diego Alcazar in October, 2004 and he left the soap in November, 2006. He returned as Diego on February 22, 2008 until his character was killed off on March 5, 2008.

Serricchio graduated from Syracuse University as a theatre major, and minored in Psychology and French Literature. The Argentina-born actor moved to Los Angeles and began his acting career appearing in plays, commercials, movies and television. He also became a regular headlining comedian in Los Angeles and other major cities.

He appeared as a guest star on "House M.D.," "Covert Affairs," "Tyler Perry's House of Payne," "The Client List," "CSI: Miami," "Ghost Whisperer" and "The Finder." He was a series regular on "Privileged" and the Internet soap "The Bay."

Serricchio portrayed a streetwise Mormon missionary in the critically acclaimed film "States of Grace."

In his spare time, he enjoys scuba diving, soccer, hip hop dancing, Salsa dancing and mixed martial arts. He is fluent in English, Spanish, French, Italian and Portuguese.