Catherine Bach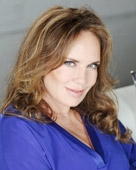 Catherine Bach joined THE YOUNG AND THE RESTLESS in February, 2012 as con-artist, Anita Lawson. Anita is the mother of fashion designer Chelsea Newman (Melissa Claire Egan).

Catherine Bach is a true American original. An actress, activist and businesswoman; Catherine has transcended the character that made her a household name and remains one of the most sought after personalities in Hollywood. It was a pair of cut-offs fashioned for her character "Daisy Duke" on the long running television series THE DUKES OF HAZZARD that captured the attention of millions of fans and made her a star! It is thanks to Catherine's own sense of style and imagination that "Daisy Dukes" are now a part of the popular vernacular. Catherine's famous 'pin-up' poster outpaced other contemporary beauties and sold more than 5 million copies. In short, she became a national icon. The show continues to run in syndication on the CMT Network.

Since DUKES OF HAZZARD, Catherine has starred in numerous television, film and stage productions. Most notably, the actress reinvented her "babe in shorts" image when she tackled the role of tough businesswoman "Margo Dutton" on FOX Family Channel's critically acclaimed series AFRICAN SKIES. Filmed in South Africa, Catherine's passion for the environment and animal rights was ignited. In 1994, the actress testified before Congress on behalf of the Rhinoceros and Tiger Conservation Act.

As a mother, Catherine is naturally concerned about children. In 1998, she and husband Peter Lopez became founding members of "C.O.A.C.H. For Kids" which provides free medical services via mobile medical clinics, for children with their families in low-income areas of Los Angeles County.

As an entrepreneur, Catherine's artistic and business savvy led to a successful run on QVC Europe where she sold her own line of jewelry. Its popularity inspired her to design an entire clothing line targeted at All-American women, and in 2007, CATHERINE BACH DENIM was born. The cowgirl-inspired line features vintage denim, super-soft tees, signature tank tops, and of course, daisy dukes. Catherine lives in Los Angeles with her family.