Cady McClain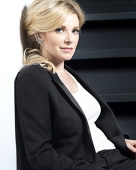 (Kelly Andrews on THE YOUNG AND THE RESTLESS)
Two time Daytime Emmy Award winner Cady McClain joined THE YOUNG AND THE RESTLESS as Kelly Andrews in April 2014. When you think of the name Cady McClain, you are likely to connect it with her two-time Emmy Award winning work on All My Children or As the World Turns, but Cady explores her creativity in many forms.
In 2013 she wrote, produced, and directed her first short film, Flip Fantasia, which is currently online at Vimeo.com. It was an Official Selection of the 2014 Macon Film Festival (named one of MovieMaker Magazine's "25 Coolest Film Festivals"). She is now working on her second short film, The World of Fuh, which she also wrote, directed, and is producing. She also associate produced her husband Jon Lindstrom's multi-award winning film, How We Got Away With It, in VOD pre-release now. It will have its general release on May 13th.
In recent years, Cady has received acclaim performing lead roles in several award-winning independent films, including co-starring with Adrian Pasdar in Home Movie (Winner- Best Director, Sitgis Film Festival), and James Kiberd in Brian Delate's powerful life-inspired study of PTSD, Soldier's Heart, (Winner- Best Narrative Feature, GI Film Festival), and Hans Canosa's Alma Mater (Nominee- Golden Starfish, Hamptons International Film Festival.) Other films include Pennies From Heaven and My Favorite Year.
Television credits of note include "Law and Order SVU," "Cheers" and "St. Elsewhere." Off-Broadway credits of note include David Ives' "The Red Address" at Second Stage. Cady is extremely proud of her work in her one-woman piece "Mona7," which she wrote, produced, co-directed and acted in. The thirty-minute multi-media performance deals with issues of abuse and identity through collaged video, surrealist word play, and viewpoints movement.
Also a writer, she has written for ABC.com (Confessions of a Mad Soap Star), HLNTV.com, Policymic.com, AND Magazine, Mscheevious.com, and Parade.com. She has also live blogged the People's Choice Awards and the Golden Globes. This spring, her self-penned memoir, Murdering My Youth, will be available through Amazon.com. Her two poetry books, Conversations with the Invisible and Licked are available on blurb.com. Cady was asked to share her work and process at the Litchfield County Writers Project as part of National Poetry Month in 2009. Previous participants include Frank Delaney, Honor Moore, and Frank McCourt.
Inspired by the teachings of Joseph Campbell, Cady's Dreaming into Art workshop uses guided visualization, archetypal symbolism, and classic story structure to evoke unique personal images to the participants that can parlay into any art form. Past workshops have included the Write the Dream conference in Kansas City; The Wisdom House in Litchfield, CT; and The Seton Center for Women in New York City. She was thrilled to have been asked to be the keynote speaker for the Write the Dream conference this past March in Kansas City.
In 2006, Cady's album of original music, BlueGlitterFish, was released and is available on CDBaby.com. Comparing her to Patty Griffin and The Indigo Girls, Courier Life said, "These songs will haunt you. Cady McClain invites the listener to partake of the odyssey recorded on this debut, in which she marshals considerable gifts as a songwriter and singer." Cady enjoyed performing her music live across the United States, at legendary venues such as "Rockwood Music Hall" in NYC, "Club Passim" in Boston (for which a live digital release is forthcoming), and "DBA" in New Orleans, to name a few.
Last year, Cady created the character "Suzy F*cking Homemaker" in order to crack herself up. "SFH" was engaged by Prospect Park to conduct a series of humorous special interviews of their stars in 2013 and shown on their website and YouTube channel.
Visual art also holds a significant place in her life. Her paintings, like her collages, often contain found objects and words, emphasizing the theme of the imagery. According to Agency Magazine, "her jewel-like cards are alternately quirky, touching, political, and sad." Her mural for the HOWL Festival in 2004 was accepted by FEVA (Federation for East Village Artists) into the collection of the Museum for Counter Culture. Her multi-media approach was developed in part while studying with renowned American artist Nancy Chunn at The School of Visual Arts in New York City.
In addition to relief efforts for New Orleans, Cady has been involved with various other types of charitable organizations. One of which, PCI/Media Impact, invited her to speak in Washington D.C at the Entertainment Summit to discuss how entertainment could be used to deal with social and health issues around the world as well as the cause of education for women worldwide. She was thrilled to be interviewed by Peabody recipient Charlie Rose about her contribution to raising awareness of the power of storytelling in conjunction with PCI.
Cady has been nominated for six daytime Emmy awards and won two. She has also won the Soap Digest "Best Return" award and "Best Heroine" award, as well as earned a nomination for "Hottest Female Star."
Cady has been featured in The Washington Post, The New York Times, New York Magazine, The Daily News, TV Guide, Boston Herald, Time Out New York, Good Housekeeping, The New York Post, McCall's, Times Picayune, The Palm Beach Post, Mix Magazine, Connecticut Magazine, Talent in Motion, The Litchfield County Times Monthly, Soap Opera Digest, Soap Update, Newsday, AM New York, The Sacramento Bee, Brooklyn Papers, Agency, Tulsa World, MidWest Beat, Imagine, Rocky Mountain News, Courier Life, The Jamaica Gleaner, Brooklyn Papers and Country Weekly.
Cady has attended NYU, SVA, and The New School for Public Engagement to study Creative Arts Therapy and writing.
She is married to actor/director/writer Jon Lindstrom and shares a home with him in Los Angeles, California. She keeps up a blog on her website: www.cadymcclain.com